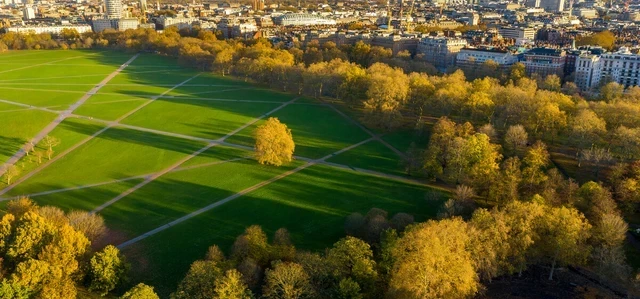 Filming & photography
The Royal Parks offer unique locations and iconic landscapes for filming and photography across London.
Planning your filming and photography in a Royal Park
We look after eight of London's largest open spaces: Hyde Park, Kensington Gardens, St. James's Park, The Green Park, The Regent's Park and Primrose Hill, Richmond Park, Greenwich Park and Bushy Park. We also manage Brompton Cemetery, Victoria Tower Gardens, Canning Green and Poet's Corner.
Within each park or site there are natural landscapes as well as architectural locations, from the Government backdrop of St. James's Park and Victoria Tower Gardens to the wilder spaces of Richmond and Bushy Park. 
Each park is a unique combination of historic vistas, woodlands, meadows, lakes, flower and ornamental gardens and famous historic monuments – enabling you to recreate almost any historical period, as you can see from the park map links above.  
With such a variety of locations, we're able to meet a wide range of shoot briefs for commercial filming and photography; whether you're filming a costume drama or a corporate video. You should check here for the filming permit applications and required documentation to set up your shoot. 
Non-commercial filming for weddings, civil partnerships or other personal events
The parks provide make memorable settings and backdrops for many personal family events – from weddings to family portraits. You'll need a wedding and lifestyle photography permit to photograph these more personal events. Each permit is issued for a maximum of ten people, for one hour. 
As well as providing popular backdrops for large-scale feature films and television dramas, we can offer your film crews vital Unit Base and Tech Parking across key London locations.