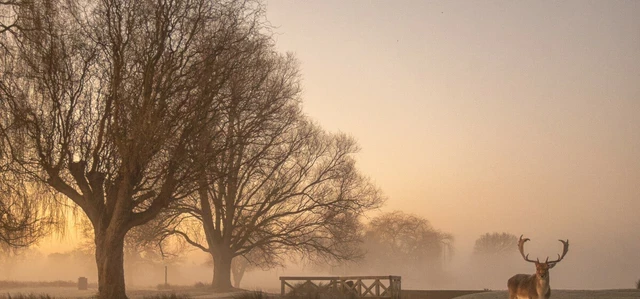 Nature & wildlife
The closer you are to nature, the closer you want to be. We want every visitor to experience the natural beauty of the Royal Parks.
Nature and wildlife – at the heart of everything we do
It's our responsibility to make the Royal Parks as biodiverse and climate resilient as we can. Through our biodiversity, climate change and conservation projects, we're ensuring that wildlife and nature flourishes here.  
Everyone at The Royal Parks, from park managers to horticultural apprentices, cares passionately about the wildlife of the parks and the habitats where they live, nest and forage. Every decision we make about managing the natural environment here is driven by principles of biodiversity and sustainability.  
For the good of the people who visit, the parks themselves, and most importantly, the planet. 
What we're doing
We commission expert-led research into the landscapes and ecosystems of the parks, and monitor the nature and wildlife with the help of volunteer citizen scientists. This means that we can base our conservation and restoration strategies on first hand evidence and data. 
We're sharing knowledge and connecting with nature. Why not join us on one of our many walks and talks from Royal Parks staff, volunteers and nature experts? If you have some free time, you could get involved in one of our conservation projects, or become a Citizen Scientist – we'd love the extra hands and you'll be seeing conservation in action.
We've launched a flagship initiative, Help Nature Thrive – thanks to players of People's Postcode Lottery.  Running over three years, the project puts biodiversity and conservation firmly at the centre of everything we do. We'll be creating and enhancing habitats, commissioning expert research, and giving you many more opportunities to connect with wildlife and nature.
Fighting the climate emergency
Out in the parks, we see the effects of climate change first hand. Seasons arrive earlier or later, migration patterns and timings shift, heavy storms and flooding damage trees and other habitats. Climate change wreaks havoc on nature and wildlife. 
In 2020 The Royal Parks declared a climate emergency. We have a once-in-a-generation opportunity to make a real difference on the ground. Through direct, positive action on climate and conservation, we can do all in our power to create a greener future for the Parks, and for the city.
We have another amazing resource too – the many volunteers and Citizen Scientists who put their passion into action, working with us on conservation projects and nature surveys.
Almost every inch of the Royal Parks provides a habitat for wildlife, but there are several key habitats that we're protecting, restoring and creating

The Royal Parks are home to an incredible variety of wildlife, from the threatened stag beetle to inner London's only breeding population of hedgehogs

Around the world, climate change is placing increasing pressure on our natural and urban environments