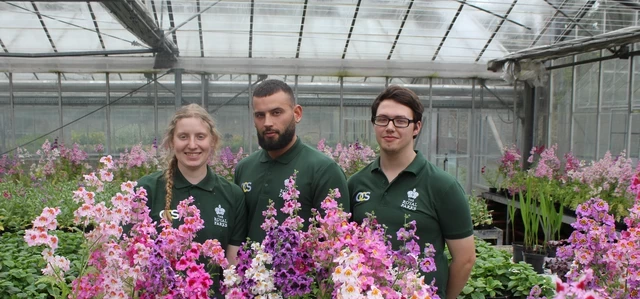 Apprenticeships
Start your career with a Royal Parks Apprenticeship. Learn from the best, in the best-known collection of urban parks in the world.
Apprenticeships in different areas 
Horticulture & landscape operations
Apprenticeships in Park Operations are advertised in February each year. We offer three years of training, including a Horticulture & Landscape Operative Level 2 qualification. Most of the parks will take on one new apprentice each year. These apprenticeships will be advertised on our careers page and on the national 'find an apprenticeship' website. They may also be advertised by our landscape contracting partners.
Park management
We currently have two Apprentice Technical Officers on three-year training courses, new opportunities will be advertised on our careers page when available. The courses we offer vary depending on the park where they are based and can range from nature conservation through to landscape design. You can find out about these opportunities on our Careers page.
Charity management
Apprenticeships in charity management will be advertised on our Careers page.
Why choose a Royal Parks Apprenticeship?
We're committed to providing beautiful and inspirational parks. And we believe in excellence at all levels – setting ourselves the highest standards of park management and conservation. We want to hand these skills and knowledge on to you. Whether you're just starting out, or considering a career change, there's no better setting to complete a high-quality apprenticeship in wildlife conservation, horticulture, charity management or environmental studies. 
Our apprenticeships are competitively salaried. They're rigorous but rewarding. You'll have the opportunity to build your practical skills and deepen your knowledge, with a recognised qualification, such as a level 2 Royal Horticultural Society certificate at the end of your course. 
Our Apprenticeships are open to everyone
We are strongly committed to creating a diverse and inclusive workplace and are equal opportunities employers, as are the contactors we partner with. We believe that the more inclusive we are, the better our work will be.
We welcome all applications but would particularly encourage applications from young people who are from diverse ethnic backgrounds, living with a disability and/or are from low-income households, as we work to create a workforce that is truly representative of the communities we serve. 
How do I apply?
You can apply for the Park management and Charity management apprenticeships on our Careers page. The Horticultural apprenticeships have openings once a year, from February. You can find out more here.
If you have any questions in the meantime, please don't hesitate to get in touch with us.