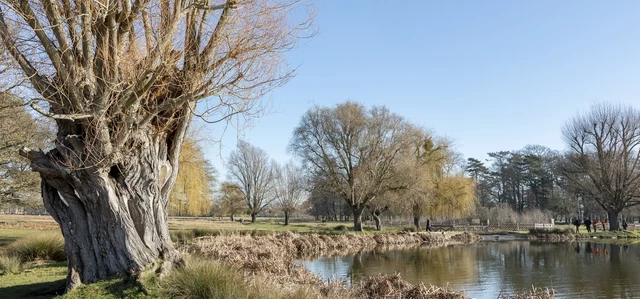 Habitats
From rolling grassland and flower-rich meadows, to over 40 ponds and lakes, the Royal Parks aren't just one habitat – but a rich mosaic of many. Each is a unique haven for wildlife and plants, and together make the Royal Parks some of the most biodiverse urban green spaces in the country.
Not one habitat, but many
Nearly half of the Royal Parks landscapes are grassland – in fact, they're famous for it. 
So it's natural to think that the 5,000 acres of the Royal Parks is mostly open and grassy, perhaps with mature trees and pockets of woodland. Luckily for all of us, and the many extraordinary creatures who inhabit the parks, nothing could be further from the truth. 
Each Royal Park is a tapestry of habitats – from flower-rich meadows, riverbanks and reedbeds, pollinator-friendly formal gardens, hedgerows and scrub pockets, woodlands and wetlands, to hundreds of acres of rare acid grassland. Over 3,700 species of invertebrates live in the parks. More than 170,000 trees shade and shelter thousands of species. Even fallen trees and deadwood are rich in micro-habitats for rare stag beetles and a host of other invertebrates, fungi and lichens.
The semi-natural landscapes of Richmond Park and Bushy Park, both designated Sites of Special Scientific Interest or SSSIs, are quite a contrast to the carefully managed ecosystems of the central Royal Parks. Some of Britain's rarest and most unusual creatures live in the waters, tree canopies and grasslands of the parks, as well as hidden underground, in the soil itself.
The key habitats in the Royal Parks
Meadows

Acid grassland

Cultivated gardens

Ponds, lakes and wetlands

Woodland, mature trees and scrub

Soil
Meadows

Bushy Park

Acid grassland

Greenwich Park

Cultivated gardens

The Regent's Park & Primrose Hill

Ponds, lakes and wetlands

Kensington Gardens

Woodland, mature trees and scrub

Richmond Park

Soil

Kensington Gardens
Helping nature thrive – gardens, meadows and lakes 
Some of the most beautiful areas of the parks are also rich in wildlife, like the Queen's Meadow in The Green Park and the Richmond Park Pollinator Garden. Here you can see wildlife-friendly planting and ornamental garden design working hand in hand, bringing together beauty and biodiversity, providing shelter and food for millions of pollinators each year.  All part of our long-term commitment and project to Help Nature Thrive.  
We  hope you'll be inspired to create your own biodiverse garden or window box. We share some practical tips in our blog Gardening for biodiversity.
Our lakes, rivers and ponds are some of the best loved spots across the parks, and they teem with wildlife. Waterfowl, wading birds, brilliantly coloured dragonflies, frogs, newts and fish all live, breed and forage in our freshwater habitats.
Wildlife and wellbeing – natural partners
Reconnecting with the natural world and the amazing wildlife we share it with makes us feel calmer, more positive, and benefits our mental and emotional wellbeing. It can help us put our own lives in perspective and see the bigger picture. 
Making the city a cooler, cleaner, greener place to live  
In areas of the parks, you can feel that you're in the middle of open country. But every park is a carefully managed environment. It's our role and responsibility to balance the needs of people, and nature. People need spaces to relax, play and stay fit in such a big, busy city. And the wildlife and natural habitats of the Royal Parks must also be conserved and enhanced, to make the parks sustainable for future generations. 
Sharing our plans for the parks
Keeping our many habitats in the best condition is part of our lasting commitment to biodiversity. We'd like to share the fine detail of how we're caring for your local park. Do read our 10-year Biodiversity Framework. We set out how we plan to conserve existing habitats, restore those that are struggling, and create new wildlife habitats. Biodiversity holds the key to protecting these special landscapes for future generations.   
Every Royal Park supports thousands of animal and plant species. Together, the parks create a network of natural wildlife corridors and pollinator pathways across the city. To ensure that we link up with all the other habitats across London, we work closely with our partners in conservation and holistic green space management to create a living network across the city.
The parks belong to all of us, and we're doing all we can to care for them on behalf of everyone now, and in the future.