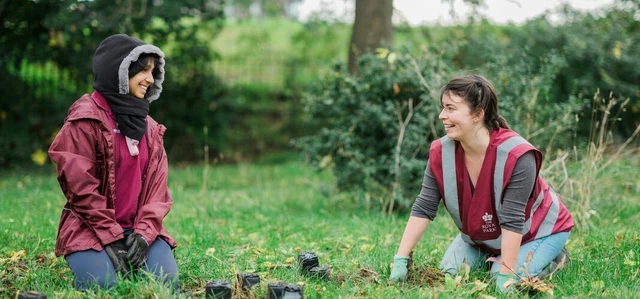 Volunteer with us
Meet new people, expand your skills or discover new ones as a Royal Parks volunteer. You'll be helping to care for and conserve nature and history for everyone to enjoy.
"Until I started volunteering, I'd no idea what a massive job it is to run the parks and keep them healthy! For years I just loved walking my dogs here!" Peter, Richmond Parks volunteer.
Why the Royal Parks volunteers are so important
It is a huge challenge to protect and manage all eight Royal Parks sustainably so as many of us as possible can enjoy these amazing spaces. Volunteers support our work, giving us the opportunity to go above and beyond to enhance the parks we care for. We are immensely grateful for all their hard work.
As a gardening volunteer, you could be planting thousands of new bulbs or getting rid of invasive plant species. You could join one of our one-off opportunities or join our Learning and Engagement volunteers and help primary school children understand why mini beasts are so important. Support one of our many school visits and help students learn more about the natural environment.  
Or you might want to join our teams of Volunteer Rangers, who are out most days, welcoming people to the Royal Parks and making their visit an experience to treasure. 
Most importantly, you'll be sharing your passion with others, helping them get more from their Royal Park.
Anybody can volunteer with us
Because there are so many different ways to get involved, we welcome everybody over 18 who wants to volunteer, whatever their ability, interests or background.
Whether you're keen to help our conservation projects, work in the Super Nursery, or help a visitor find Greenwich Park's boating pond – we've got a role for you!