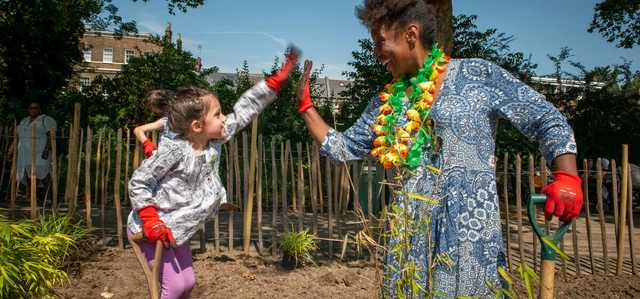 Our Friends, the Guild and partners
Everybody deserves access to beautiful, safe green spaces to enjoy. 
Our Friends groups and partners help that happen.
The Friends of the parks
Our relationship with the Friends of the parks and other partner organisations are very important to us. The Friends provide committed and passionate support for a wide range of initiatives, from long term conservation projects to live bandstand concerts. They also volunteer and fundraise on behalf of the parks and the people that live around them.  
The Friends work closely with our park teams and local communities.
As an individual, you can become a Friend of your local Royal Park for as little as £5 a year (it's slightly higher for some parks and for families). You'll be helping us look after the park you love.
How can I get involved?
The Friends of the Parks are independent, registered charities. 
Reach out to the Friends of your local park below.
The Royal Parks Guild
The Royal Parks Guild membership is made up of some of those who work or have worked for the parks as well as those who are associated or were associated with the parks previously. 
The Guild is passionate about keeping the parks at the forefront of horticultural, landscape and cultural excellence and provides welcome support for our apprenticeship scheme. The Guild also focuses on researching and recording the history of the parks. It provides various benefits to its membership, including visits and events, alongside volunteering opportunities in support of its various activities and projects.
You can learn more about The Royal Parks Guild here.
Our partners
Our partnerships with other organisations help us deliver vital projects across the parks, ranging from nature conservation to restoring historical landscapes. 
Companion Cycling 
Companion Cycling is a project which enables people who are unable to ride "solo" to enjoy cycling with a companion in the lovely environment of Bushy Park. 
Anyone, whatever their ability or mobility, can become a cyclist using a special cycle and with the aid of a "pilot" who might be a carer, a friend, a family member or a Companion Cycling volunteer. 
The Horse Rangers Association 
The Horse Rangers Association is a charity which supports the personal development of children and young people, regardless of background or ability, by teaching them to ride and look after horses. 
Over 400 members attend each week, including those with special needs who are attached to our Riding for Disabled squadrons. 
The Holly Lodge Centre
The Holly Lodge Centre works in partnership with the Royal Parks providing the education provision in Richmond Park. 
The charity's unique and exceptional educational programmes explore science, nature and history, and specialise in activities for people with disabilities. They have nearly 8,500 visitors a year from school groups, young people and adults. 
Field Studies Council 
Field Studies Council (FSC) is an environmental education charity providing informative and enjoyable opportunities for people of all ages and abilities to discover, explore, and understand the environment. 
FSC works in partnership with The Royal Parks to deliver environmental education, science and geography courses to schools, adults, families and community groups within Bushy Park, Greenwich Park and The Regent's Park. 
Operation Centaur 
Operation Centaur promotes the relevance of the horse as a contemporary working animal in partnership with humans. This takes the form of heritage skills in conservation and agriculture, transportation, discovery, learning and therapy. 
At Operation Centaur, humans and horses alike work together sustainably. While some of their work is commercial, a number of projects are charitable and free at the point of delivery. 
Operation Centaur maintains the last working herd of Shire horses in London, and is dedicated to the protection and survival of the breed.