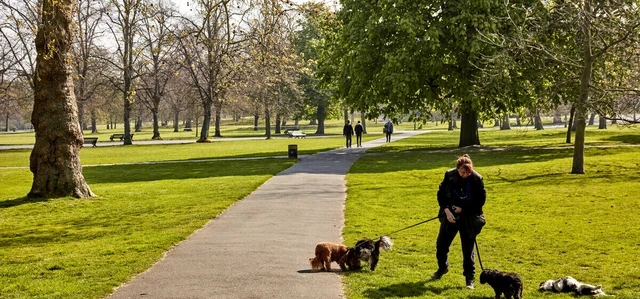 Commercial dog walking licences
Being a Royal Parks licenced commercial dog walker allows you to work and walk your dogs in some of the best known urban parks in the world.
About The Royal Parks Commercial Dog Walking Licence 
If you want to use the Royal Parks for commercial dog walking purposes, you must have a Commercial Dog Walking Licence issued by The Royal Parks charity. 
Why do I need a licence for commercial dog walking in a Royal Park?
The licensing scheme enables The Royal Parks charity to manage and regulate the number of professional dog walkers who operate in the parks. This ensures appropriate levels of use. The licensing scheme also: 
Helps support the upkeep of the parks.  We believe that any business which uses the parks as a resource should contribute financially to the care of the parks.
Brings professional dog walking in line with Park Regulations and with the other commercial businesses that are licensed under the Regulations.  
Ensures that professional dog walkers are appropriately and properly insured to operate within a Royal Park. This protects dog owners, other park users and the dog walkers themselves, in the unlikely event of a negative incident. 
Once you have a licence, you must wear the Licensed Commercial Dog Walkers coloured armband, which clearly displays that you are a Royal Parks Licensed Operator. 
You can find guidance on dog walking in the Royal Parks here.
How to apply for a Commercial Dog Walking Licence
You must apply for a Royal Parks Commercial Dog Walking Licence if you wish to operate your business in a Royal Park. Please note you cannot walk any dogs until approval has been given. 
How to apply: 
Read the terms and conditions and code of conduct for professional dog walkers which outline the requirements for Commercial Dog Walkers within the Royal Parks. 
Fill out the online application form below and provide the following documents: 
 
Evidence of Public Liability Insurance of at least £2 million. 
A signed and dated risk assessment and method statement to cover your sessions and a brief written policy on your emergency procedures, including First Aid and Accident Reporting. 
A customer reference. 
A vet reference confirming registration at the practice and a character reference. 
Evidence of Commercial Vehicle Insurance (if applying for a parking permit).
 
Please allow two weeks for processing. Once you have received approval, you need to pay the licence fees and charges.

You will receive a Royal Parks armband and will be registered on our database. You can transfer an armband from one of your employees to another, so long as neither of you are in the same Royal Park at the same time. You cannot transfer your armband or licence to another dog walking organisation.
The following table outlines the annual rate for a Commercial Dog Walking Licence. 
The licence, and any corresponding vehicle permit, period shall run from 1st January – 31st December inclusive in any year. The fee will be calculated from the date you wish to start operating on a monthly pro-rata basis.
Park
Licence Fee Per Walker
Richmond and Bushy Parks only
(reduced rate due to dogs on leads
during Deer Birthing Season) 
£225 (excl. VAT)
All other Royal Parks 
£300 (excl. VAT)
The following table outlines the annual rate for a Professional Vehicle Parking Permit for dog walking purposes under the Licence in Bushy Park and Richmond Park. 
| | |
| --- | --- |
| Park | Fee Per Vehicle  |
| Richmond Park | £100 (excl. VAT) |
| Bushy Park | £100 (excl. VAT) |