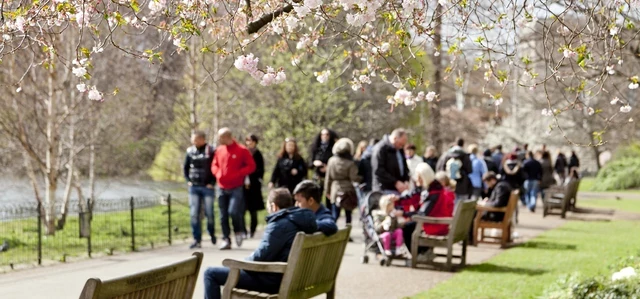 Dedicating a bench in the Royal Parks
Dedicating a bench is a wonderful way to remember a loved one or celebrate a special occasion while supporting The Royal Parks charity.
Personalising your bench
A limited number of benches become available for dedication across the Royal Parks each year. You will be able to select a location for your bench from those available in your chosen park and create a unique inscription for your bench, which will be engraved on a plaque. Our friendly team will meet you in person to discuss your dedication, show you the locations we have available and support you throughout the dedication process.
How your bench helps take care of the parks
We request £7,500 to dedicate a bench in Richmond Park, Bushy Park or Brompton Cemetery, and £10,000 to dedicate a bench in Greenwich Park and the Central London parks. We also have a number of opportunities to dedicate backless benches in Bushy Park, for which we request a donation of £5,000.
Every dedication lasts for ten years, after which you can choose to renew.
A quarter of the cost of your dedication supports the purchase and care of benches across the Royal Parks, helping to make the spaces in our care more accessible for everyone. The remaining 75% contributes towards the wider costs of running and maintaining the parks. Your generosity will support the playgrounds, ponds, gardens and learning centres that ensure life flourishes in your park – and all the parks in our care.
Discover the bench locations we have available across the parks below.
Brompton Cemetery
Bushy Park
Isabella Plantation and Pembroke Gardens, Richmond Park
St. James's Park
If you would like to dedicate a bench in one of the locations listed here, we would love to hear from you. Please get in touch using the form below, email dedications@royalparks.org.uk or call 0300 061 2160.