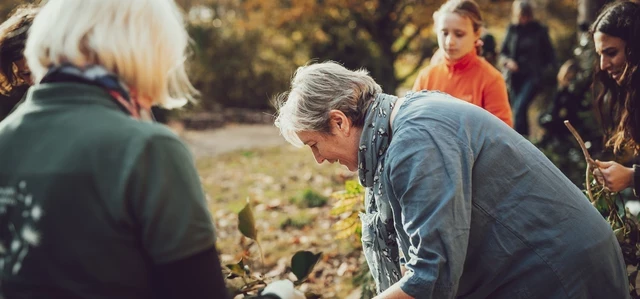 Access & communities
We want everyone to experience and enjoy the magic of the Royal Parks.  
 
We offer opportunities for local groups, charities and organisations to gain access, connect and learn about nature, heritage and wellbeing.  
Whether a wellbeing walk, growing food in our allotments or nature play in the parks, community connections and experiences can have a huge impact for both people and the Royal Parks.
Help Nature Thrive is our project to make the parks more resilient to the climate and biodiversity emergency, funded by the People's Postcode Lottery, working through park interventions, research and engagement. We work with local community groups based around the Royal Parks to engage them with the nature we have within our green spaces.
Play in the Park was a 3-year project engaging local children and families with free child-led play inspired by the parks' nature. Learn more about the project and its impact here.
Get involved
If you'd like to visit the Royal Parks with your community group or charity, would like to participate in our programmes, or have an idea for a community project, please get in touch with our Access and Engagement team.
Play in the Park - a free play programme of fun, creative activities and events.

Our initiative seeks to ensure that this opportunity reaches the people who will benefit from them the most.