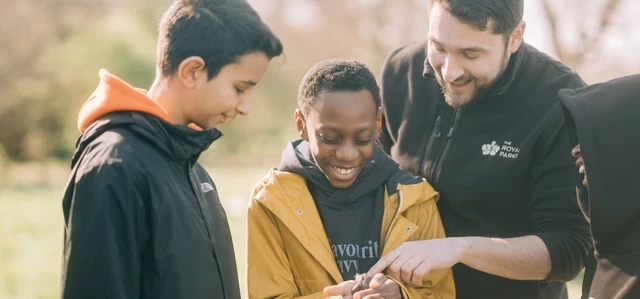 Schools
Our Learning Team offers a range of curriculum-linked experiences for school groups, presented with passion by dedicated Learning Officers.
Students and staff can expect a warm welcome in our iconic green spaces, connecting with nature, learning about the park environments, wildlife and heritage through hands-on practical activities. 
We run a wide range of fun learning experiences for all ages, needs and backgrounds. They're led by our own expert team and trusted partners and based at our dedicated Learning Centres across the parks. You and your students will get to explore the park and learn all about the vital urban green spaces we look after. Subjects covered include biology, ecology, geography, history and art. Some sessions offer cross-curricular learning. 
Alternatively, we offer live interactive online sessions for those who can't make the trip in person. 
Activities include: 
Facilitated visits to the parks for schools and uniform groups 
Unique live online sessions to support your teaching, both in the classroom and for remote learning 
Comprehensive and easy to use downloadable teaching resource packs 
If you would like to visit the parks with your group on your own, please read our guidance on self-led visits.
If you have any questions, you can call us on 0300 061 2286, email learn@royalparks.org.uk or get in touch using our online form.