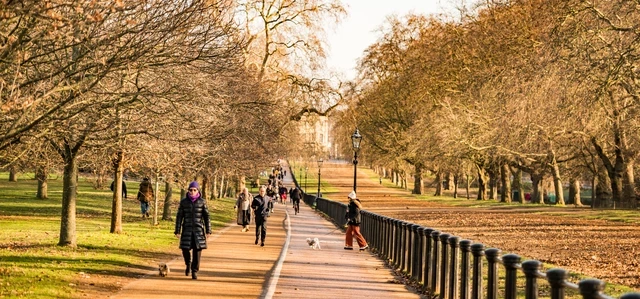 The Royal Parks – yours to enjoy
"A little escape from the concrete jungle and a haven away from the hustle and bustle." - Royal Parks visitor, 2022.
Different every time you visit
The Royal Parks. Big enough to host millions of people watching historic events, entertain thousands at live music concerts, or for 16,000 Royal Parks Half runners to cross the finish line.
Quiet enough for you to discover a secluded spot beneath a favourite tree, take a beautiful walk in nature, or go for a long run to clear your head.
Whatever you're in the mood for, you can find it in a Royal Park
Whether you want to play a game of tennis or hire a boat, relax in a deckchair in front of the bandstand, catch up with a friend for coffee, watch Changing the Guard or go see the pelicans being fed – you can do it all in a Royal Park. The walks, woodlands, waterways and wildlife are an oasis for physical and emotional wellbeing. 
Whatever the reason, we know your visit to a Royal Park will be truly rewarding every time and we look forward to welcoming you back time and again.
Find your favourite Royal Park
The eight Royal Parks, Brompton Cemetery and Victoria Tower Gardens, are spread across Greater London. Every year, millions of people visit a Royal Park.
Bushy Park
The Green Park
Greenwich Park
Hyde Park
Kensington Gardens
The Regent's Park & Primrose Hill
Richmond Park
St. James's Park
Brompton Cemetery
Victoria Tower Gardens
Find out about the eight Royal Parks in London.

The Royal Parks are for everyone to enjoy, with acres of beautiful green woodland, parkland, gardens and historical buildings. No two visits are the same.

Information about the policing of the Royal Parks.