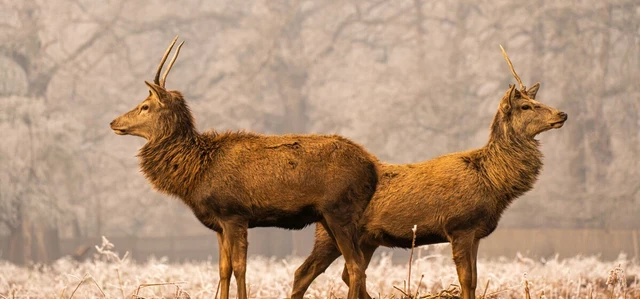 Wildlife & nature
Spending time in the fresh air, close to nature, lifts our spirits and helps us put life back in perspective. From bluebells to bumblebees, skylarks to selfheal. Surround yourself with nature every day of the year.
The Royal Parks – biodiversity on your doorstep
The Royal Parks are home to an astonishing variety of wildlife. Roaming red deer and pipistrelle bats in Richmond Park. Kingfishers and skylarks in Bushy Park. Reed warblers in St. James's Park. A 12th century oak in Greenwich Park. Jersey tiger moths in Brompton Cemetery. The rollcall of wildlife in the Royal Parks is incredibly diverse, and different every time you visit.
Immerse yourself in nature
All the Royal Parks have a full and diverse programme of events to help you and your family discover and understand the natural world, and to enjoy wildlife in its natural setting, so check our events and activities to see what's on. Find out how to identify a winter tree just from its bark and buds. Or join an urban birding tour in Hyde Park.
If you like to discover things at your own pace, and in your own way, we've a full programme of self-led walks too, which make fantastic mini adventures for adults and kids alike.
Whether you're in an ornamental garden or a wildflower meadow, you can also experience nature just walking around.
The climate emergency – a very real danger
Working at The Royal Parks we notice the very real effects of climate change first hand. Species of animals, birds and wildflowers decline and even disappear. 
We're committed to doing everything we can to fight climate change, encourage biodiversity, and conserve and enhance the parks' rich natural heritage for future generations. 
These open spaces are essential for providing a cleaner, greener urban environment for everyone to enjoy now, and in the future.  
Help us take care of the world around us
Caring for the wildlife, habitats and landscapes of the parks is one of our most important responsibilities as a charity.
We work every day to manage the biodiversity of the parks, and we deliver conservation projects throughout the year. We're always looking for more volunteers – it's one of the most practical things you can do to help create a better world.
You can also help us by doing simple things like throwing away you litter in the bins or taking it home, and not feeding the wildlife.