Welcome to Bushy Park
Over 1,000 acres of historic parkland lies waiting for you to explore!
Key information
8am - 10:30pm, vehicle gates 8am - 7pm
What will you discover? Bushy Park is a haven for wildlife – from historic herds of resident deer and scores of protected anthills to ancient woodlands and winding waterways where skylarks nest, ducks dive and beetles scurry. 
There's much history to discover, too. The park can trace its origins back to the Tudor period, when it was a favourite deer park of King Henry VIII who lived next door at Hampton Court Palace. Later on, the celebrated architect Sir Christopher Wren designed the spectacular Diana Fountain which is the park's most famous landmark.
During the Second World War, history was made in Bushy Park when the D-Day landings were planned from a military base set up here, led by General Dwight D. Eisenhower. Look out for the plaque that marks the former site of his office. One of our friendly volunteer Rangers can point you in the right direction – and answer any other questions you might have about the park.  
Come and see for yourself – whether you're exploring the tranquil water and woodland gardens, wandering along avenues of ancient trees or watching the deer while you sip a coffee, you'll find something to love at Bushy Park.
Frequently asked questions
Things to see and do in Bushy Park
Bushy Park is an ancient landscape. A world of rolling grasslands and grazing wild deer, of elegant cascades, waterfalls and water gardens, of quiet woodland paths and chestnut avenues.
Make Bushy Park your great escape
Whether you're just here for the day, or you're a Bushy Park regular, there's a huge amount to see and do here – and a lot of space to do it in. Bushy Park is the second largest Royal Park, and its history stretches back over a thousand years. Its 300 deer have been free roaming since the time of King Henry VIII. If you want to discover more about the history and heritage of Bushy, or its abundant wildlife, do join one of our free monthly walking tours.
Cycle, swim, run or bowl in Bushy Park
Runners flock to Bushy Park on a Saturday for Parkrun – in fact Parkrun was born here. Whatever day you want to run, there are some great routes including the 10K perimeter trail, a mix of pavement and tracks. And at the Bushy Park Sports Club you can also book a tennis court, have a game of football or cricket, even a game of bowls, and swim year-round at the heated Hampton Pool and fitness gym.
Kestrels, kingfishers, woodpeckers and wild red deer
If you're a wildlife lover, this is the park for you. It has more veteran and ancient trees than any other site in London. Bushy is a haven for thriving populations of endangered species of insects and birds, rare plants and great crested newts.  We're working hard to keep Bushy Park as biodiverse as possible, and to protect the many creatures that call it home.
Bushy Park's fountains, waterfalls and water gardens
Bushy Park's most famous landmark is the Grade I listed Diana Fountain but there are other, wonderful water features, lakes and ponds throughout the park. The elegant 18th century Waterhouse Woodland Gardens, with their cascades, pools and waterfall, make a peaceful setting to put the world on hold for a while. The distinctive long and winding Longford River is another lovely route to stroll. Or take a walk in the tranquil Waterhouse Woodland Gardens, where you'll also find The Pheasantry Café.
The Bushy Park Playground
The Bushy Park Playground recently had a makeover and has some great new activities for very young children including the cradle swings and turtle drum, and a fantastic timber climbing frame for your older ones.
You'll find the playground very close to the Diana Fountain and Hampton Court entrance.
Bushy Park Playground is a popular adventure playground for children up to the age of 12, located near the Diana Fountain. Find out more.
Eating and drinking in Bushy Park
Enjoy locally roasted coffee and pastries in Bushy Park's Waterside Woodland Gardens, or drop by our deli-style Diana Kiosk.
Good food, great taste, and a glorious setting
However you're planning to spend your day in Bushy Park, whether it's a long walk on a frosty morning, a quick pitstop for coffee on your way to work, or a playdate at Bushy Park Playground, make time for something delicious to enjoy, alfresco. 
Bushy Park has great places to eat and drink: The Pheasantry Café, the Diana Kiosk, the Pheasantry Kiosk and a mobile unit at the Bushy Park Playground. You'll find The Pheasantry Café in the heart of the Waterhouse Woodland Gardens, and the Diana Kiosk is conveniently situated right next to the Diana car park and playground. Both are open every day except Christmas Day and have a wide range of vegetarian and vegan options on the menu.
Check out the park information boards, signs or the park map here to find them.
Picnicking in Bushy Park
There aren't many better places for a picnic! A selection of freshly cut sandwiches, artisan baguettes and drinks are available in our café and kiosk.
Feel free to bring your own food and drink to enjoy in the parks but barbecues and any sort of fire lighting is absolutely forbidden.
Please take your litter home with you or place it in one of our bins on the way out – wildlife and litter don't mix.
Every purchase helps us care for Bushy Park
A proportion of anything you spend at our cafés or kiosks goes straight back to help look after the Royal Parks, and the wealth of wildlife and natural habitats they contain.
The Pheasantry Cafe is located in the heart of Bushy Park and offers a range of hot and cold meals, snacks and drinks, and cakes and ice creams.

Offering deli style catering service, Bushy Park's refreshment point is located at the Diana Car Park.
Nature and wildlife of Bushy Park
Historic herds of free-roaming deer. Herons and kingfishers fishing in woodland pools. Harebells in springtime. Mistletoe at Christmas. A wildlife haven on the outskirts of London.
Bushy Park – a unique mix of natural habitats
At just over 1,000 acres, Bushy Park is the second largest of London's Royal Parks. It has a rich range of habitats – from woodland, wetland and ancient trees to acid grassland – a rare habitat and a conservation priority. Bushy Park is a Site of Special Scientific Interest. Its name dates back to the 17th century, when hawthorn bushes were planted to protect the oak tree saplings destined to provide timber for the navy.

Acid grassland is a fragile environment of critical importance. Bushy Park teems with grasshoppers, spiders, butterflies and hedgehogs, and is home to many species of beetle, including the deadwood-loving stag beetle. Many native wildflowers and fine grasses thrive in acid grassland, including sheep's sorrel, mouse-eared hawkweed, and heath bedstraw. In spring, you'll see delicate harebells.
The park's distinctive, grassy tussocks are yellow meadow ant anthills – a key indicator species associated with acid grassland. Some of these anthills are over 200 years old, so please be careful not to tread on them.
In the Woodland Gardens, you may hear the drumming of great spotted woodpeckers. Starlings, jackdaws and grey wagtails also nest or forage here. 
And there's plenty going on below the waterline  Bushy Park  has many species of fish, from chub, bream and roach, to eels in the Longford River.
The Bushy Park wild deer
The 320 strong herd of wild red and fallow deer roam freely across the park – an iconic sight. Their grazing has helped shape the landscape and helps maintain the acid grassland habitat. Take extra care and keep at least 50m away from the deer.
Because of the sheer variety and abundance of wildlife, you can return to Bushy Park over and over again – and still discover something new. From a pair of rutting stags, to a glimpse of a newt or grass snake, or a grey heron with a fish in its beak.
Wildlife and parklife – a delicate balancing act
The Royal Parks are unique urban parklands, where people and wildlife can come together. We have a responsibility to balance the best interests of  people, animals, birds, plants and the planet for future generations.
Sport and leisure in Bushy Park
Stroll through the Waterhouse Woodland Gardens, play a game of cricket on a Sunday afternoon, or cheer on the local rugby and football teams as you look out over the park.
Enjoying sport and nature in Bushy Park
If you like to keep fit and active, you'll find plenty to keep you that way at Bushy Park. From cricket to tennis, football, rugby, yoga, and fishing, there's plenty to do.
Come and support one of the many cricket, football and rugby teams here, book a court for tennis, or take a fitness class. The park has five sports clubs and you don't have to be a local resident to use them – just get in touch directly via their websites.
Running, cycling and jogging round Bushy Park
Bushy Park is a hub for runners, joggers and cyclists, with a wide variety of different trails and tracks to choose, from 5km to the well-loved 10km Perimeter Loop. You'll see people out every day of the year, some in serious training for one of the London Marathons, or just jogging on a misty morning. The Parkrun phenomenon started in Bushy Park, and every Saturday you're welcome to join upwards of 700 local runners.
The eight Royal Parks have over 32 miles of road and 27 miles of cycle paths, and we welcome cyclists. Many locals use the designated routes as part of their commute to work. We do ask that you keep to the assigned paths and tracks, and respect those on foot, as well as the wildlife who sometimes cross the paths. Bushy Park also offers Companion Cycling using modified bikes, so that the beautiful trails and woodlands of the park are accessible to as many people as possible
Want to play rugby or football in Bushy Park?
Bushy Park is a local focal point for rugby and football. It's the home of Harlequin Amateurs and Teddington Rugby Club, and two local football clubs; Teddington Athletic FC and Hampton and Richmond Borough Football are based here. Come and support the teams or sign up to play – or if you want to play rugby or football independently, contact Bushy Park Sports Club, and book a pitch.
Want to play cricket in Bushy Park?
Bushy has a beautifully maintained pitch and pavilion facilities for cricket lovers – whether you like to play or just watch. It's home to both Teddington Town and Teddington Cricket Clubs as well as Hampton Hill and Hampton Wick Cricket Clubs; all very friendly, local teams who welcome new joiners of all abilities, and juniors.
A trip to the Bushy Park Playground
For lots of families who live close by, The Bushy Park Playground has become part of daily life. Even if you're just here for the day, the playground is a great space for kids to let off steam and for you to take a seat. Located close to the Diana Fountain and Hampton Court entrance, The playground has first class play facilities, including cradle swings, a sandpit and turtle drums for the pre-schoolers, and a fantastic timber climbing frame for older children.
Swimming in Bushy Park
You can also go for a swim in the open air Hampton Pool, located right next to the park. The water is heated, so no matter the weather it's a great place to get in a few lengths. There's a gym too.
Bushy Park Playground is a popular adventure playground for children up to the age of 12, located near the Diana Fountain. Find out more.
The history of Bushy Park
Bronze age burials, royal hunts and Chestnut Sunday.
The Bronze Age origins of Bushy Park
The flat, open space of Bushy Park has been settled for at least 4,000 years. A Bronze Age barrow was excavated in the north-east of the park near Sandy Lane and many of the finds, including a bronze age dagger, are now in the British Museum. People have farmed on this land since medieval times.
Bushy Park and the Tudors – Henry VIII's happy hunting ground
In the early 1500s, Hampton Court Palace was built as the prestigious home of Cardinal Thomas Wolsey. Wolsey was the most senior statesman in England at that time – and he gave the order to enclose hundreds of acres of ploughed farmland. Bushy Park, Middle Park and Hare Warren now belonged to him.
However, Wolsey fell from grace in the 1520s, and King Henry VIII was only too pleased to acquire Hampton Court, with its beautiful parklands and hunting opportunities. Wild herds of red and fallow deer still roam the park today. King James I enclosed still more of today's parkland and parts of the Elizabethan walls are still standing behind the Upper Lodge in the north-west of the park.
Bushy Park remained that way for decades, but its landscape was to change dramatically in 1638.
Bushy Park and the Stuarts
In 1638, King Charles I – a fan of water features – decided to create an impressive, artificial canal of 12 miles to divert water to Hampton Court Palace.  This canal, now known as the Longford River, was built by hand at a cost of £4,000 – a huge amount of money at the time. 
King Charles also commissioned the Diana Fountain sometimes described as Arethusa, designed by Inigo Jones as a gift to Charles's wife. The gleaming golden statue of a Greek nymph once graced Somerset House but was moved to Bushy Park in 1713. It is now Grade I listed.
The origins of Chestnut Avenue
Bushy Park's magnificent mile-long Chestnut Avenue was conceived and designed by Sir Christopher Wren as a formal approach to the Palace during the joint reign of King William III and Queen Mary II.
Much later, during the 1800s, the Bushy Park tradition known as 'Chestnut Sunday' began.  Every May, when the horse chestnut trees were in blossom, large crowds would gather to picnic and people watch. We hope to bring Chestnut Sunday back to the park soon.
Bushy Park during the World Wars
A totem pole now standing in the Waterhouse Woodland Gardens is a clue to Bushy's links with the First World War. A large number of Canadian troops were stationed at Bushy Park, and the grand Upper Lodge building was converted into the King's Canadian Hospital. Queen Mary visited, and local Bushy residents put on shows to entertain the troops. The totem pole was sculpted in 1992 by a Norman Tait, a Canadian sculptor from the Nisga'a tribe.
In the Second World War, 3,000 men of the Supreme Headquarters Allied Expeditionary Forces (SHAEF) were based by Chestnut Avenue. It was here that D-Day – the liberation of Europe – was initially planned. Today, east of Teddington Gate, you'll find a USAAF Memorial Plaque commemorating these historic events.
The gardens of Bushy Park
In Bushy Park, you're never far from water. From a woodland stream or a cascade, to the landmark Diana Fountain.
These are gardens to slow down in. Wander the pathways, reconnect with nature, and lose track of time.
The woodlands and water gardens of Bushy Park
Gardens play a huge role in our emotional wellbeing. Walking in them, tending to them, watching them change through the seasons. The peaceful surroundings of the Waterhouse Woodland Gardens and Upper Lodge Water Gardens in Bushy Park are perfect places to relax and unwind.
The Waterhouse Woodland Gardens are a shady oasis of glades, criss-crossed by streams and little bridges. It's said that the Park Superintendent, Joseph Fisher created the winding pathways by trailing a stick through the woods. The gardens were designed in the late 1940s around the remains of the gardens of an 18th century manor house and a 19th century woodland walk and plantation, and are good examples of 20th century garden design. 
Don't miss the azaleas and camellias that flower between October and May, or the Silver Birch Glade which turns a glorious golden yellow in autumn.
The Upper Lodge Water Gardens
If you need a peaceful setting where you can escape the everyday for an hour or two, head for the elegant 18th century Upper Lodge Water Gardens. This beautiful water garden combines Baroque ornamental pools, basins and cascades, in a historic setting. The Upper Lodge Water Gardens all but disappeared in the 20th century. As a charity, we've worked to extensively restored them. 
Can I bring my dog?
Dogs are welcome everywhere in Bushy Park except the Woodland Gardens. You'll need to keep them on a lead across the park when it's deer birthing time from May-July – we put notices round the park to give you plenty of warning.
The Woodland Gardens in Bushy Park span 60 acres and consists of a beautiful oasis of plants, trees, wildlife and waterways. Discover more.

The Upper Lodge Water Gardens in Bushy Park consists of a collection of pools, cascades, basins and a canal that has recently been restored. Discover more.
Bushy Park's military history
When you're wandering through beautiful Bushy Park, it's hard to imagine that this peaceful space was once home to almost 8,000 troops. 
During the Second World War, the park played host to Camp Griffiss, which housed thousands of American servicemen and women. 
In 1944, they were joined by General Eisenhower who moved the Supreme Headquarters of the Allied Expeditionary Forces (SHAEF) to the park. From here he planned Operation Overlord, the code name of the D-Day landings in Normandy.
The wartime buildings were demolished a long time ago, but you can still spot reminders of Bushy Park's proud military history. The site of Eisenhower's former office is laid out with bricks and a plaque reminding visitors of its significance.  
Just across from the site of Eisenhower's office, you'll see the US Army Air Force memorial. Installed by the Royal Air Force, this honours the US troops who were based at Bushy Park. A tablet reads: 'It is through fraternity that liberty is saved.'   
Next time you're enjoying a stroll in Bushy Park, be sure to look out for these moving reminders of a world – and a park – at war. To find out more about these memorials, explore the links below.  
Diana Fountain
The Diana Fountain is a bronze statue of goddess on a marble and stone fountain, surrounded by bronzes of four boys, four water nymphs and four shells.  It is located at the centre of a round basin at the junction of Chestnut and Lime Avenues.
Designed in 1637 by Hubert Le Sueur at the request of King Charles I for his wife Henrietta Maria, this bronze statue of a goddess (sometimes described as Arethusa) is set on a marble and stone fountain, surrounded by bronzes of four boys, four water nymphs and four shells. Le Sueur submitted an invoice for £200 for the statue.
The fountain was moved to the Privy Garden of Hampton Court in 1656. In 1713 the fountain and statue were moved to Bushy Park to the middle of Chestnut Avenue, designed by Sir Christopher Wren, where it still stands today.
The fountain was restored in 2009 as part of the Bushy Park Restoration Project. The exact weight and height of the statue (2.38m tall and 924kg) were confirmed for the first time when it was moved for restoration. During restoration, a stone was uncovered on the base of the statue for the first time. It had a crown and the date AR 1712 (AR for Anne Regis) and would have been added when the fountain and statue were installed in the basin.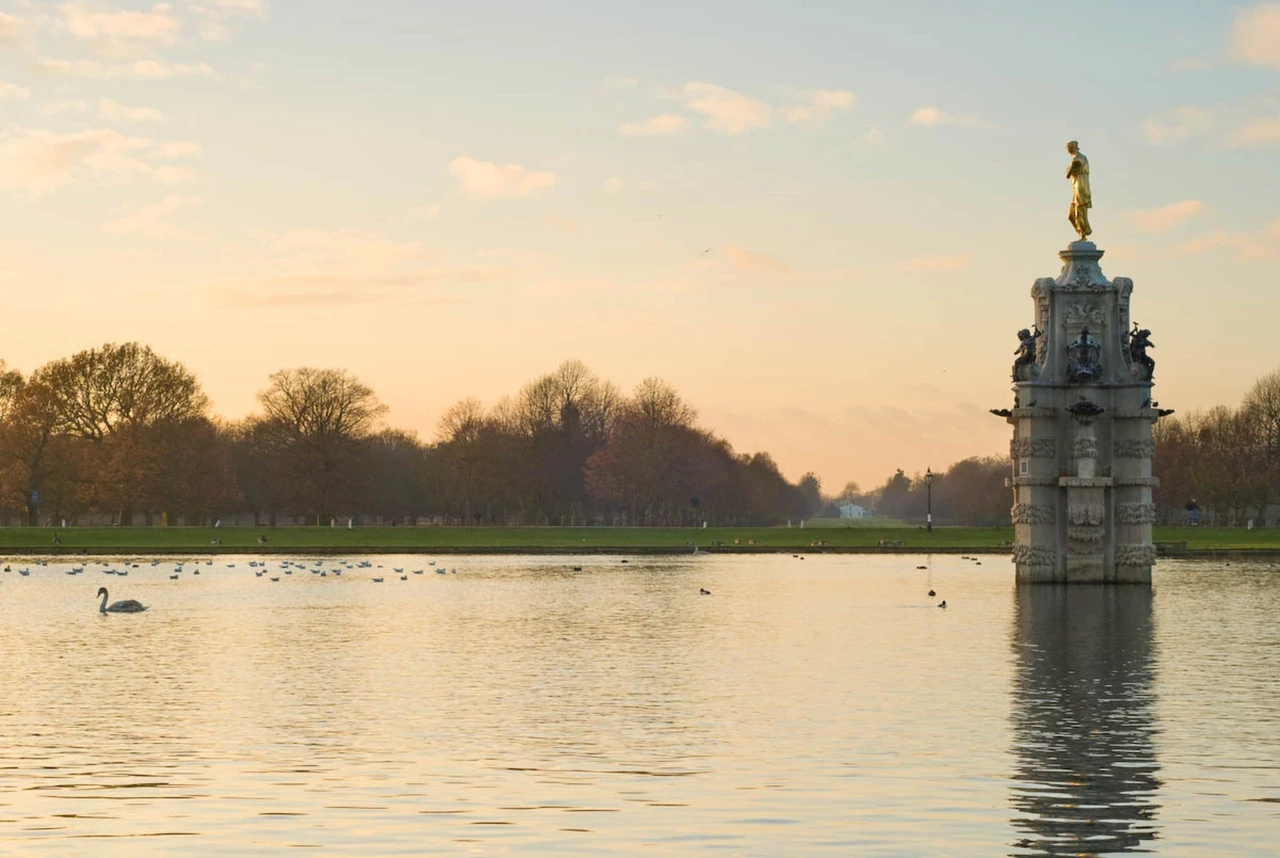 Eisenhower memorial
On 5 March 1944 General Eisenhower moved SHAEF (Supreme Headquarters Allied Expeditionary Forces) from Grosvenor Square in London to Camp Griffiss, a large US base in Bushy Park. From here he planned Operation Overlord, the code name of the D-Day landings in Normandy.
Although the wartime buildings were demolished in 1963, a brick pavement has been laid on the site of Eisenhower's office as a marker of his top-secret presence in Bushy at a momentous time in modern history.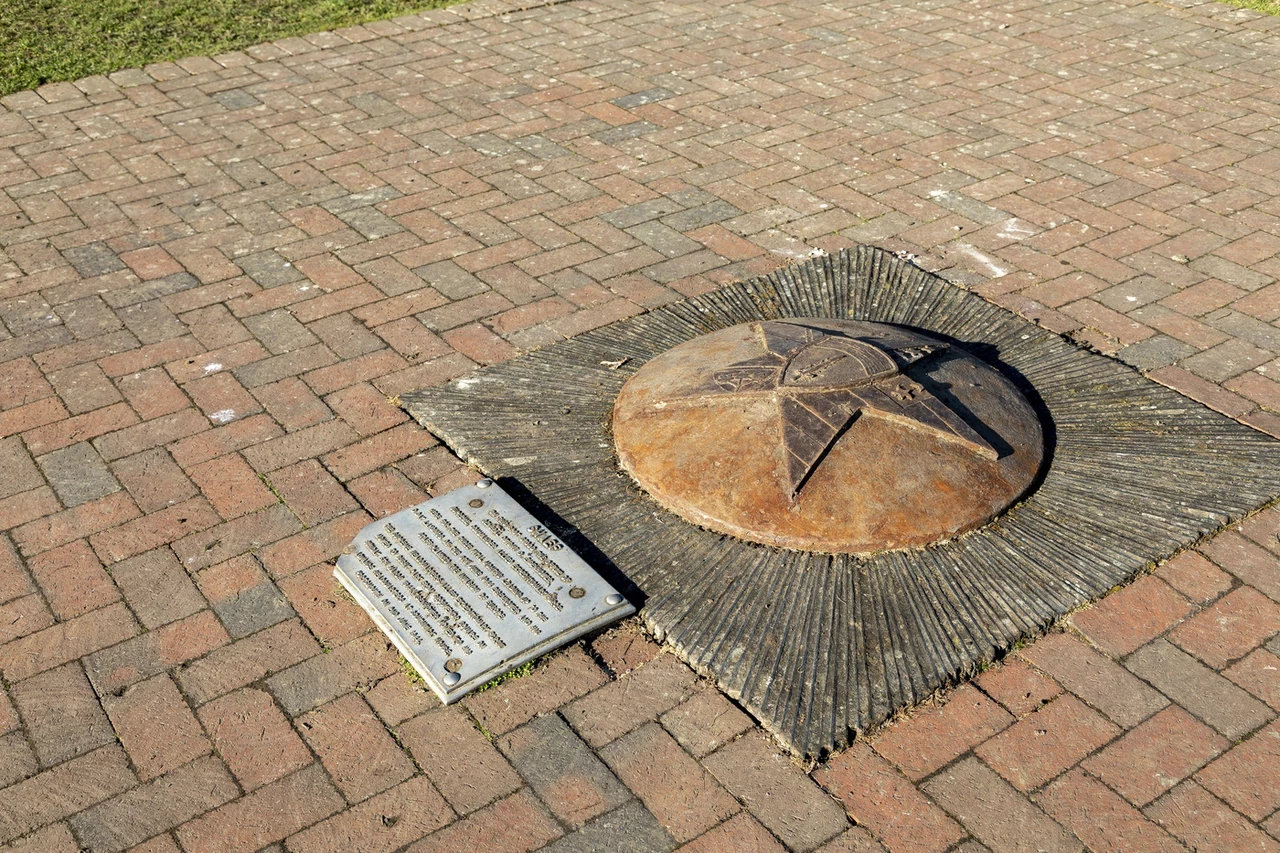 USAAF memorial
The USAAF memorial was installed by the Royal Air Force in memory of colleagues in the US 8th Army Air Force who occupied the camp site here from 1942.
This tablet, east of Teddington Gate, marks the site of Camp Griffiss. It is inscribed with the words: "It is through fraternity that liberty is saved".
It also commemorates the Berlin Airlift, which was coordinated from Camp Griffiss after the Second World War ended. Camp Griffiss was the heavily camouflaged base from which General Eisenhower planned Operation Overlord in 1944. The camp once housed 3000 men and was named after Lieutenant colonel Townsend Griffiss, the first US airman to die in the line of duty in Europe after the US entered the Second World War.
In 1999 The King, The then Prince of Wales, unveiled a plaque to commemorate the 50th anniversary of the lifting of the blockade on Berlin.