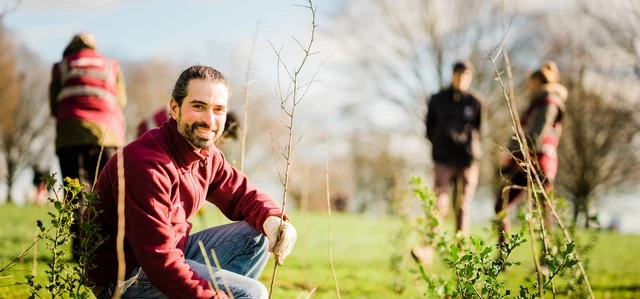 Wildlife conservation volunteering in London's Royal Parks
The Royal Parks are havens for wildlife, as well as for people. Conservation volunteering helps keep these amazing spaces full of life, green, and beautiful.
Creating a wilder future for London's Royal Parks
Please help nature thrive in the city. Becoming a wildlife or conservation volunteer is a practical way to help us conserve the extraordinarily rich biodiversityspecies, habitats and ecosystems in the Royal Parks. With 5,000 acres of parkland, meadows, lakes and ponds, and over 170,000 trees to manage, it's a big job – and a responsibility we take seriously.  
If you can help us conserve the parks for people to enjoy now and in the future, please join our censervation volunteering team.
Conservation volunteers
What:   
A drop-in practical volunteer group carrying out a range of habitat management and improvement tasks around Hyde Park, St James Park (Duck Island), Regent's Park and Bushy Park including bulb planting, meadow management and much more.
When:  
Hyde Park: First Tuesday of the month  
St James Park (Duck Island): Third Thursday of the month  
Regents Park: Fourth Thursday of the month  
Bushy Park: Three sessions a month (2 weekday and 1 weekend)  
Richmond Park: Two sessions a month (1 weekday and 1 weekend)
Volunteers are welcome to join as many or as few sessions as they would like, with no long term commitment.
Who:   
Anyone who enjoys working outdoors and is passionate about conservation. The work is often quite physical, but a range of tasks is often provided.
How:   
Have a read of the role description and sign up via the Volunteer Hub through the links below. If the session is full  the opportunity will show as closed. Do keep checking back though as spaces can open up, or email the relevant  co-ordinator to be added to a waiting list.
Hyde Park  
St James Park (Duck Island)  
Regents Park & Primrose Hill  
Bushy Park  
Richmond Park
Kensington Gardens
Greenwich Park
For more information please visit our Volunteer Hub.
Become a volunteer in our allotments, gardens or nursery

Become a Volunteer Ranger or Learning Volunteer

Become a Heritage volunteer with The Royal Parks