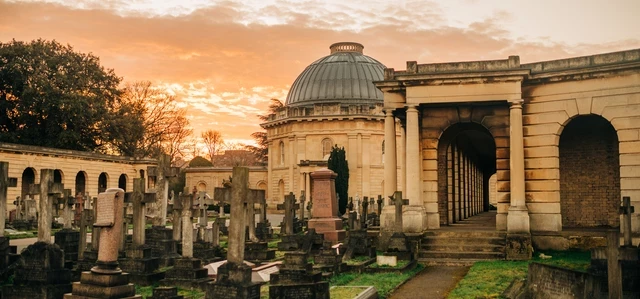 Welcome to Brompton Cemetery
Where the entire landscape was conceived as a garden as valuable for the living as for the dead.
Over 200,000 people lay at peace here, their lives commemorated with scores of spectacular memorials – from grieving angels and ivy-clad crosses to ornate mausoleums and imposing columns. Amidst these gothic monuments, the cemetery is teeming with life. Come and meander along its avenues of stately lime trees where, among the wildflowers, you'll spot an abundance of wildlife. Birds, butterflies, bats and beetles all call Brompton Cemetery home.  
As you wander around the cemetery, you may spot some familiar names. Amongst those laid to rest here are Emmeline Pankhurst, the courageous leader of the suffragettes who fought for women's right to vote. Nearby is the grave of pioneering Doctor John Snow, who proved that cholera was spread by infected water. You could spend a lifetime discovering the stories of the people buried here – from artists and adventurers to sportspeople and socialites. In recent years, Brompton has become a working cemetery once again with new burials often taking place.
The architecture of this cemetery is certainly worthy of its eminent residents. The sweeping colonnades of the spectacular Great Circle frame the view along elegant Central Avenue to the imposing Chapel beyond. At the north end of the cemetery you'll find a café where you can unwind with a quiet coffee, and an Information Centre where friendly volunteers can help you make the most of your visit. We're sure you'll agree that Brompton more than earns its place among London's famous Victorian cemeteries, known as the 'Magnificent Seven. 
Frequently asked questions
Brompton Cemetery services
Brompton Cemetery is also a working cemetery and we are proud to offer burial space within this idyllic setting.
Burial services
Full information on burial services can be found in the Guide to Services, with information on pricing contained in the Burial Charges document.
Full burial plots
Plots are available in selected locations on the western side of the cemetery. They are sold with a 75-year lease and can be bought for either a single, double, or triple interment. Traditional monolith headstones may be erected a year after burial, while temporary wooden crosses may stay on the plot for up to two years. Plots can only be purchased for immediate interments.
Cremation plots
The Garden of Remembrance provides burial plots for ashes in a beautiful lawn setting. Each lawn plot is one square metre, and a standard size memorial may be set into the ground. There is space for up to four interments in each plot. Plot leases are for a period of 30 years and can be purchased for immediate interments. Ashes are to be interred in a biodegradable container or directly into the soil.
Procedure
We ask that seven days' notice of interment is given. All paperwork must be completed and received prior to the interment, as well as any associated fees. Funerals can take place between 8am and 2pm on weekdays, excluding public holidays.
The Chapel
Our Grade II* listed Chapel is available to hire for services before your interment, as well as for a wake or memorial event after the interment has taken place. Hire of the Chapel is charged per hour and the costings can be found in the Burial Charges document. Our on-site catering concession Cooks & Partners have different food and drink options available for wakes and memorial events and full information can be found in the Wake Packages section of the website. 
Cemetery rules and regulations
Our regulations seek to provide a balance between individuals' feelings and the need to continue a safe working environment which respects the heritage of the cemetery. Temporary wooden crosses may remain on grave spaces for up to two years. The decoration of graves is limited to laying flowers only; we do not allow visitors to plant any shrub or flower, erect any form of fencing or border, or place ornaments on graves. Unfortunately, if these items are placed on or around the grave, they will be removed at the discretion of the Cemetery Manager. Please get in touch if you require any further information, or if you would like to book an appointment with a member of our dedicated bereavement team.
Contact details
The team at Brompton Cemetery are available Monday to Friday from 8am-3pm to talk through your requirements and can be contacted using the form below or by phoning the cemetery office on 0300 061 2172.
Scattering ashes in the Royal Parks policy.
Burial Searches
Brompton Cemetery has over 205,000 burials, with 35,000 memorials marking the final resting place of loved ones. With over 39 acres and burial books dating back to 1840, the staff at Brompton can use their expertise and knowledge of the cemetery to pinpoint the locations of those interred.
Is the person I'm looking for buried at Brompton Cemetery?
You can start your search for free on our website listed below. Our burial registers are publicly accessible, and you can search with names and dates of death to find out if someone is buried in the cemetery. Search our burials database to access a free Burial plot location map. If you proceed with a burial search with us, the search fee is non-refundable. It takes time for our staff to carry out searches, and the fee covers the staff admin time.
What are my alternatives?
Our burial registers up until 1997 are held by The National Archives, Kew, Richmond, Surrey, TW9 4DU, where the registers can be consulted for free. This will give you a location, and we are more than happy to provide a map with compartments listed for free. The landscape at Brompton Cemetery is managed very carefully on a rotating management regime. This means that at different points during the year some compartments can be difficult to navigate. Please be aware if you leave the maintained pathways you do so at your own risk.
Memorials
Not all graves have memorials and are less so for 'common' or 'public' graves. These can be difficult to find. In the office we can cross reference against other burials in the area to pinpoint the location of the grave.
Starting your burial search
You can purchase a burial search by clicking the link which will redirect you to the shop. Note that the fee payable is per search so if you wanted multiple burial searches, there would be multiple charges. Burial searches may take up to 2 weeks to complete, we are a very small team with one person conducting burial searches alongside other cemetery responsibilities. Purchase a formal burial search.
Brompton Cemetery
Emeline Pankhurst memorial

The Great Circle & Collonades

Graves in the eastern burial zone

A path in Brompton Cemetery

Aerial view of Brompton Cemetery
Emeline Pankhurst memorial

Brompton Cemetery

The Great Circle & Collonades

Brompton Cemetery

Graves in the eastern burial zone

Brompton Cemetery

A path in Brompton Cemetery

Brompton Cemetery

Aerial view of Brompton Cemetery

Brompton Cemetery
Famous graves & burials
Thousands of people have been buried at Brompton Cemetery since it opened in 1840.
Between the trees are memorials to artists, actors, activists and industrialists, as well as soldiers, scientists, sportspeople and socialites. You could spend a lifetime exploring the fascinating lives of Brompton's residents.
You can start your journey by discovering just a few of Brompton Cemetery's famous graves and places with our Top 100 points of interest leaflet, featuring four self-guided walks.
A unique garden cemetery
Brompton Cemetery is a place where architectural symmetry is softened by nature. It's a landscape of many hidden gems, where garden and grave intertwine.

Whatever time of year you'll find something of interest. From the tree lined central avenue brimming with bulbs in spring, to flower rich meadows attracting butterflies and bees. Exotic seasonal bedding, specimen trees and shrubs adding form, flower and foliage across the year.

Designed by the architect Benjamin Baud and with planting laid out by the garden designer J.C. Loudon, Brompton Cemetery has horticultural links so strong that you just can't ignore them.

In this beautiful cemetery lie some of the most famous botanists, plant collectors and nurserymen of the Victorian age. Robert Fortune who notoriously smuggled tea from China to India; Thomas Moore who wrote books on ferns at the height of Pteridomania who succeeded Fortune as a curator at the Chelsea Physic Garden; and nurseryman James Veitch Jnr, who provided many of the original plants for the cemetery from his Chelsea nursery nearby.
Geometry refined by ecology
The geometric plan, laid out in 1840, is all but complete, with a network of paths wide and narrow taking you through a range of landscapes and habitats shaped by geology, historic management, and now refined by the careful, ecologically led approach we take today.

At the north entrance you'll find planting inspired by Fortune and Moore. Specimen 'tea' plants underplanted with ferns and other specimens popular in Victorian times to symbolise life and death, creating lush borders that pay homage to these figures on the great woodland gardens of the west. 

Species largely inspired by Fortune are found at the Garden of Remembrance. Walls are covered with climbers including Wisteria, Star Jasmine and kiwi and timber pergolas create distinct garden rooms further embellished with flowering shrubs, herbaceous and ground cover plants all creating a tranquil space to reflect and admire these botanical treasures. 

Fortune had an eye for the exotic, as you'll see in the flower beds around the south entrance. Here, plantings are curated to give a more tropical display in the spirit of Veitch whose family grave lies on the elevated east wall path.
A haven for wildlife
On the west side, the cemetery opens up, with beautiful flower rich meadows, especially in early summer, where yellow rattle, ox-eye daisy, cow parsley and other wildflowers nestle amongst the long grasses creating a thriving tapestry of colour and a rich nectar source for many pollinators. 

On the east the landscape is wilder with dense thickets making wonderful, undisturbed habitats for the cemetery's many birds – a fitting tribute to Eliza Phillips, animal activist and co-founder of the RSPB, who is buried here. 

We want to make sure that Brompton Cemetery remains a home and a haven to wildlife.
Can I bring my dog?
Dogs are welcome at Brompton Cemetery, but please keep them on a lead at all times and stick to the signposted paths.
Eating and drinking at Brompton Cemetery
Reflect and relax over coffee, pastries or a light bite at Café North Lodge – deep in the heart of London's historic garden cemetery.
Café North Lodge – Brompton Cemetery's Grade II listed café
Whether you're here to explore the rich history of Brompton's unique Victorian monuments and mausoleums, or to just to enjoy this tranquil oasis in the middle of the city – do drop by Café North Lodge for breakfast, lunch or just a quick cappuccino.
We're open for early breakfasts on your way to work, or indulgent afternoon teas with friends. We stay open later in the summer, so you can dine outside on our open air terrace. And when the days grow shorter, eat inside and discover more about Brompton's heritage – there are biographies and intriguing facts about some of the famous people buried here all around you.
Our food and drink is locally sourced where possible and sustainably prepared. We change our menus daily, according to what's in season – and we ensure there's a full range of vegetarian and vegan options available.
Brompton Cemetery is a well-known habitat for many small birds and animals – so please make sure you take any litter home or pop it in one of our bins when you leave.
Every purchase helps us care for Brompton Cemetery
A proportion of anything you spend at our cafés or kiosks goes straight back to help look after the Royal Parks, and the wealth of wildlife and natural habitats they contain.
Opening hours
Open from 8.30am. Closing times change throughout the year and are 1 hour before the cemetery closes (view Brompton Cemetery opening times)
Christmas Eve: 8.30am - 3pm
Christmas Day: Closed
Boxing Day: Closed
27 December to 1 January: 8.30am - 4pm
Contact
Café North Lodge is operated by Cooks & Partners. You can contact them on
Phone: 020 7373 7304
Email: cafenorthlodge@cooksandpartners.co.uk
Brompton Cemetery

Brompton Cemetery

Brompton Cemetery

Brompton Cemetery

Brompton Cemetery

Brompton Cemetery
The history and architecture of Brompton Cemetery
More than 205,000 people from 40 different nationalities lie buried in London's atmospheric Brompton Cemetery.  
London's historic Brompton Cemetery – monuments, mausoleums and catacombs
In 1800, the population of London stood at around 1 million. But in just 50 years, it more than doubled  – and soon the city was bursting with the dead, as well as the living. At this time, most people were buried in churchyards, but these were rapidly reaching capacity and this gruesome overcrowding began to threaten public health.
The solution was the creation of the 'Magnificent Seven': beautifully landscaped garden cemeteries that formed a ring around London. Grade I listed Brompton Cemetery is one of the oldest and best loved of these Victorian garden cemeteries.
Brompton Cemetery landscape and layout – a garden in stone
Brompton Cemetery was founded in 1840 by the architect, inventor and entrepreneur Stephen Geary. When the directors of the cemetery held an open competition to design its principal buildings, the board rejected Geary's own proposals and chose instead those of Benjamin Baud. 
Baud's landscaping designs made a virtue of Brompton Cemetery's rather uninspiring flat plot of land – creating an immense, tree-lined open air 'cathedral' with a 600 metre central 'nave'. The planting layout was created by J.C. Loudon.
Strolling down Brompton's Central Avenue
A wide, tree-lined Central Avenue became a favourite place for fashionable Victorian families to stroll, picnic and people-watch. If you had the money, commissioning a family mausoleum or monument on Central Avenue was the equivalent of acquiring a Park Lane apartment in the afterlife.
The Catacombs of Brompton Cemetery
Beneath these  elegant avenues and pathways lies the subterranean world of the Brompton Cemetery Catacombs, entered by heavy cast-iron doors carved with snakes and inverted torches. The Friends of Brompton Cemetery run regular guided tours of the catacombs, where some chose to be buried in coffins stored on large shelves. Inside, you can still see some of the original Victorian funeral flowers that mourners placed beside their dearly departed.
Although there was room for thousands of burials, only 500 people chose to be interred in the Catacombs.
Who is buried in Brompton Cemetery?
Brompton Cemetery is the final resting place for over 205,000 people, from surgeons, suffragettes and opera singers to racing drivers, arctic explorers and entrepreneurs.  
These are some of the famous graves to look out for: 
A simple Celtic Cross marks the grave of Emmeline Pankhurst, the courageous leader of the suffragette movement who fought for women's right to vote
The fastest man to row the River Thames, Robert Coombes is commemorated with an upturned rowing boat.
The racing driver Percy Lambert, who broke the 100 miles per hour speed record, lies buried beneath a broken column, signifying a life cut short.  
The end of the 1800s and the decline of Brompton Cemetery
By 1900, Brompton Cemetery had seen 155,000 interments, but this soon dwindled and the cemetery was closed to new burials in 1952. Today, Brompton  is a working cemetery once again, and it's possible to be buried in this beautiful, historic setting.
The cemetery is now a quiet, secluded haven, and a wonderful habitat for wildlife.
Nature and wildlife of Brompton Cemetery
Pipistrelles swooping down the central avenue at sunset. Goldfinches and black caps hiding in the ivy and bramble. A fox, slipping between the gravestones.  
A wildlife haven in the heart of West London.
Brompton Cemetery's unique natural habitats
Like many cemeteries, Brompton's peaceful atmosphere, high tree canopy, ivy-covered graves, long grassland and pockets of scrub mean wildlife can flourish, alongside the many visitors to the cemetery.
Its habitats are a mix of flower rich grassland, small areas of meadows and wilder areas of scrub, brambles, ivy and hawthorn, provide perfect cover for robins and black caps, hedge sparrows, goldfinches and song thrushes. In summer, the cemetery meadows come alive with hoverflies, butterflies and fantastic day flying moths, such as the cinnabar.
Flowers amongst the headstones
Brompton Cemetery has an abundance of native wildflowers such as lady's bedstraw, bird's-foot trefoil and oxeye daisies – and species that love acid grassland such as red fescue and mouse-eared hawkweed. The cemetery is particularly lovely in springtime, with snowdrops, crocuses and bluebells pushing up after winter. 

If you walk towards the Great Circle from North Lodge, you'll notice places where we're deliberately leaving the grass long, to boost biodiversity and encourage more pollinators. Brompton Cemetery's meadows are home to many species such as voles, wood mice, bees and beetles. Look closely and you might see the vivid wasp spider spinning a web, or even the Tower Hamlets jumping spider – only discovered in 2002. In summer these meadows are alive with colour and humming with life – bursting with poppies and cornflowers and humming with the sound of grasshoppers and bumble bees.
Take the Brompton Cemetery Spider Stroll
Explore the lesser known corners of the cemetery and its wildlife with our Spider Stroll – download the map and discover at your leisure.
A delicate balancing act
Brompton Cemetery is a unique environment, where people and wildlife coexist. As The Royal Parks charity, we have a responsibility to protect and manage the cemetery to balance the needs of people and wildlife, so that both continue to flourish.
The Brompton Cemetery Conservation Project
From 2015-18 we undertook the Brompton Cemetery Conservation Project, a £6.2million investment helping to restore Benjamin Baud's original design while protecting and safeguarding the cemetery for future generations.
Conserving Brompton Cemetery
Before the project the condition of the cemetery had deteriorated, especially the colonnades and catacombs which were on Historic England's buildings 'at-risk' register. There was a risk that the chapel would end up on the register too if vital conservation work wasn't carried out. We secured £4.5M 'Parks for People' funding from the National Lottery Heritage and Community Funds, invested a further £1.2M ourselves, while an additional £500,000 was secured through fundraising and with the help of the Friends of Brompton Cemetery.
Conservation project achievements
The restoration of the majestic chapel, central colonnades and catacombs, including improvements to the Grade II* listed Chapel that saw the leaking lead roof replaced and accessibility improvements to allow wheelchair users to visit the chapel.
Conservation of the historic landscape and refreshed design where new planting reflects the species introduced by famous 'plant hunters' buried at Brompton, among them Robert Fortune.
Conservation works on 15 historic memorials, including the Grade II listed tomb of Albert Mellon and the Central Colonnades.
Extensive conservation works designed to maintain and improve vital and varied habitats around the cemetery.
Welcoming the community by converting and slightly extending the North Lodge creating a café and public toilets, offices for the Friends of Brompton Cemetery and an information centre featuring a meeting room, and accessible toilet.
Development of a volunteering programme to help conserve and enhance the natural environment of the cemetery, placing it firmly in the heart of the local community as a local green space.
Around 500 volunteers took part in the project. A wide-ranging digital information project, bringing the cemetery to life for visitors, who can browse interactive aerial views of the cemetery and explore a mobile-friendly burials database.
Boosting education with innovative in-person events and digital information, as well as providing apprentice training.
Installation of a range of interpretation boards throughout the cemetery, bringing its history to life.
An improved funerary service, aiming to give the cemetery financial sustainability. Brompton Cemetery is as much for the living as for the dead.
It welcomes the community, provides a hub for volunteering and training, and is a place of relaxation for all visitors – while still being a working cemetery. It is architecturally astonishing, full of magnificent sculptures, monuments and buildings, set in a beautiful landscape.
History comes alive in this marvellous communal green space, set in the heart of a densely populated part of London. The project would not have been possible without the generous support of the National Lottery Heritage Fund and The Friends of Brompton Cemetery.
Brompton Cemetery is one of London's famed 'Magnificent Seven' – a series of spectacular cemeteries that were created to ease overcrowding in Victorian London.  
Nestled amidst the cemetery's trees and wildflowers are over 35,000 gravestones and monuments.  
Some of the period's most eminent individuals were laid to rest here – from feminist icon Emmeline Pankhurst to pioneering doctor, John Snow. 
But what else should you look out for next time you're taking a peaceful stroll at Brompton? Running down the middle of the cemetery is the stunning Central Avenue, lined by gothic graves and ornate mausoleums. 
At the south end of the cemetery, the Central Avenue opens up into the Great Circle, bounded by awe-inspiring colonnades. Underneath these sit an extensive series of catacombs, where some Victorians chose to be laid to rest. Just the other side of the Grand Circle, you'll see The Chapel, where events are sometimes held.  
The cemetery also boasts some important military memorials. Keep an eye out for a monument to London's iconic Chelsea Pensioners, not far from the cemetery's North Lodge Café – a peaceful spot to enjoy a coffee and listen to the birds.