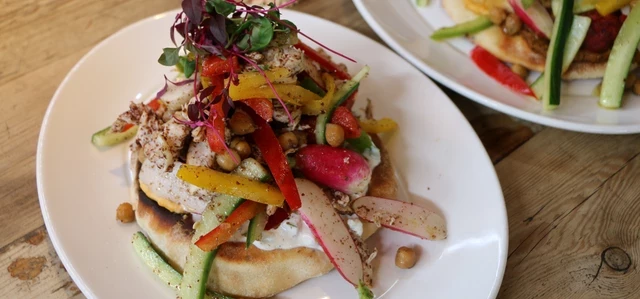 Food and drink in the Royal Parks
Delicious food in beautiful surroundings
Enjoying fresh food in the open air
We'd love to welcome you at any of our thirty cafés and kiosks in the Royal Parks. There's nothing like stopping for a cool drink on a summer afternoon, or something warm on a chilly morning.
The cafés and kiosks are located in all eight of the Royal Parks and Brompton Cemetery. So you can take a break and enjoy a barista coffee or tea and fresh pastries along some of our most popular walks and routes, or sit down for a filling meal as part of your visit.
The cafés offer freshly made cakes, pastries, artisan sandwiches and baguettes, as well as delicious hot food choices. There are always vegetarian and vegan options in the cafés and kiosks, so you can find the perfect place in your park for an elegant alfresco lunch with a beautiful view.
Our sustainability promise
All our cafés change their menus to reflect the seasons, and source the ingredients locally from sustainable suppliers. We avoid single use cups, cutlery and condiment sachets as much as possible – and you're welcome to bring your own reusable cups too. We're switching over from plastic cutlery to metal, and there's not a plastic straw or stirrer in sight. If you need a paper straw or napkin, please just ask the staff. 
Have another coffee – and help us care for your Royal Park
Whether you buy a cappuccino, or a pizza, a proportion of what you spend goes towards looking after the parks and park facilities. 
We're proud to partner with a number of catering concessionaires, including  Benugo, Colicci, Cooks & Partners, Deep Beat Entertainment, The Hearsum Family and Park Sports. 
Opening times
The cafés and kiosks are open every day except Christmas Day, but do check each park for opening times, as they can vary from park to park and season to season. There are menus and prices available too. 
Bon appétit!