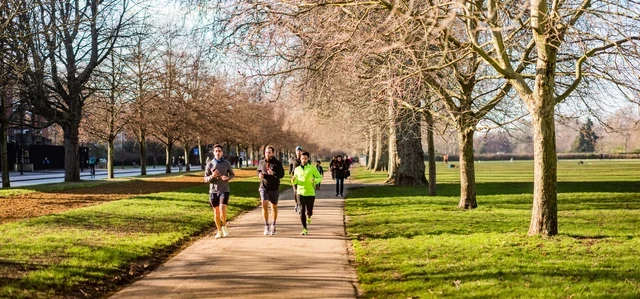 Sport, leisure and wellbeing
Play a sport, hire a boat or simply stroll. What could you do at the park today?
We want everyone to be able to make their visit to a Royal Parks special. You might want to hire a boat for an hour or swim in the open air at the Serpentine. You could book some time for a game of football, cricket or tennis with friends. Find out more about the park's history of wildlife with a walking tour, or go for a self-guided walk and discover the park at your own pace.  
Make it a memorable day for children with a voyage on the pirate ship at the Diana Memorial Playground in Kensington Gardens, or visit one of our amazing new nature-inspired playgrounds in The Regent's Park and Greenwich Park. And for the children at heart, you can stay active and flexible at Hyde Park's Senior Playground.   
Get the most from your visit
Parks can affect our mood. They're places to relax, clear our heads, get some fresh air and exercise in whatever way we choose. Where we can hear the birds or catch the scent of whatever's in bloom.
We believe spending time in these beautiful green spaces in the city can make people happier and healthier. The Royal Parks can help give balance to our lives.
Take some time for yourself. Escape to your nearest Royal Park
Can't make your mind up? To find out more about what you can do in any of the Royal Parks, take a look at their sport and leisure pages: