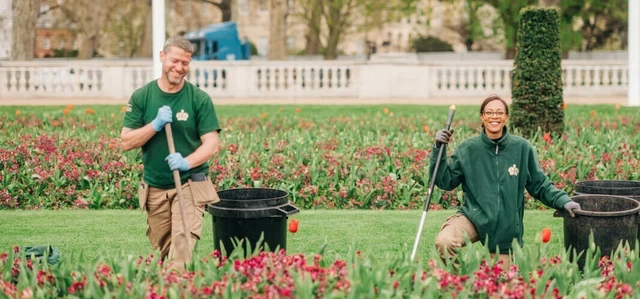 Wellbeing at The Royal Parks
Being happy at work isn't just about the salary. Our wellbeing benefits look after your personal, emotional and financial wellbeing too.
Caring for your wellbeing at work and outside work
We all deserve to be properly rewarded for what we do. But at The Royal Parks we also believe that everyone deserves an employer who takes a holistic approach to treating their staff properly. That includes helping to take care of your health, both physical and mental, or helping support you and your family through difficult times.
You may find the answers to some of your questions about employee benefits and wellbeing here. If not, please do get in touch with us.
How much annual leave do I get?
Taking time off – and taking time off at the right time – is really important for your physical and mental health. You'll have 26 days annual leave plus bank holidays, which goes up to 29 days after 3 years' service (adjusted for part time roles). You can also request additional unpaid leave too.
Do you have a healthcare plan?
Our healthcare plan includes a cash plan, health insurance and personal accident cover.
The health cash plan means you can claim for essential health care such as dental care, opticians' appointments or some therapy treatments (with an annual cap).  Subject to the terms of the policy, our health insurance means you can decide to go private quickly or receive a cash payment if you prefer to be treated under the NHS. Our personal accident cover means you're protected should something unexpected happen and you need to take time off.
Free eye tests
If you use a computer screen as part of your work (and decide against signing up for our healthcare plan) we'll give you a voucher to use at Specsavers to pay for an eye test up to a value of £25. The voucher will also entitle you to £20 off the Specsavers £99 range of glasses.
Free flu jabs
To help you stay fit and healthy, we offer all staff a free voucher for a flu jab at Boots.
Tickets to some Royal Parks events
Some world class events and concerts take place in the Royal Parks each year. Not surprisingly, one of our most popular staff benefits is the chance to get free tickets to some of them.
Once you've been with us three months, you can enter the ballot to win free tickets to our summer concerts, Winter Wonderland, Regent's Park Open Air Theatre, Frieze Art Fair and Taste of London. 
You can also apply to take part in high-profile sporting events such as the Royal Parks Half Marathon, Swim Serpentine, Ride London and the London Marathon. 
What support would there be if I'm having a problem at work or home?
Having access to professional support and advice, as well as a sympathetic ear, is really important if you're having a difficult time. Which is why we offer an Employee Assistance Programme providing you with free, confidential and impartial support. The programme will give you practical help to sort things out and to help with your wellbeing. All counsellors and information specialists are fully qualified, experienced in supporting people through difficulties such as mental wellbeing, family matters, relationships, debt management and much more.
How do you support mental wellbeing?
Our team of Mental Health First Aiders are here to provide a point of contact and to listen without judgement if you, or someone you are concerned about, is experiencing a mental health issue or emotional distress. 
Just ask, in confidence, if you need support.
How much compassionate leave do I get?
We offer up to five days compassionate leave and up to five days leave for unexpected emergencies to help you cope at times of crisis. 
How can I volunteer as part of my job?
Giving back to the community helps our personal wellbeing and sense of worth, at the same time as developing a new skill or meeting new people. To encourage you to get involved, we'll give you up to five days leave a year to volunteer. We'd love you to volunteer in one of the Royal Parks but you can volunteer to help any charity.