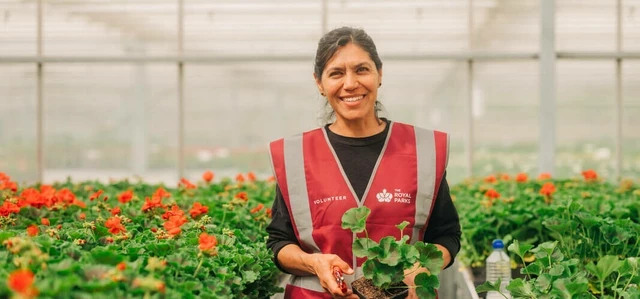 Become a gardening & growing volunteer
Helping our gardens flourish – from seed to harvest.
It doesn't matter whether you've been gardening or growing your own for years, or if you want to try something you haven't done before. Being a gardening and growing volunteer can feel great. The chance to tend to plants and watch them flourish is particularly rewarding.  
We're always looking for volunteer gardeners and horticulture volunteers to help us care for the Royal Parks gardens. You don't need to be an expert, or have any hands-on gardening experience, just enthusiasm, a love of fresh air and a little bit of exercise. Our expert Royal Parks gardeners are very friendly and always happy to share practical skills and gardening knowledge with everyone who wants to know more.  
Nursery volunteer
What:  
A weekly volunteering session (Monday – Friday, mornings and afternoons) at the Hyde Park Plant Nursery.   
Where: 
Hyde Park  
When:
| | |
| --- | --- |
| Monday | 9am-1pm or 12pm-4pm |
| Tuesday | 9am-1pm or 12pm-4pm |
| Wednesday | 9am-1pm or 12pm-4pm |
| Thursday | 9am-1pm or 12pm-4pm |
| Friday | 9am-1pm or 11am-3pm |
Volunteers would ideally need to commit to a regular day/slot as the tasks have to be planned ahead and we have limited capacity. Before starting at the nursery, volunteers will need to attend a 30 minute site induction. At the start of each subsequent session toolbox talks will be given on the tasks to be completed. 
Who:  
Anyone who enjoys working with plants and is passionate about horticulture. The work is often quite physical, can be indoors or outdoors, but a range of tasks is often provided. 
How:  
Have a read of the role description and sign up via the Volunteer Hub. We will only be accepting limited numbers to the programme and may need to temporarily close the opportunity when we have reached capacity. Do keep checking back though as spaces can open up.
Volunteering in The Allotments at Kensington Gardens & Regent's Park
What: 
The Kensington Garden and Regent's Park Allotments are beautiful growing spaces run by a small group of volunteers. Volunteers help with various tasks such as planting, weeding, watering and generally keeping the allotment in tip top condition!
Who:  
This the ideal opportunity for anyone with an interest in food growing, open to anyone over the age of 18, no previous experience required. Volunteers are asked to commit to regular sessions.
How:  
To find out more information and submit an application please visit our Volunteer Hub.
Become a Wildlife conservation volunteer

Become a Volunteer Ranger or Learning Volunteer

Become a Heritage volunteer with The Royal Parks