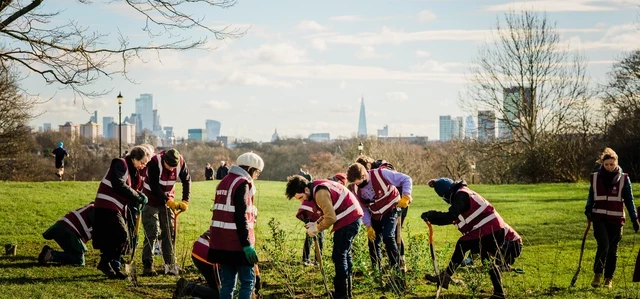 Meet the team
The Royal Parks have a dedicated Volunteer Team who support our 1000 volunteers, deliver opportunities alongside coordinators throughout the parks and ensure that everyone's experiences are of high quality enjoyable volunteering.
Bryony Cross
Volunteering and Programmes Manager
Bryony started her Royal Parks career with the Mission: Invertebrate project, working with volunteers on various invertebrate focussed citizen science projects whilst also volunteering to help with the hedgehog survey, corporate volunteering and other projects whenever time would allow. This inspired Bryony to want to be more focussed on volunteering and initiated the move into the volunteering team.
Bryony now manages the volunteering team, leading on the strategy and direction of the team, growing the programme and working to help tackle the challenges our parks are facing. Whenever there's an excuse or opportunity Bryony loves to escape the office and head out into the parks to get stuck in with some practical work and to have a good chat to some of the fantastic volunteers.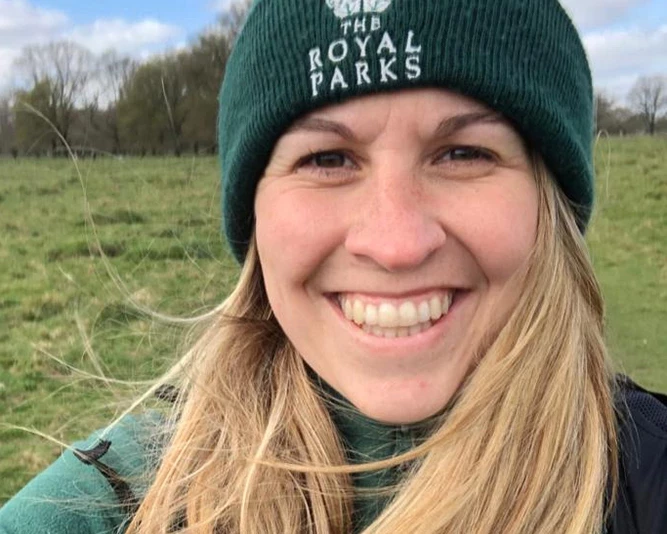 Joanne Meays
Volunteer Officer
Jo runs the Royal Parks' Volunteer Ranger Service at Richmond and Bushy Parks, who are on site to educate visitors about the wildlife, history, landscape and the necessary health and safety that comes with such unique sites.
Jo also coordinates the Volunteer Drivers for the Minibus Service at Richmond Park, enabling those with limited access to the park get out and about via this hop on hop off service. Jo coordinates the 150+ Volunteer Rangers and Drivers by ongoing training, reports, updates and roaming the parks with them, talking to visitors and overcoming challenges along the way.
"The Volunteer Rangers are amazing, so knowledgeable about the parks and seeing this enthusiasm in play, talking to visitors is what makes this job so perfect"
Jo is new to London but has experience in people engagement and nature conservation in Yorkshire on various projects along the way.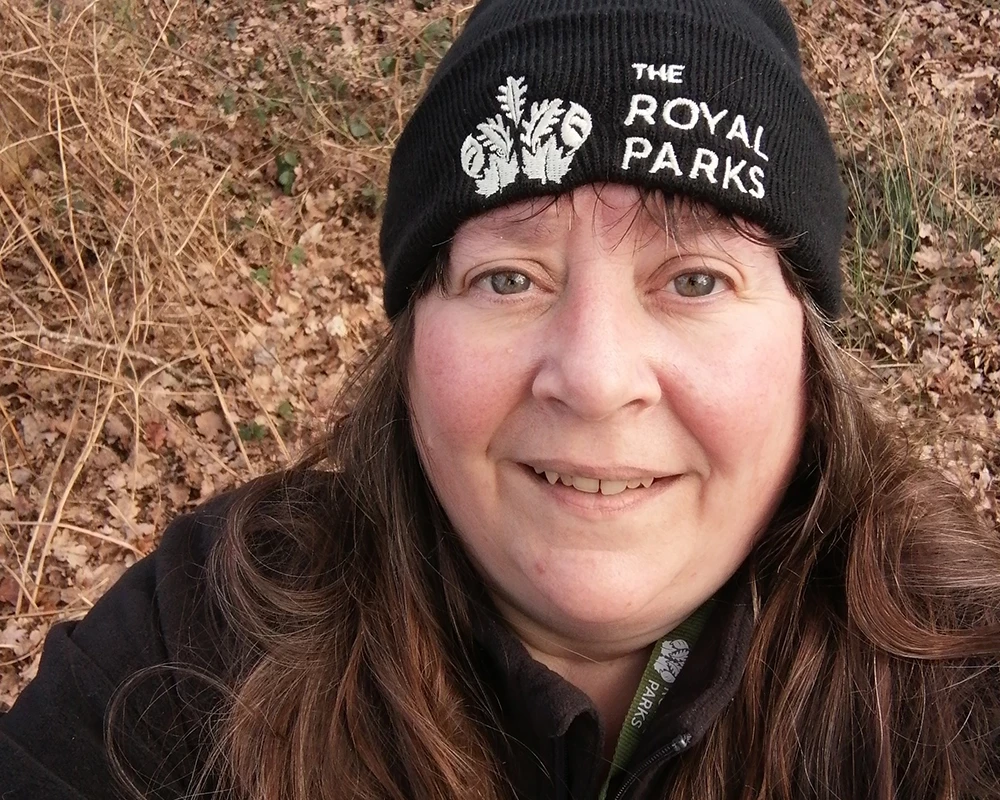 Alice Owusu-Evans
Volunteer Officer
Alice supports both local and corporate volunteer groups that focus on conservation activities, mainly in The Regent's Park but also across the other Royal Parks.
Alice's background is in biology, ecology and nature conservation, and before joining the volunteer team she also followed Bryony's footsteps working in the Mission: Invertebrate team, and worked with The Conservation Volunteers at the Railway Fields Nature Reserve in Haringey.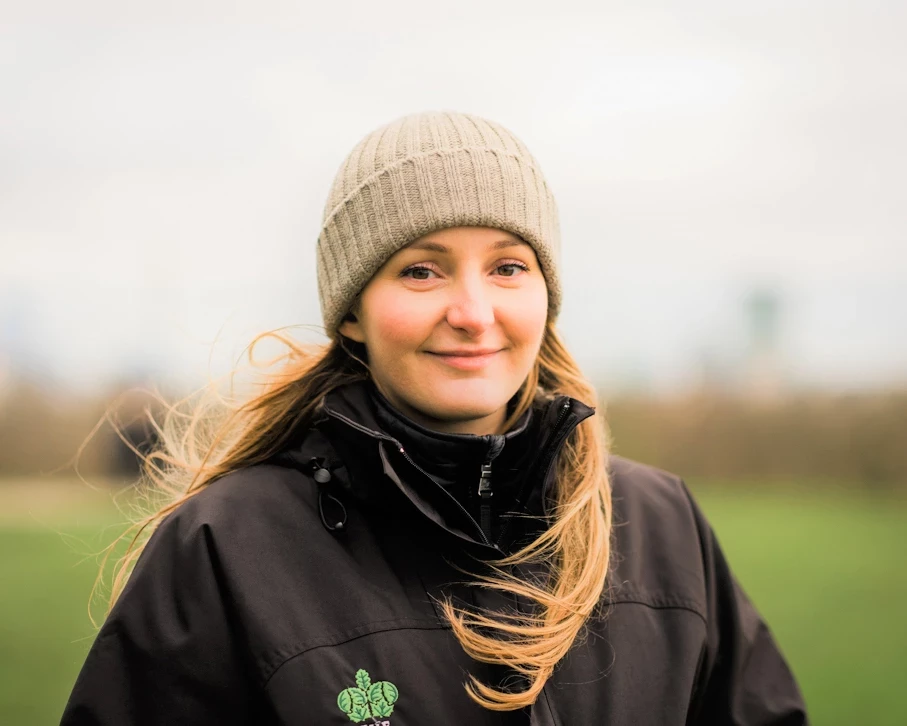 Simon Booy
Volunteer Officer
Simon runs practical conservation days in the Royal Parks for local and corporate volunteers. His main areas of responsibility are Hyde Park, Kensington Gardens and St James's Park. He started out as a conservation volunteer himself, working on sites across north London, including Woodberry Wetlands and Walthamstow Wetlands for the London Wildlife Trust and with The Conservation Volunteers (TCV) at the Railway Fields Nature Reserve in Harringay.
He enjoyed conservation volunteering so much it prompted him to change careers. After many years working in the university sector, he retrained in environmental conservation management and hasn't looked back. He moved to the Royal parks after a spell with TCV. He's worked on large-scale tree planting, woodland management and natural flood management projects and is partial to the occasional bit of hedgelaying.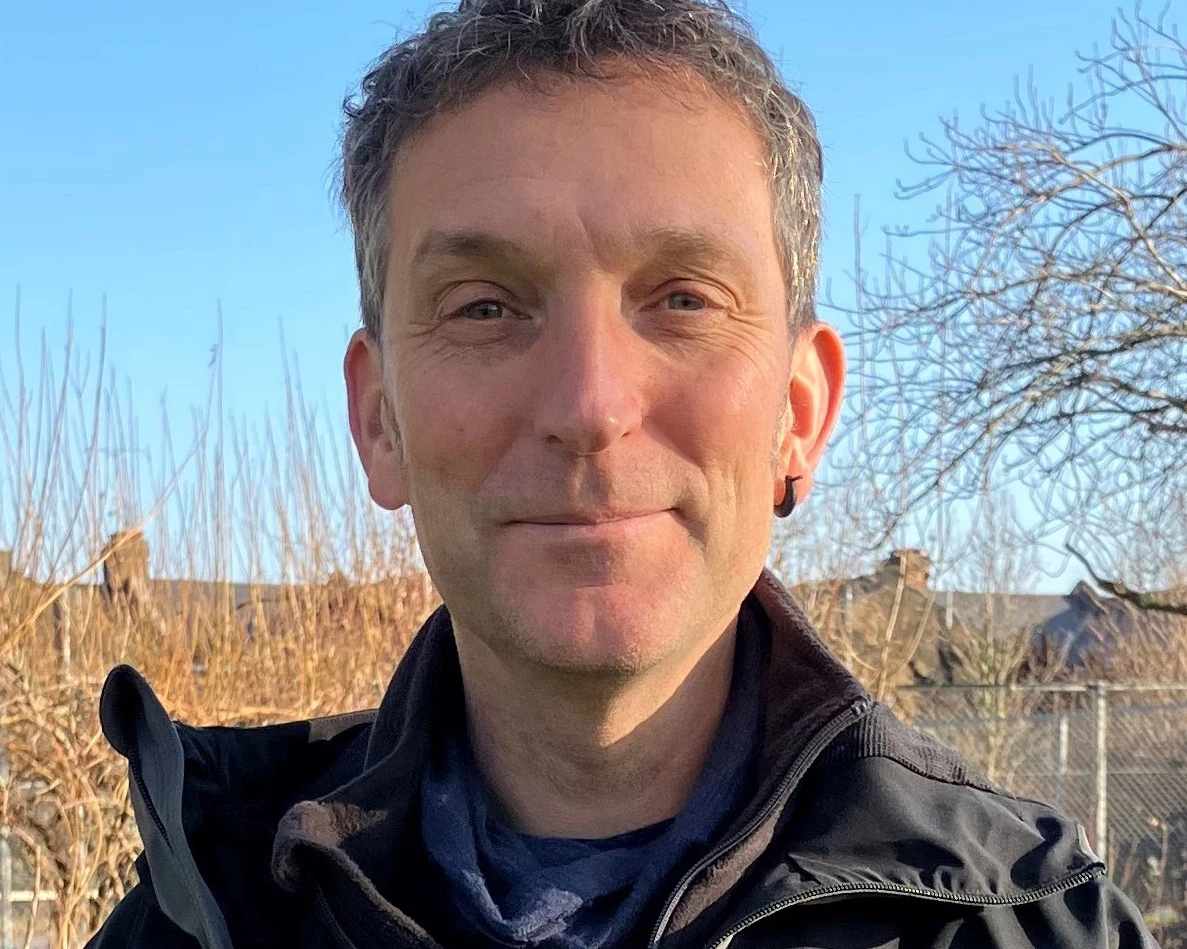 Anna MacLaughlin
Volunteer Officer
Anna manages the Volunteer Ranger service at Greenwich Park, and is currently working to expand the scheme into central London for the first time, at The Regent's Park. The Volunteer Rangers aim to inspire and educate visitors to these iconic sites, sharing the fascinating social and natural history of these unique landscapes, and ensuring they can be understood and appreciated for many years to come.
Anna's background is in ecology and nature conservation, and before joining The Royal Parks Volunteer Team she worked as a Conservation Ranger in East London, managing volunteers, leading practical conservation activities and projects, running environmental education sessions, wildlife surveys, and hosting nature inspired community events.
Lisa Stanford
Volunteer Coordinator and Admin. Assistant
Lisa works part-time as the volunteer coordinator for the The Royal Parks.  Her role supports the volunteer recruitment and management infrastructure for the organisation.
Lisa assists with the volunteer registration, induction needs, PPE and ensures volunteers are matched with appropriate work/park. Working closely with Volunteer Coordinators, she helps to ensure volunteers receive satisfaction in the work they participate with, and that the organisation is receiving the support from the volunteers.
Lisa also supports the administration of the Volunteer Team's financial budgets together with their general administration.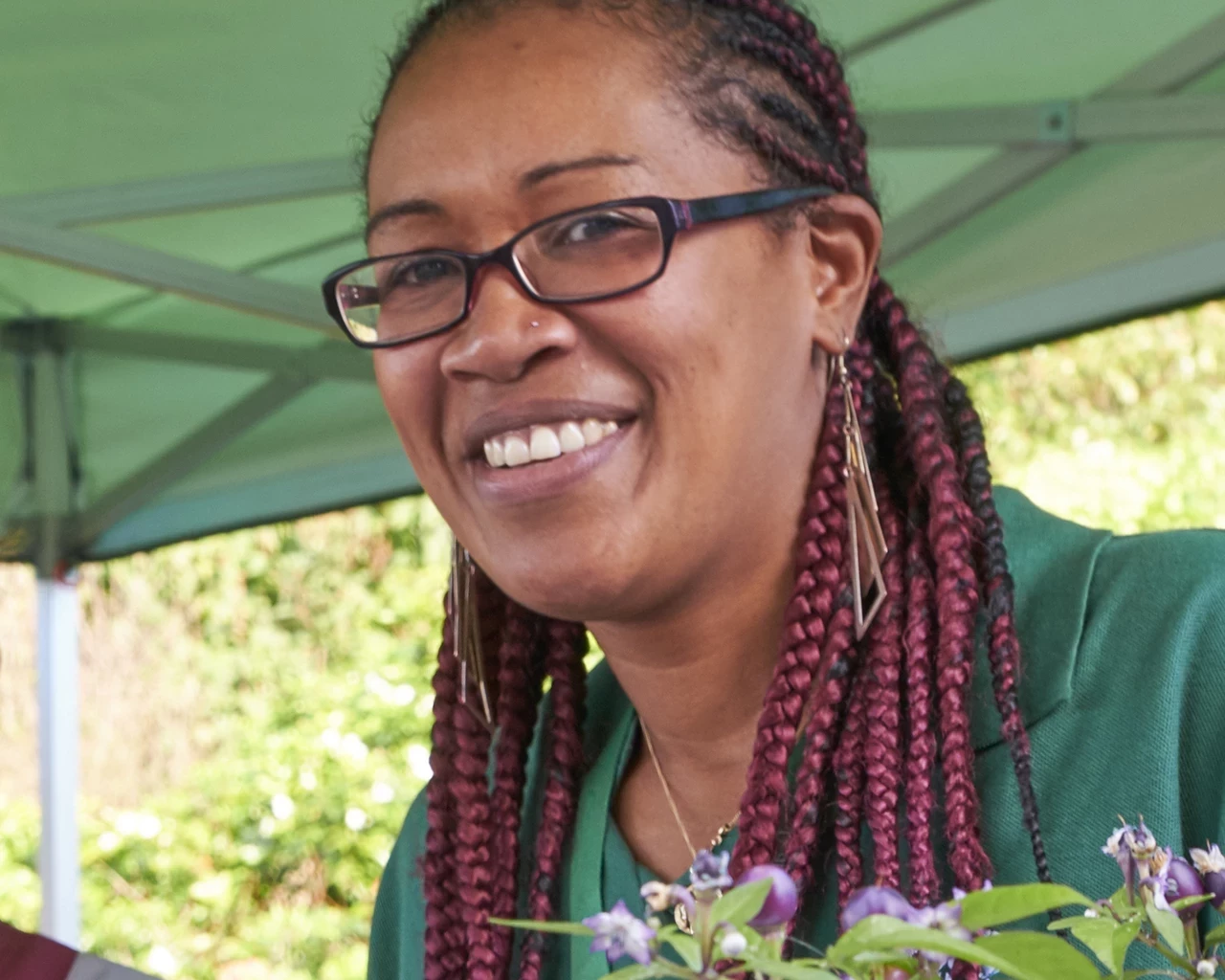 Fiona Megarrell
Volunteer Officer
Fiona manages the practical conservation volunteering at both Richmond and Bushy Parks.
Her aim is to offer a variety of opportunities to people from all walks of life, as well as involve community led groups and initiatives in the parks yearly conservation works.
Fiona has worked with volunteers for years across different organisations, creating exciting programmes and engaging the public in caring for the environment. She has a background in conservation land management and managed nine nature reserves across the north of Cheshire whilst working for The Wildlife Trusts.
She also worked as a park and countryside ranger for The National Trust, Denbighshire Countryside Service and most recently as the Nature Recovery Ranger in Liverpool. This role focussed on nature-based interventions across hospitals, encouraging green social prescribing by establishing new nature projects and enhancing current green space. This included creating wildflower meadows, carrying out butterfly surveys, reinvigorating patient courtyards, planting trees and much more.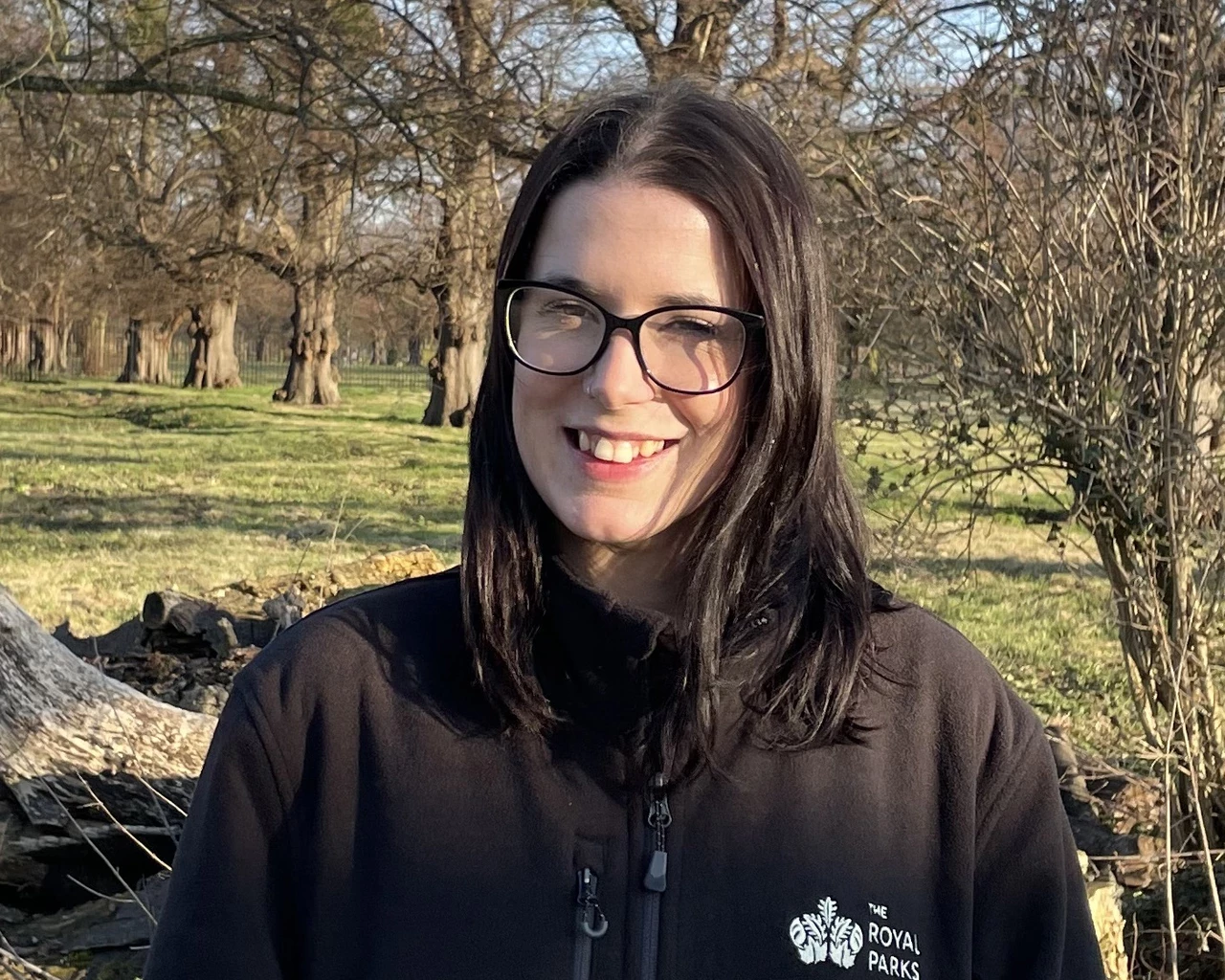 Hamad Akhlaq
Volunteer Programme Trainee
Hamad recently completed a traineeship with London Wildlife Trust where he performed practical conservation with volunteers across various nature reserves in London. During this time, Hamad was also involved in the delivery of forest school and other educational activities. Hamad enjoys working outdoors with different groups and get a joy from connecting people to nature. From a young age, Hamad has had an immense appreciation for our native wildlife and in particular invertebrates, looking after a variety of tarantulas at home.
Hamad will work with volunteers across all the Royal Parks and will also gain experience across the organisation, supporting on several projects including engagement Roadshows and Biodiversity surveys.
Hamad is most looking forward to working with volunteers and eventually delivering his own conservation sessions in the Royal Parks.