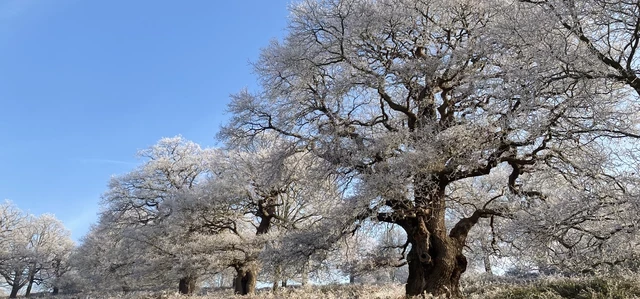 Welcome to Richmond Park
This extraordinary landscape has been shaped by nature for over 700 years.
Key information
7:30am - 8pm, vehicle gates 7:30am - 4pm
Its ancient woods, rolling hills and wide-open grasslands are bursting with life – from historic herds of deer to birds, invertebrates, fungi and wildflowers. It's no wonder that the park is London's largest Site of Special Scientific Interest and a National Nature Reserve – there's nowhere better to experience the great outdoors so close to the capital.  
Explore the spectacular Isabella Plantation with its extravaganza of bright azaleas, venture up King Henry's Mound to admire distant views to St Paul's Cathedral or hire a bike to enjoy a leisurely cycle as you take in the sights.  
Around the perimeter of the park, you'll find the Tamsin Trail – a scenic route of just over 7 miles, popular with joggers and hikers. For a more leisurely visit, head to pretty Pembroke Lodge. This historic Georgian mansion boasts elegant tea rooms and picturesque gardens with sweeping views over the Thames Valley.  
If you're into history, there's plenty of it here. The park can trace its origins back to 1625, when Charles I brought his court to nearby Richmond Palace to escape the plague sweeping through London. He turned this landscape into a hunting park, filled with red and fallow deer. Amazingly, some of the trees that Charles would have ridden past still stand today.  
Frequently asked questions
Things to see and do in Richmond Park
Richmond Park is the largest of the Royal Parks. A park of acid ant hill and deer-grazed grassland, reed-edged ponds, wild deer and Victorian woodlands. A National Nature Reserve and Site of Special Scientific Interest.
Feel like you're in the heart of the countryside without leaving Greater London.
Spend the day in the company of kestrels, fallow and red deer and meadow butterflies 
Richmond Park is a National Nature Reserve. A haven for rare or endangered species such as stag beetles, bats and moths, and natural habitats. There are anthills that go back 150 years and an ancient oak that's an estimated 750 years old. The 600-strong herds of red and fallow deer have roamed the park since 1637. If you're a wildlife lover and are passionate about the environment and our natural world, Richmond is the park for you.
An unexpected garden in the heart of the park
Much of Richmond Park's wild landscape was created naturally, by centuries of grazing deer, but if you love the more confined spaces of a garden, the 40 acre Isabella Plantation, with its tranquil woodland paths and streams, and famous azalea collection, is a true oasis. Pembroke Lodge Gardens, with its varied planting and spectacular views to the north and south, is another must-visit destination within the park.
Sports activities in Richmond Park
With miles of horse riding trails, roads to cycle and paths to run or walk on, Richmond Park is a great place to keep fit and stay fit. Take the family-friendly, Tamsin trail which circles the park or have a round of golf on our two 18-hole courses. If you'd like to fly a traction kits you can apply for a licence here. It's even possible to fish here, with a permit.
Bring the family for a taste of the wild
The whole park is a playground for mini-adventures and exploring but if you're looking for swings and slides, head to the Petersham Gate Playground. Rock star Ian Dury was a big fan of Richmond Park and brought his own children here. You'll find the Ian Dury Bench a five minute stroll from the Pembroke Lodge Café – celebrating all the 'reasons to be cheerful' when you're in the park.
A haven for photographers
Richmond Park is a natural choice for wildlife photography. Capture the mist drifting over Pen Ponds, or the London skyline from King Henry's Mound – the highest point in the park, with a protected view of St. Paul's Cathedral, over 10 miles away. All we ask is that you use a long lens when photographing the deer, and stay at least 50m away. Feel free to share your images on our social media feeds. 
King Henry's Mound is believed to be a pre-historic burial chamber and offers panoramic views of the Thames Valley and St. Paul's Cathedral. Find out more.
The historic gardens of Richmond Park
Explore the winding woodland paths and streams of Isabella Plantation. Take cream tea in an 18th century garden, overlooking the Thames Valley. Revive body and soul in two beautiful gardens.
Richmond's 'secret garden' – Isabella Plantation
Isabella Plantation is an enclosed, 40 acre woodland garden, an oasis in the  heart of the park. A delightful place to wander at will along meandering streamside pathways under the shade of oak trees. Set within a Victorian woodland plantation, Isabella has been designed and planted to provide year-round colour: azaleas steal the show in early May, with vibrant acers in autumn and heathers in winter. It's famous for its National Plant Collection of evergreen Kurume azaleas from Japan, and abundant spring-flowering camellias, magnolia and rhododendrons.
You'll find plenty of benches, and many unusual trees and shrubs set amongst woodland and lawns, so it's easy to find a secluded corner to enjoy the peaceful surroundings.
It's so important for people living in cities to be able to enjoy peace and quiet among the trees. It feels great to enjoy a bit of nature on your doorstep – and it's all free." 

 Arit Anderson, gardening writer, on Isabella Plantation
Rambling roses, wildflowers and panoramic views – Pembroke Lodge gardens
Grade II listed Pembroke Lodge was originally named the 'Molecatchers Cottage', but it went on to become the home of Prime Minister Lord John Russell. Pembroke Lodge Gardens are close to Richmond Gate and has a licensed café as well as 12 acres of gardens, with breathtaking views. 
Immediately surrounding the lodge, you'll find more formal planting and paths, and seasonal bedding displays. To the north, the planting becomes more naturalistic, and in the Rose Garden and the cottage garden you'll find romantic climbing and rambling roses alongside colourful herbaceous borders.
From King Henry's Mound, a Bronze Age barrow and Scheduled Ancient Monument, you can see 12 miles across London to St Paul's Cathedral – one of London's 13 protected views.
Richmond Park is known and loved for its open grasslands, ancient oaks and wildlife but Isabella Plantation and the gardens at Pembroke Lodge are also perfect places to escape into nature. Stroll across the lawns, between the wonderful collections of mature and veteran trees. Or lose an hour or two in one of the Pembroke Lodge wildflower meadows. And like all Royal Parks gardens, the Richmond Park gardens are sustainably managed, with nature and biodiversity in mind.
Can I bring my dog?
Dogs are welcome on leads in Isabella Plantation but unfortunately you can't bring them into Pembroke Lodge and Gardens. You'll also need to keep them on a lead across the park when it's deer birthing time from May-July. We put notices round the park to give you plenty of warning.
The Isabella Plantation is a 40 acre woodland garden set within a Victorian woodland plantation planted in the 1830s. Find out more.

King Henry's Mound is believed to be a pre-historic burial chamber and offers panoramic views of the Thames Valley and St. Paul's Cathedral. Find out more.
Eating and drinking in Richmond Park
Take a cream tea in a Georgian mansion, overlooking one of the most spectacular views in London, or enjoy a coffee and baguette for a lunch in London's largest Royal Park.
Everything tastes better in the open air
With 2,500 acres of open parkland, ancient oak trees and lakes, Richmond Park is the wildest of all the Royal Parks. Thousands come here to feel closer to nature, and each of our five café and kiosks has a unique atmosphere.
If you want to treat yourself to a sumptuous classic cream tea or hot meal, head to Pembroke Lodge Café, situated close to Richmond Gate. The Grade II listed Georgian mansion looks out from the highest point in the park – it's a wonderful way to relax.
Over on the other side of the park, by Roehampton Gate, is the Roehampton Café, with the bonus of an ice cream parlour too. The café has plenty of room inside and out. It is a great place to start a walk from or finish up after a long explore.
As there is so much wonderful space to enjoy, we have located refreshment kiosks at popular points in the park – Pen Ponds and Broomfield Hill in addition to Pembroke Lodge.
Check out the park information boards or the park map here for the most convenient café for your visit.
Picnicking in Richmond Park
The park is a great place for a picnic! A selection of freshly cut sandwiches, artisan baguettes and drinks are available in our cafés and kiosks.
Feel free to bring your own food and drink to enjoy in the park but barbecues and any sort of fire lighting is absolutely forbidden.
Please take your litter home with you or place it in one of our bins on the way out – wildlife and litter don't mix.
Every purchase helps us care for Richmond Park
A proportion of anything you spend at our cafés or kiosks goes straight back to help look after the Royal Parks, and the wealth of wildlife and natural habitats they contain.
A listed Georgian Mansion set in 13 acres of landscaped grounds, Pembroke Lodge has views over the Thames Valley, and offers classic English refreshments.

Richmond Park is home to Roehampton Café which offers a range of hot food and drinks, locally sourced deli items and ice cream. Find out more.

Refreshment kiosks in Richmond Park serve a wide a range of hot and cold snacks and beverages. They are found near Broomfield Hill and Pen Pond car parks.
Nature and wildlife of Richmond Park
Red stags rutting in the early morning mist. A kingfisher streaking across Pen Ponds. Skylarks singing high above the ancient oaks. Anthills over 150 years old. 
The wildlife of Richmond Park. A world away from the ordinary.
A National Nature Reserve on the outskirts of London
At 2,500 acres, Richmond is the largest of the Royal Parks, and a unique mix of habitats, from wetlands and meadowlands, ancient trees and acid grassland – an increasingly rare habitat nationally and a conservation priority. It's the largest area of lowland acid grassland in London. Because of that, and its 1,000 veteran trees, the park is a Site of Special Scientific Interest, a European Special Area of Conservation, and a Site of Special Importance for Nature Conservation. 
Acid grassland is less fertile than other habitats, and so suited to specialist native wild plants, including fine grasses, sheep's sorrel, mouse-eared hawkweed, harebell and heath bedstraw.
Wildlife and water in Richmond Park
Many of the 25 permanent ponds and wetlands lie hidden in the landscape, and you can find one without realising it existed. The best known are Pen Ponds, a haven for terns and gulls. You may see sand martins using  the nesting bank, or hear reed warblers sing. Grey herons are often seen stalking fish, motionless at the water's edge. Kingfishers are less easily-spotted, streaking over Pen Ponds or the Beverly Brook in a flash of orange and blue.
The deer of Richmond Park
The 630 strong herd of wild red and fallow deer roam freely amongst the oaks and grasslands of the park. Introduced by Charles 1 in 1637, the deer are an iconic sight in the park. Their grazing has played a huge role in shaping the landscape and maintaining the habitats. Deer may look gentle, but can be unpredictable if disturbed, so please help us to keep our wildlife wild by not feeding them, and keep at least 50m away at all times.
Birds, butterflies and bats in Richmond Park
With Richmond Park, it's hard not to talk numbers. Because of its size and diverse mix of habitats, Richmond Park is a key sanctuary for 144 species of birds, 29 species of butterflies and 11 species of bats – many of them rare. The park was made a Special Area of Conservation given the number of globally endangered stag beetles found here.
Nature's architects
You'll also notice tussocky mounds in the park. These are anthills of yellow meadow ants  – some 400,000 anthills with many over 200 years old. Yellow meadow ants are key to the health of acid grassland habitats,  and the mounds they create support a host of other wildlife -so please be careful not to tread on the anthills.
Richmond Park – different every time you visit
Because of the sheer variety and abundance of wildlife, you can return to Richmond Park over and over again – and still see or hear something new. A tree creeper climbing up or a nuthatch, climbing down a tree in search of insects. Skylarks and kestrels hovering above open grasslands, and  little owls and tawny owls calling at twilight. And in the meadows and Isabella Plantation, you'll see butterflies such as comma, Essex skippers and small coppers, or purple hairstreak butterflies high up in the oak trees.
We strive to make Richmond Park as diverse habitats as possible, whether it's in the wilder areas or in the gardens within Pembroke Lodge, where you'll find our pollinator garden. You'll find plenty of practical planting ideas to boost biodiversity in your own back garden! 
 
Sports and leisure in Richmond Park
Catch a bream in Pen Ponds. Watch deer grazing amongst ancient oaks. Jog woodland paths on a misty morning. Sink a winning putt. 
Richmond Park– enjoy at your leisure.
Keeping active, in the fresh air
Richmond Park, is the largest and wildest of all the Royal Parks– making it a unique natural setting for sports and leisure activities. There are 2,500 acres to explore, either on foot, by bike, or on horseback. From a round of golf to an early morning ride, a quiet day fishing at Pen Ponds, or just lying on your back, cloud-watching and listening to the birds, Richmond Park will help you keep fit and active.
Playing golf in Richmond Park
Richmond Park Golf Course must be one of the most beautiful places to play a round of golf in London – and it's the only golf course in a Royal Park. There are two 18-hole courses, a 16-bay driving range, and an eco-friendly clubhouse with panoramic floor to ceiling windows. So, when you've sunk the winning putt, you can sink a drink looking out over the parkland.
Ready to play? Book a pay-and-play round through Richmond Park Golf Club here.
Playing and watching rugby in Richmond Park
As you might expect, this close to Twickenham, Richmond Park has a thriving rugby scene and it's a popular place to play, whatever your age or ability. We mark out 4 pitches in the winter months near Roehampton Gate. The park is also home to the Rosslyn Park Rugby team, so you can cheer on a local side.
Ready to play? To enquire or book a pitch Tel: +44 (0)20 8876 6044.
Running, cycling and jogging round Richmond Park
A walk around the whole of Richmond Park may take approximately 3 hours, and we have some excellent self-guided walking and running routes. You can hire TREK mountain bikes year-round from Parkcycle in the Roehampton Gate car park. Parkcycle also carries a range of child seats and junior size bikes for a safe cycle and family day out. Helmets are included.
If you're on two wheels, we ask that you keep to the roads and the Tamsin Trail, and respect other park users, as well as the wildlife which sometimes crosses the paths.
Riding in Richmond Park
We love horses at Richmond Park, and we even have ten Shire horses stabled at Operation Centaur, Holly Lodge, who help us with conservation projects across the parks. We're happy to welcome considerate riders of all abilities – you'll need to book with one of the four stables that use the parkland for hacking and private lessons – Barnfield Riding School, Riding in London, Wimbledon Village Stables and Operation Centaur.
Ready to book a hack or a riding lesson? Please get in touch with the stables directly.
Want to fish in Richmond Park?
Richmond Park is one of the few places you can fish in west London (Bushy Park is another) and it's an idyllic, peaceful setting. Fishing is permitted at Pen Ponds, and you may find yourself fishing for roach and bream alongside the grey heron and kingfishers often spotted there. To apply for your permit, fill in the Fishing application form below. 
The Richmond Park Golf Course features a 36-hole golf course, a 15-bay driving range, open plan coffee shop, bar and restaurant.

The Petersham Gate Playground has been designed to be used by children of all ages.

This free service will operate every Monday, Wednesday and Friday, from 5th April until 29th November 2023, between the hours of 9:25am and 4:20pm.
The largest of the Royal Parks
Richmond Park is famed for its wide-open spaces, flourishing biodiversity and – of course – the famous herds of deer.  
Amidst all of this nature, though, are two very special memorials. 
In Pembroke Lodge Gardens you'll find a tribute to rockstar Ian Dury, lead singer of The Blockheads, who was a regular visitor to Richmond Park.  
The tribute to Drury takes the form of a bench, inscribed with the words 'Reasons to be Cheerful' – one of Dury's songs. It's the perfect spot for quiet contemplation, and you can even listen to some of his songs while you're there. 
On the edge of Sidmouth Woods, meanwhile, are some very beautiful gates. Installed to mark the 300th anniversary of St Paul's Cathedral – which famously can be seen from King Henry's Mound in – they were donated by the family of renowned environmentalist Edward Goldsmith.  
The gates are inscribed with the words 'The Way' – the title of a book by the late Goldsmith. See if you can spot the symbols that relate to St Paul's Cathedral and its celebrated architect, Sir Christopher Wren.
Ian Dury bench
Situated on Poet's Corner in Pembroke Lodge Gardens lies the Ian Dury bench, in memory of the rock star best known for his songs Hit Me with Your Rhythm Stick and What a Waste.
The back of the Ian Dury bench is inscribed with the words "Reasons to Be Cheerful", the title of one of Dury's other famous songs.
Ian Dury, who died in 2000, used to take his children to Richmond Park and this bench was donated to the park by his family in 2002 in his memory.
The next time you visit Richmond Park, sit back and relax on the bench and listen to some of Ian Dury's famous songs.

You can also listen to his 1996 Desert Island Discs radio interview on the BBC website.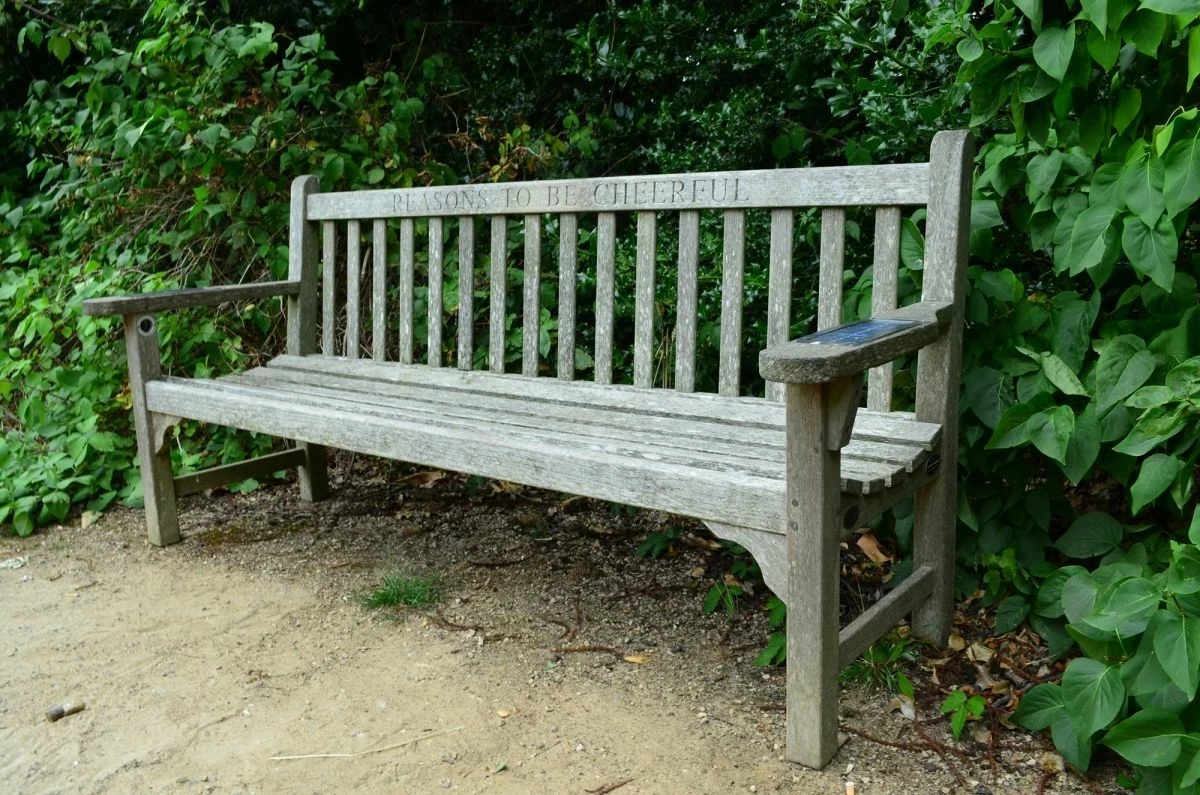 The Way gates
'The Way' gates are designed by artist blacksmith Joshua De Lisle and were added to the park in 2011 to mark the tercentenary of St Paul's Cathedral.
Located on the edge of Sidmouth Woods, you can see the gates through the King Henry's Mound telescope and enjoy the protected 10-mile view to St Paul's Cathedral.
Look out for the concave oak branches which reflect the cathedral's dome. The small wren low down in the leaves is a reference to cathedral architect Sir Christopher Wren. A robin sings from the opposite branch.
The gates are inscribed with the 'The Way' which is also an epitaph to Edward Goldsmith, author of the book by the same name.
The bark texture has been created to promote algae and lichen growth towards the bottom of the gates to echo the park landscape.
The gates were kindly donated by the family of renowned environmentalist and The Ecologist magazine founder, the late Edward Goldsmith.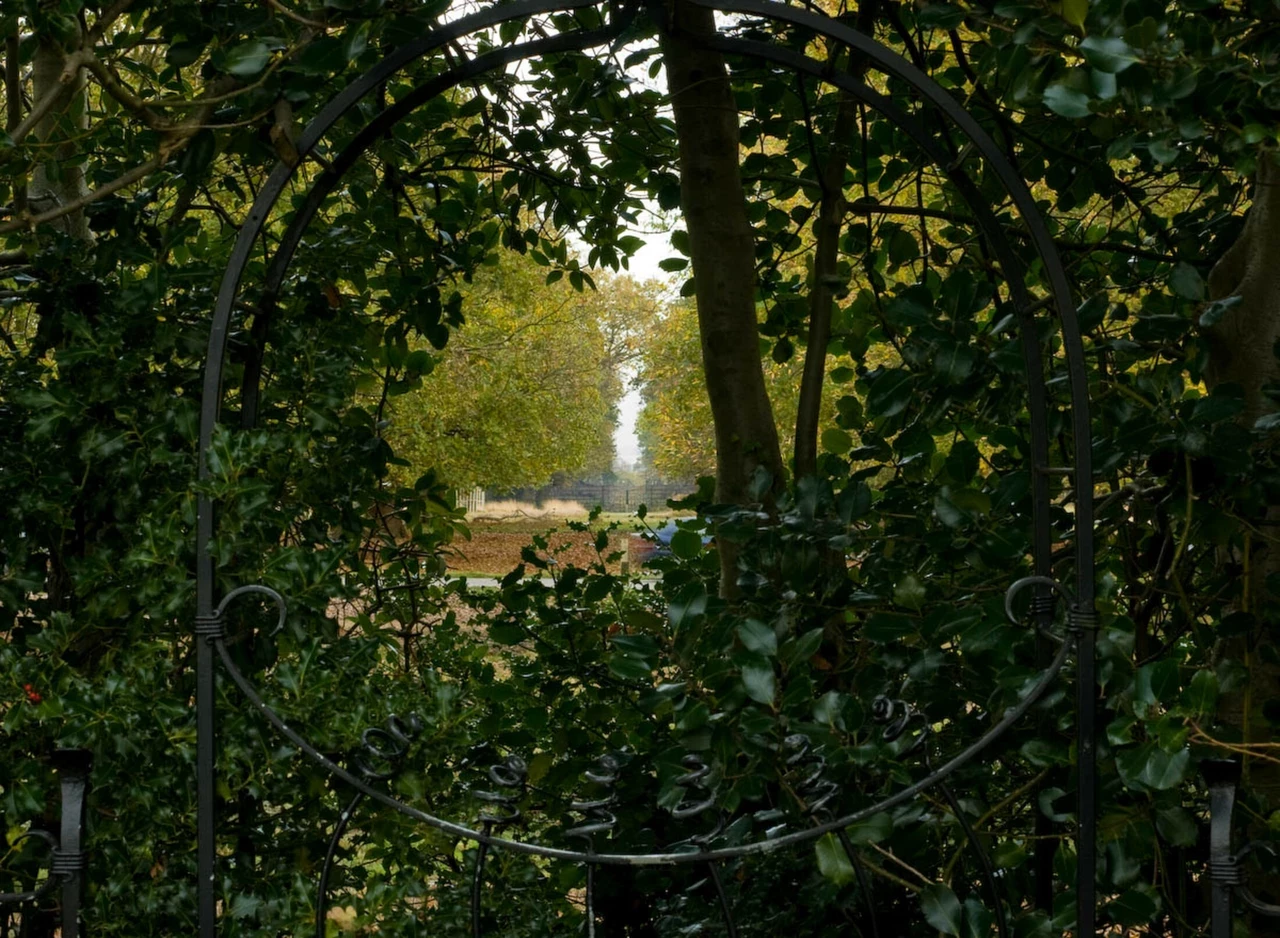 The history of Richmond Park
Richmond Park has changed little in 800 years. Once a favoured royal hunting ground, it is the largest Royal Park in London. 
Thanks to its flourishing biodiversity, it is a National Nature Reserve, London's largest Site of Special Scientific Interest and a European Special Area of Conservation.
The history of Richmond Park – rooted in royalty
Richmond Park's royal connections date back to the 1200s. Originally named the Manor of Sheen by King Edward I, King Henry VII changed the name to Richmond Park around 1501, to reflect his title: Earl of Richmond. For the next 300 years, the hue and cry of royal hunts was a familiar sound in the neighbourhood.
But it was a visit to Richmond by King Charles I in 1625 that transformed this quiet rural area, with its farmlands and pasture, into a Royal Park.
Richmond Park and the Stuarts
In 1625, King Charles moved his entire court to Richmond Palace to escape the Great Plague in London. Richmond was a rural refuge – and it also gave him the best opportunities for hunting near London. 
The King stocked the park with 2,000 beautiful red and fallow deer that Richmond Park is still known for. He appointed nobleman Jerome Weston as keeper of the new park – a post he was given for life, in return for a fee of  12 pence a day. 
The New Park, as it was then nicknamed, became a favourite royal hunting ground. In 1637, King Charles built a brick wall eight miles long to keep his deer in – and local residents out. 
People were furious about the King's high-handed action. He was forced to pay compensation and restore the right of people to walk in the park. He installed a ladder in the wall to give them access – you can still see the wall today.
Richmond Park's historic views and vistas
Richmond Park's hilltop position means it has panoramic views across the whole city. In fact, these stunning views were carefully managed and planned back in the 1700s as a way to show the park off to VIP royal guests. The most famous view in Richmond Park is from King Henry's Mound – a favourite spot of King Henry Vlll. The so-called 'mound' is, in fact, a pre-historic burial chamber from the Bronze Age. If you look east across London from the top, you'll have an uninterrupted view to St. Paul's Cathedral, 12 miles away.
The history of Pen Ponds and Pembroke Lodge
If you were to look at a Victorian map of Richmond Park, you would still be able to find your way around. The same architectural features, lakes and views that existed 150 years ago are still here today.
Pen Ponds, a lake divided in two by a causeway and surrounded by reed beds and groves of ancient oak trees, was dug in 1746. It's a perfect place to see coots and swans, and many varieties of ducks.  
Pembroke Lodge is a magnificent, Grade II listed Georgian mansion. Built in 1754, it was originally a four room cottage for the park's resident mole catcher. Queen Victoria gifted it to her then Prime Minister, Lord John Russell, and his grandson, the celebrated philosopher and mathematician, Bertrand Russell, spent his childhood here.  
The lodge is now an elegant tea room and restaurant.