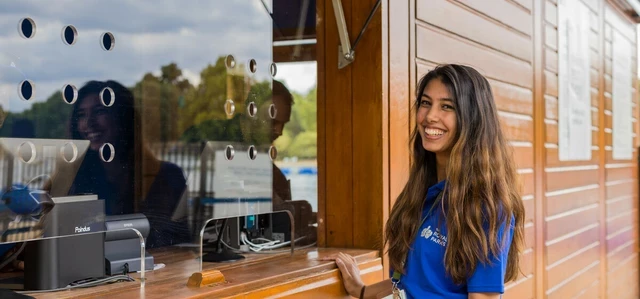 Pay and benefits at The Royal Parks
Competitive salaries  and a range of benefits that we believe makes The Royal Parks one of the best places to work in London.
How we reward our employees
Working for The Royal Parks charity is a meaningful and gratifying career in itself, but we believe you also deserve to be well paid and looked after for everything you put in. That's why we offer competitive salaries, an excellent pension scheme, peer-nominated bonuses, quality health insurance and other wellbeing benefits. Not to mention discounts at any of the Royal Parks cafes and sports facilities.
Our annual pay award
Every year, we review our salaries to ensure that you're paid fairly for your hard work. Salary increases are dependent on a number of different factors, including eligibility and performance.
Recognising and rewarding exceptional work
If you go the extra mile for us and really put our values into practice, you can be nominated for a personal bonus – at any point in the year. You can also nominate colleagues who you think deserve to be recognised and thanked for their hard work.
This is on top of our annual performance reward scheme, which is designed to reward impressive team efforts on big projects or challenging targets.
Our pension scheme
Making sure that you're planning ahead for when you stop working is an important part of personal financial planning and wellbeing. We support you with a generous Defined Contribution pension. You'll be asked to contribute a minimum of 3% and we will double-match this. The matching is capped at 10%. So, if you choose to put 5% into your pension, we'll put in 10%. We offer the scheme on a "salary sacrifice" basis to help make your pension as tax efficient as possible.
Enhanced occupational maternity and paternity pay
If you're starting a family, we offer 20 weeks full maternity pay followed by 19 weeks statutory maternity pay and two weeks full paternity pay – providing you have worked for us for 26 consecutive weeks by the 15th week before your expected due date.
We're part of the Cycle to Work scheme
We've teamed up with Evans Cycles to offer substantial discounts on their range of bikes, clothing and accessories. This is in support of the government's Cycle to Work scheme.
We offer interest-free season ticket loans
An annual season ticket can take a big chunk out of your salary upfront. So to help out, we offer interest-free season ticket loans. This means you'll spread the cost over 12 months.
We take care of life assurance
It's not something that most of us like to think about, but knowing that your loved ones will be looked after should you die can give you extra peace of mind. If you're working at The Royal Parks, your nominated beneficiaries would receive a lump sum payment equivalent to five times your salary.
And finally…our discounts!
If you feel like grabbing a tasty lunch while you're out and about in any of the Royal Parks, you'll get a discount at all our cafés and kiosks.
Plus you'll have access to exclusive discount schemes, special offers, and savings on some everyday expenses. So you'll save money on eating out, cinema trips, gym membership and days out, as well as high street and online shopping.