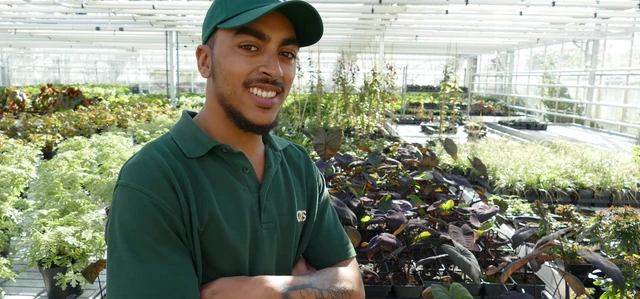 Horticultural apprenticeships
We want to pass our experience and expertise on. 
To guide the next generation of horticultural experts.
You.
Learn from the best
Being a horticultural apprentice here is an exciting challenge – often physically demanding, but hugely rewarding. You'll build practical skills and horticultural knowledge, learning from gardeners at the top of their game.
At the end of 3 years, you could leave us with a Level 2 Royal Horticultural Society certificate – giving you a thorough grounding in all areas of horticulture and park management.
All we ask in return is a positive attitude, a can-do approach and a passion for gardening.
The Royal Parks Horticultural Apprenticeships FAQ
We take on up to ten apprentices a year, so there are around 20 full time apprentices with us at any one time.
Everything, from cultivation, garden and landscape design, parkland management to pest control and soil science. You'll get hands on training in operating horticultural machinery.
Many of our past Royal Parks apprentices are now park managers, supervisors or contract managers for the Royal Parks – and in other high profile locations such as Buckingham Palace, Crystal Palace Football Club and prestigious gardens worldwide.
We hold ourselves to the highest standards of horticulture.  The Royal Parks are recognised as centres of excellence for horticulture and sustainable garden management, and our specialist teams are among the most experienced in the world.
You'll learn from the best, in some of the most beautiful urban parks in the world.
You'll be paid the National Living Wage of £10.42 per hour in years one and two, and the London Living Wage of £11.95 per hour in year three.
You'll spend one day a week at Capel Manor College's Regent's Park campus.  The rest of the time, you're working alongside our horticultural teams and landscape maintenance contract partners in the parks themselves. 
You'll be full time, and working hours are usually 7am to 4pm. 
You can apply through us at The Royal Parks charity. Or through one of our contracting partners or the government website Find an Apprentice.  
You will be assessed on physical tasks, as well as application and interview. 
Right now, vacancies and applications are closed for 2023. You can apply for a horticultural apprenticeship with us from February to March 2024.
Contact us here.
Got another question about the Royal Parks Horticultural Apprenticeships? Our Horticultural (or Apprenticeships) team would be happy to help – get in touch with us at grow@royalparks.org.uk