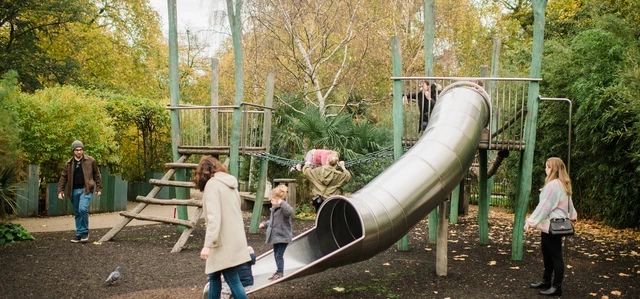 The Royal Parks playgrounds
Places of discovery, imagination and wonder
Who doesn't remember their local park growing up? In the 14 Royal Park playgrounds, kids of all ages and abilities can play freely, explore timber trails, go up on climbing nets, discover mini beasts, make up epic adventures and meet new friends, master the monkey bars, reach the sky on swings or make a mud pie.
Sandpits, swings and sensory trails – making memories in the playground
Your children can set sail on the famous Pirate Ship in the Diana Memorial Playground and bury treasure on the 'beach' or fly the 50m zipwire over Gloucester Gate playground, recently renovated using natural materials such as bark, willow and wood. Swing to the sky on the basket swing or play hide and seek amongst the nature-inspired settings at Greenwich Park. Or play the elephant piano at Petersham Gate playground in the heart of Richmond Park. 
"The Diana Memorial Garden with its Pirate Ship and Playground for kids is a great place to kick back and relax." - Kensington Gardens visitor
Our playgrounds are safe, stimulating spaces for all children to discover the world and each other. They've been designed to encourage children to play together, explore together and laugh together. Our playgrounds have plenty of space to run around safely, have a family picnic or rest under the trees. 
Making our playgrounds accessible
We want our play spaces to be enjoyed by all children. Many of our 14 playgrounds have wider slides, or specially designed areas so able and less able children can play together. Gloucester Gate playground has a wheelchair-accessible roundabout and raised sandpits so everyone can have fun together. Greenwich Playground has play features at both ground and raised levels, so every child can play side by side. 
Children and parks are made for each other. Everyone's welcome, every day of the year. 
You can find out about your nearest playgrounds on the Sports and Leisure pages for each park.
Some of our popular playgrounds