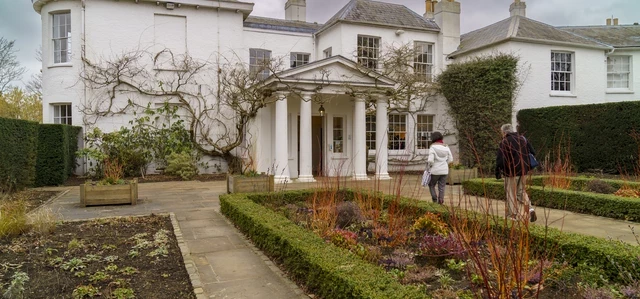 Pembroke Lodge is a magnificent listed Georgian Mansion set in 13 acres of landscaped grounds. It is situated at the highest point in Richmond Park with spectacular views over the Thames Valley to the west.
It offers classic and contemporary English refreshments in elegant Georgian Tea Rooms.
Pembroke Lodge has hosted weddings for over 50 years and according to a major wedding website is the most popular wedding venue in the UK. The Lodge has two suites, accommodating up to 70 guests in The Russell Suite or 140 guests in The Belvedere. The team at Pembroke Lodge are highly experienced and dedicated, available to assist you in the planning of your special day from inception through to completion.
A free car parking facility for 200 cars is available adjacent the Lodge.
By dining at one of our catering outlets, your purchase contributes to the care, upkeep and protection of the vital green spaces in which they operate.
Opening hours
The tea rooms are currently open from 9:00am, and close 15 minutes before dusk.
New Year's Eve and New Year's Day - 9am – 3.30pm 
Christmas Eve - The kiosk is open 9am-3.30pm, Pembroke Lodge is closed 
Christmas Day - The kiosk and Pembroke Lodge are closed
Contact
Please visit Pembroke Lodge's website for further information or you can email Pembroke Lodge or call 020 8940 8207.