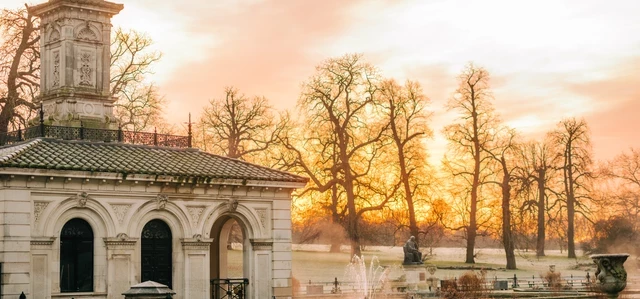 Welcome to Kensington Gardens
Once upon a time, this park was the private playground of the nobility. 
Dreamed up by Queen Caroline in the 18th century, these celebrated gardens were originally part of Kensington Palace. Today, they are open to everyone – no longer exclusive, but still extraordinary. 
You are invited to explore the historic tree avenues, majestic vistas and blossoming flower walks where generations of writers and artists have set their imaginations free. Follow in their footsteps, and you might just meet the park's most famous fictional resident – Peter Pan, the boy who wouldn't grow up. You can find him down by the Long Water, keeping company with the swans and ducks.  
As you wander through the park, you'll discover world-famous landmarks like the towering Albert Memorial and the iconic Italian Gardens. At the Diana Memorial Playground, little visitors can board a wooden pirate ship and set sail for adventure.  
Perhaps you're looking for a bit of peace and quiet? The meandering flower walks on each side of the park offer a tranquil place to sit and admire fine horticulture. There are wilder expanses, too, where the park's biodiversity flourishes in meadows alongside veteran trees - living relics of the park's historic past. In these spaces, it's hard to believe you're in the middle of a city. 
Frequently asked questions
Kensington Gardens – a magical park for all ages
Whether you're an art lover, a music lover, a nature lover or a child at heart, just here for the day or a Kensington Gardens regular – you'll find a little bit of magic here.
Kensington Gardens has a rich, colourful past – and its many monuments, statues and fountains make a great introduction to its history.  From The Albert Memorial; the high water mark of Victorian Gothic, to the elegant Italian Gardens, or the charming Peter Pan statue, you can spend a delightful hour or two discovering the history and heritage of the park. Join one of our experts for one of our monthly Hidden Stories of Kensington Gardens. 
The palace in the park
For many Londoners, Kensington Gardens is closely associated Diana, Princess of Wales. The Princess lived at Kensington Palace and was said to tap dance and roller skate in the State Rooms! If you want to visit Kensington Palace, you'll need to book ahead.
If you're up for a longer walk than a lunchtime stroll, the Diana Princess of Wales Memorial Walk covers seven miles, and crosses four Royal Parks – you'll be guided by the 90 plaques along the route.
Kensington Gardens – made for mini adventures
Whether you're taking a break from city sightseeing with the family, or you're park regulars, the whole of Kensington Gardens makes a wonderful playground for children of all ages. It's forever associated with J.M. Barrie's childhood classic, Peter Pan, but you'll also find the Elfin Oak here with its miniature world of woodland creatures, and best of all (if you're under 12), a huge pirate ship, complete with its own beach, at the Diana Princess of Wales Memorial Playground. 
Art in the park
Kensington Gardens is famous for having not one world-renowned contemporary art gallery, but two. Serpentine Gallery North and South are dedicated to showcasing the most exciting and innovative work of contemporary and emerging artists and architects. If you're visiting during the summer, you'll also see the annual architectural Pavilion, commissioned every year from a leading architect. 
 
Find out more about the seven-mile-long Diana Princess of Wales Memorial Walk and download the map to plan your route through the central parks.

Located next to her Kensington Palace home, the Diana Memorial Playground opened in 2000 in memory of the late Princess Diana.
Eating and drinking in Kensington Gardens
Lunch by the elegant Italian Gardens and treat yourself to an ice cream from the world's first electric-powered ice cream van – only in Kensington Gardens.
Coffee by the fountain, or pizza by the playground – you choose!
From the ornate Italian Gardens to the Victorian gothic glory of The Albert Memorial, each of the historic monuments in Kensington Gardens has its own unique atmosphere. And so do our six cafés and kiosks. 
Our cafés and kiosks
Because there's so much to see and do, we've located our cafés and kiosks at our most popular sites. Kensington Gardens has six to choose from: the Italian Gardens Café, the Broad Walk Café, the Albert Memorial Kiosk, which is open in the summer months, the Palace Gate Kiosk – famous locally for its bacon and sausage baps – and the vintage ice cream van at Kensington Palace. 
Each one of our Kensington Gardens outlets serves delicious hot and cold food, with a full range of vegan, vegetarian, and dietary options. Everything we sell is sustainably prepared. 
Check out the park information boards or the park map for the most convenient café for your visit.
Picnicking in Kensington Gardens
The park is a great place for a picnic! A selection of freshly cut sandwiches, artisan baguettes and drinks are available in our cafés and kiosks.
Feel free to bring your own food and drink to enjoy in the park but barbecues and any sort of fire lighting is absolutely forbidden.
Please take your litter home with you or place it in one of our bins on the way out – wildlife and litter don't mix.
Every purchase helps us care for Kensington Gardens
A proportion of anything you spend at our cafés or kiosks goes straight back to help look after the Royal Parks, and the wealth of wildlife and natural habitats they contain.
If you enjoy looking at monuments and memorials, then you will enjoy visiting Kensington Gardens 
Perhaps the most famous memorial in the park is the iconic Albert Memorial – Queen Victoria's towering tribute to her beloved husband, Prince Albert. One of London's most spectacular landmarks, it's covered with bright mosaics, glittering gold leaf and gemstones. 
Kensington Gardens is also home to a statue of Peter Pan – the beloved 'boy who wouldn't grow up'. Generations of children have made pilgrimage to visit this literary hero, donated by author J. M. Barrie. He lived just across the road from the park, which features prominently in the Peter Pan stories. 
The park also boasts an impressive work by Henry Moore – one of the most celebrated British sculptors of the twentieth century. It's hard to miss The Arch, a six-foot sculpture which Moore generously donated to the nation. 
These are only the highlights – Kensington Gardens has much more to discover, from fountains and statues to a temple built for a Queen.
The Arch by Henry Moore
The Arch is a six-metre high Roman travertine sculpture positioned on the north bank of the Long Water. It was presented by the artist Henry Moore to the nation for siting in Kensington Gardens in 1980 - two years after his eightieth-birthday exhibition at the Serpentine Gallery, London.
The Arch is made from seven travertine stones weighing a total of 37 tonnes. The stones were sourced from a quarry in northern Italy.
After being disassembled in 1996 due to structural instability, The Arch has been recently restored at its original location in Kensington Gardens by The Royal Parks and The Henry Moore Foundation.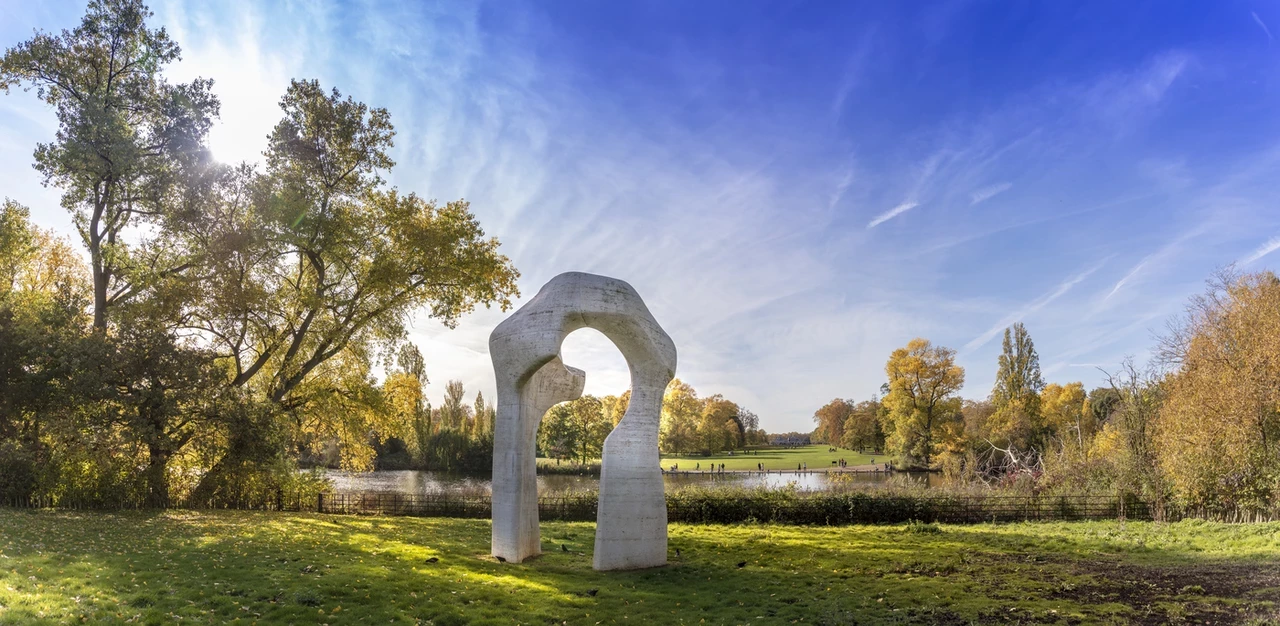 Albert Memorial
The Albert Memorial in Kensington Gardens is one of London's most ornate monuments. It commemorates the death of Prince Albert, who died of typhoid in 1861.
The Albert Memorial is located in Kensington Gardens on Albert Memorial Road opposite the Royal Albert Hall. It is one of London's most ornate monuments, designed by George Gilbert Scott.
Unveiled in 1872, The Albert Memorial commemorates the death of Prince Albert, Queen Victoria's husband, who died of typhoid fever at the age of 42.
Influenced by the series of 13th Century Eleanor Crosses (Charing Cross perhaps being the most famous) and other statues in Edinburgh and Manchester, the Albert Memorial in Kensington Gardens is one of the grandest high-Victorian gothic extravaganzas anywhere.
Kensington Gardens

Kensington Gardens

Kensington Gardens

Kensington Gardens

Kensington Gardens
Officially titled the Prince Consort National Memorial, it celebrates Victorian achievement and Prince Albert's passions and interests.
The memorial shows Prince Albert holding the catalogue of the Great Exhibition, held in Hyde Park in 1851, which he inspired and helped to organise.
Marble figures representing Europe, Asia, Africa and America stand at each corner of the memorial, and higher up are further figures representing manufacture, commerce, agriculture and engineering. Yet further up, near the top, are gilded bronze statues of the angels and virtues.
All around the base of the memorial the Parnassus frieze depicts celebrated painters, poets sculptors, musicians and architects, reflecting Albert's enthusiasm for the arts. There are 187 exquisitely carved figures in the frieze.
Coalbrookdale Gates
The Coalbrookdale Gates, located at the south end of West Carriage Drive, are large bronze-painted cast iron gates made by the Coalbrookdale Company for the Great Exhibition of 1851.
In 1871 they were moved to their current location during the construction of the Albert Memorial.
The gates were designed by Charles Crookes. Each of the cast iron gates was cast in one piece. Their finials, supporting a crown, represent peace and the stags' head vases evoke the origins of the park.
The gates were damaged by a bomb in World War II.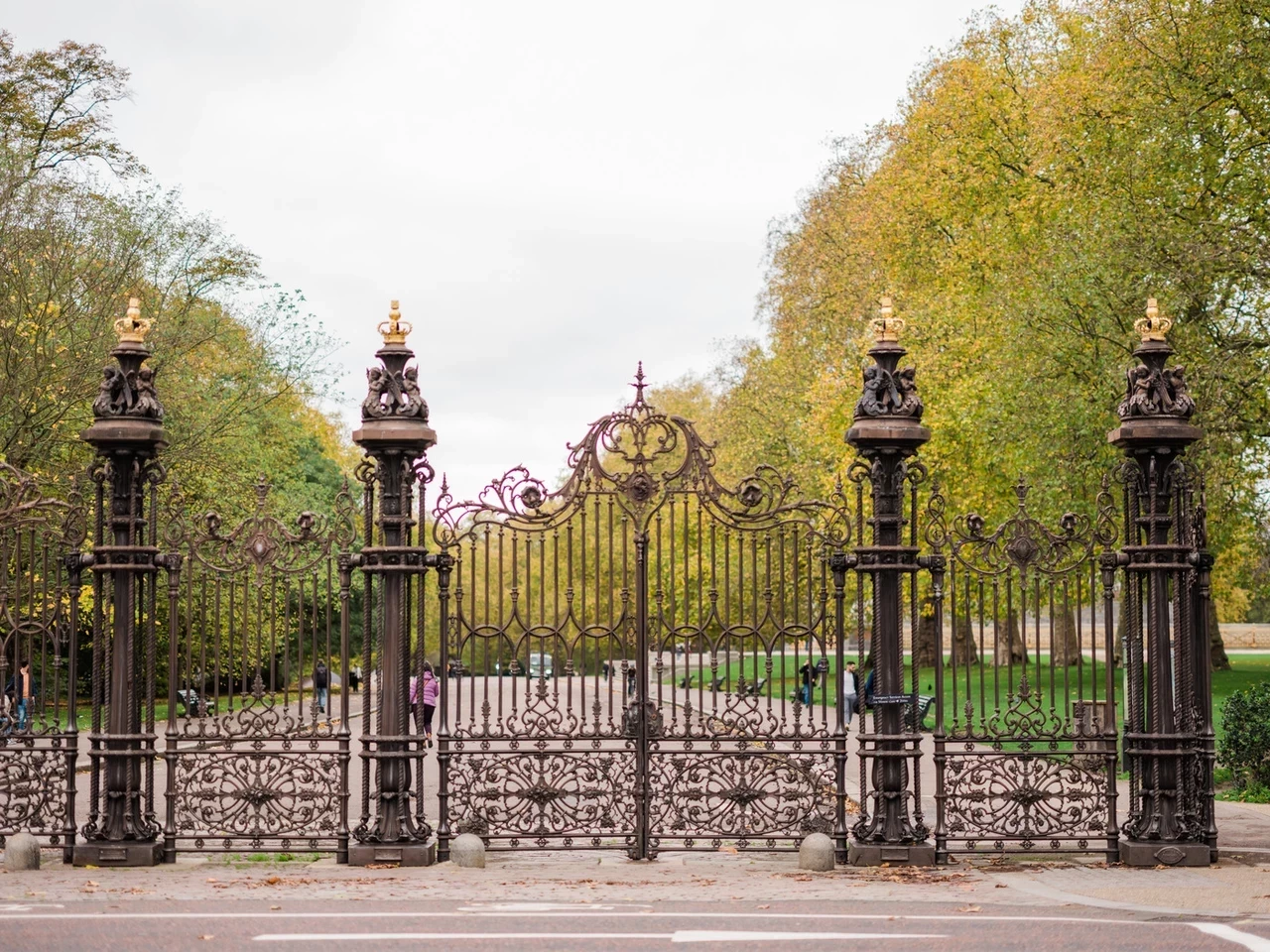 Jenner statue
Sculpted in 1858 by William Calder Marshall, this monument was unveiled by Prince Albert, the Prince Consort, in Trafalgar Square. The statue was moved to Kensington Gardens in 1862.
Edward Jenner (1749-1823) was a doctor from Berkeley, Gloucestershire, who invented the smallpox vaccine.
A bronze table, placed in 1996, reads: "was inaugurated by Prince Albert, the Prince Consort, and the first to be erected in Kensington Gardens in 1862. The cost was met by international subscription."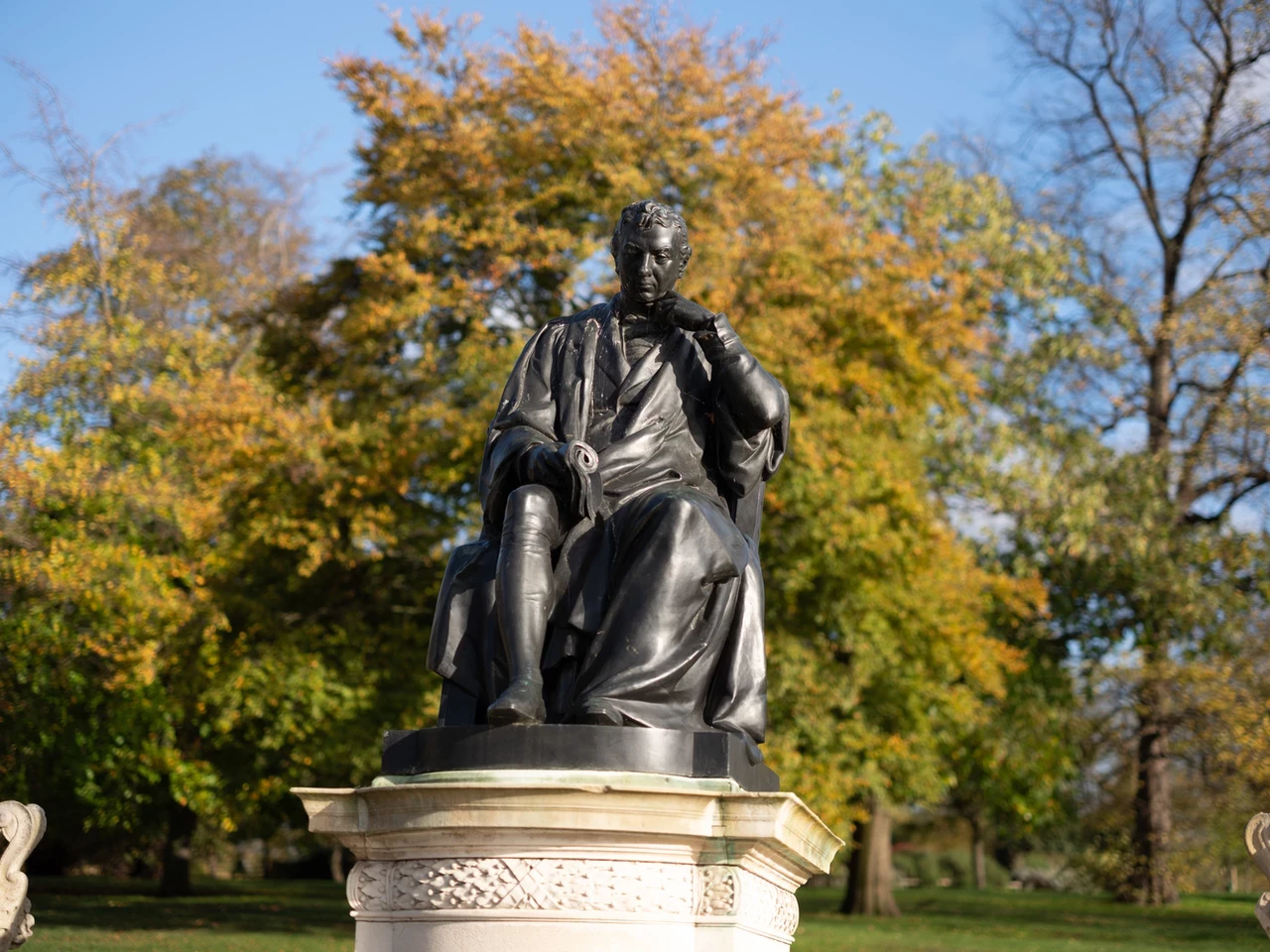 Kensington Gardens bandstand
The bandstand in Kensington Gardens is located to the south of the Round Pond. Installed in 1931, this bandstand was designed by J Markham of the Office of Works.
An earlier bandstand was installed in 1869 near Mount Gate, off West Carriage Drive, and later moved to Hyde Park in 1886.
The design is Regency style with eight delicate iron columns supporting an ogee (S-shaped curve) roof. The shape is said to have better acoustics than the conventional design.
Queen Victoria gave permission for music to be played in Kensington Gardens in 1855. But before a concert could take place, permission was rescinded because of protests from the Archbishop of Canterbury, who said music in the gardens would be "unseemly", and the Keeper of the Privy Purse who thought working people could do without band concerts.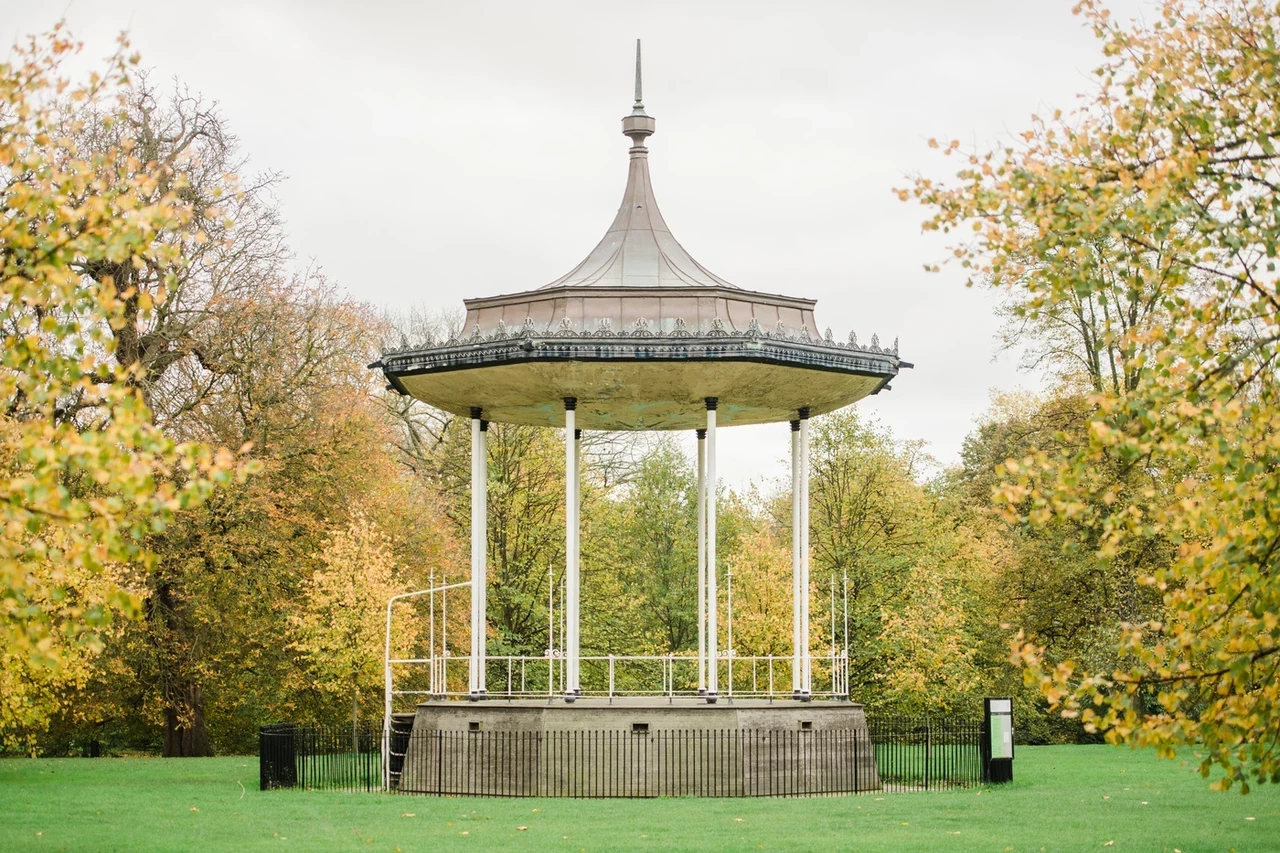 King William III statue
This large, bronze statue of King William III is located at the south gate of Kensington Palace.
Designed by H. Bauke in 1907, this statue of King William III (1650-1702) was presented to King Edward VII for the British nation by his nephew, the German Kaiser Wilhelm II. It is inscribed with the words 'William III of Orange, King of Great Britain and Ireland presented by William II, German Emperor and King of Prussia to King Edward VII for the British Nation. 1907.'
King William III chose to live at Kensington Palace because the air was cleaner than at Whitehall and better for his asthma. The statue's pedestal was designed by Sir Aston Webb, who designed the Queen Victoria Memorial outside Buckingham Palace.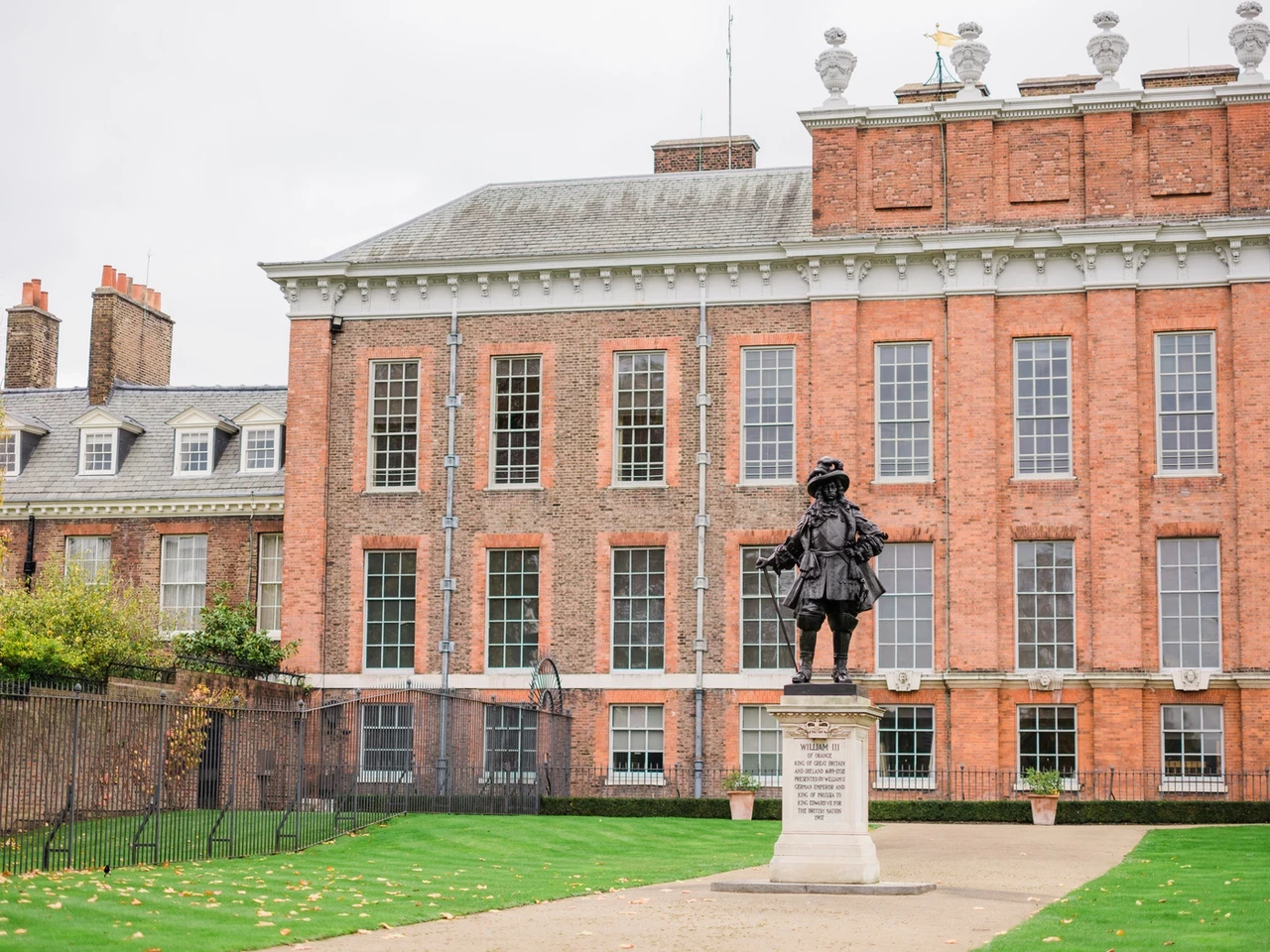 Peter Pan statue
Celebrating Kensington Garden's famous fictional resident, the bronze statue features Peter Pan surrounded by squirrels, rabbits, mice and fairies.

You can find the Peter Pan statue to the west of the Long Water, in the same spot as Peter lands his bird-nest boat in the story, 'The Little White Bird.'

Peter Pan creator and local resident JM Barrie was inspired by Kensington Gardens. He commissioned Sir George Frampton to build the statue which has been a favourite feature of the gardens since 1912.
Bring the Peter Pan statue magically to life with your smartphone, as part of Talking Statues. Simply swipe your phone on the nearby plaque and get a personal call-back from Peter Pan.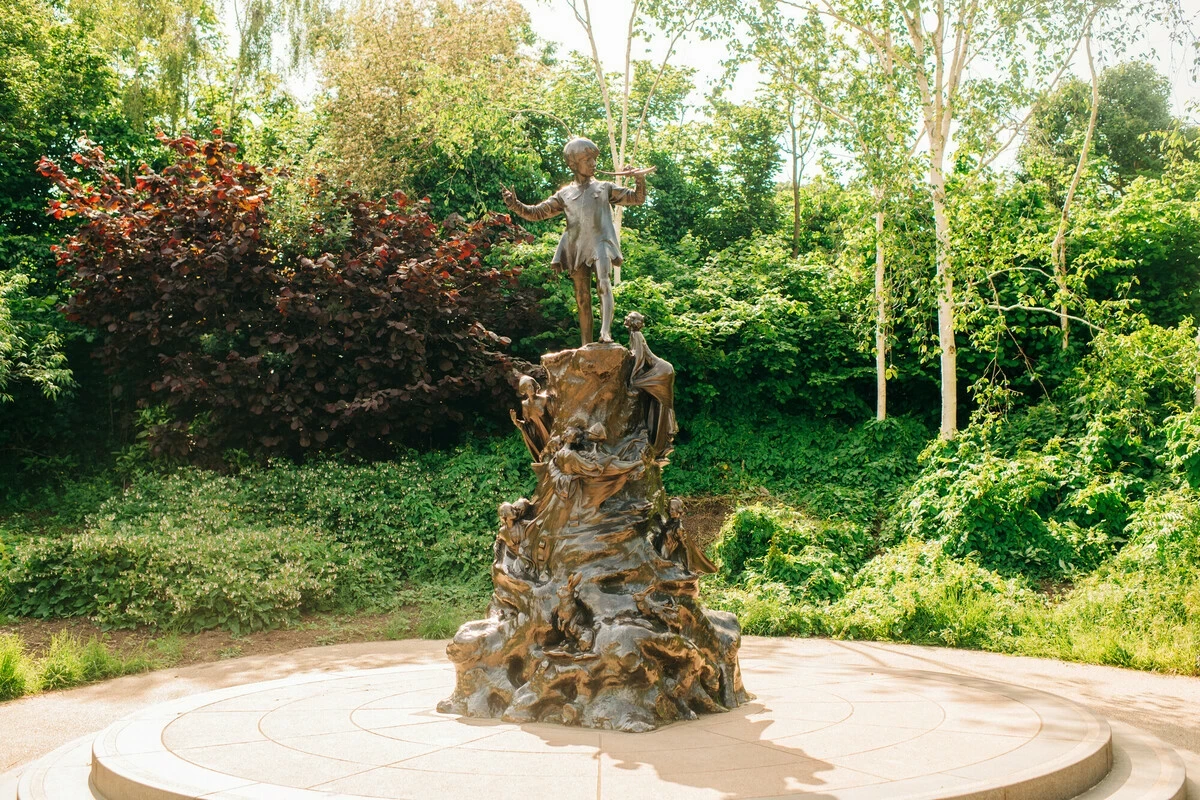 Physical Energy statue
This bronze statue of man on horseback is called Physical Energy and is the work of the British artist George Frederic Watts (1817-1904).
Watts had very high ideals for his art, and intended his work to help humanity embrace progress. Physical Energy is an allegory of the human need for new challenges – of our instinct to always be scanning the horizon, looking towards the future. In the artist's own words, it is 'a symbol of that restless physical impulse to seek the still unachieved in the domain of material things'.
The original plaster model for the sculpture can be seen at the Watts Gallery – Artists' Village in Compton, Surrey. Watts worked on this for some twenty years, from 1883 to his death in 1904. The model was first cast in bronze in 1902-4 to form part of a memorial in Cape Town, South Africa.
The cast in Kensington Gardens was erected in 1907 by Watts' widow and friends as a memorial to the artist himself, who had lived for many years in Kensington. A third cast of the sculpture was made in 1959 and is now in Harare, Zimbabwe, and a fourth was commissioned in 2017 by the Watts Gallery to be sited at Compton, where G F Watts had his country house.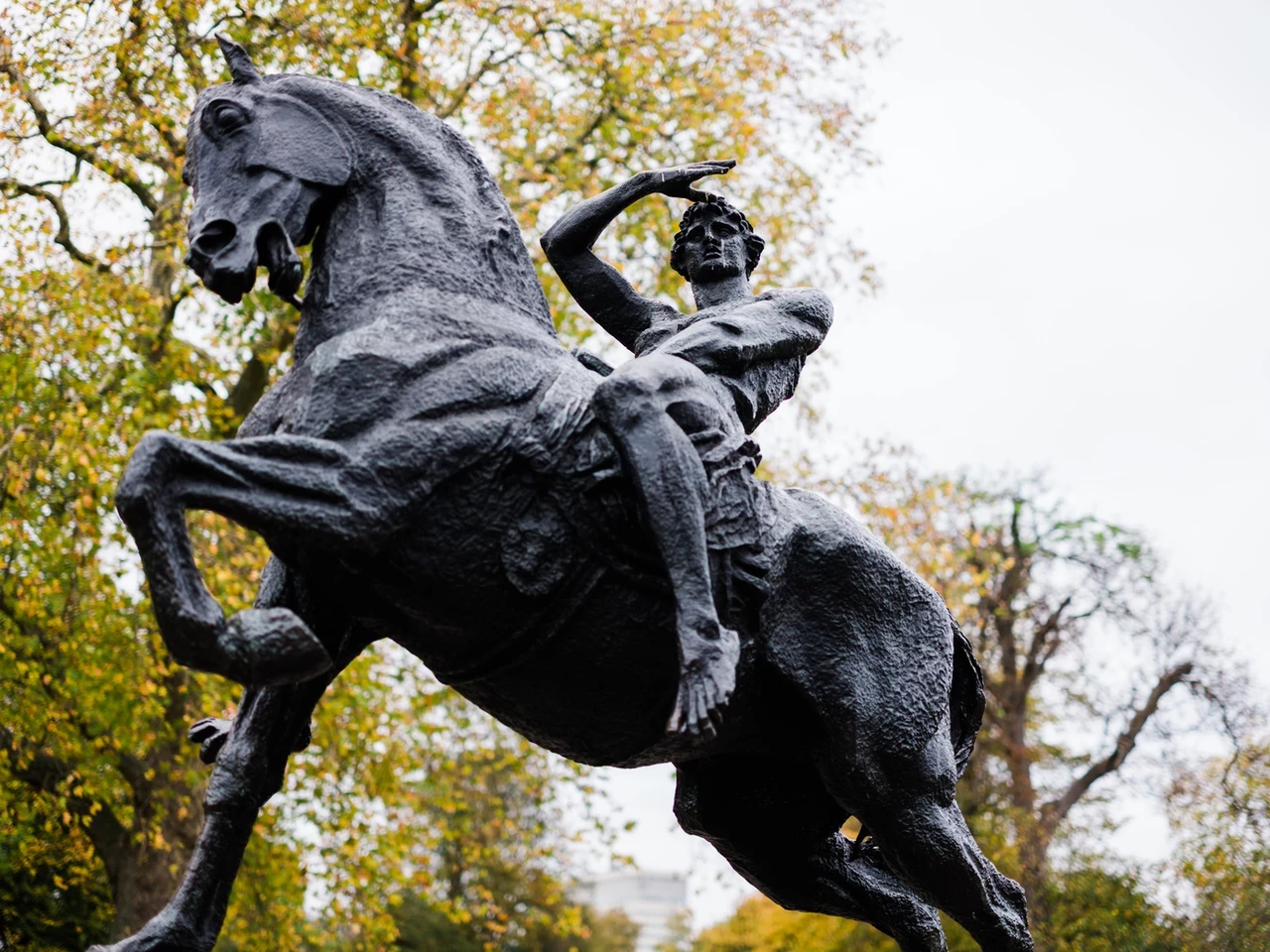 Queen Anne's Alcove
Queen Anne's Alcove, which stands just beside Lancaster Gate, was originally sited against the park wall at Dial Walk, to the south of Kensington Palace.
It was made in 1705, by Sir Christopher Wren, for the southern boundary of the queen's formal south garden. Queen Anne's coat of arms can be seen just below the roof.
In 1867, Mr. Cowley, a London builder, paid for it to be moved to its present position at his own expense as it was considered unsightly and a resort for undesirable persons.
Later, it was used as a gardeners' storeroom.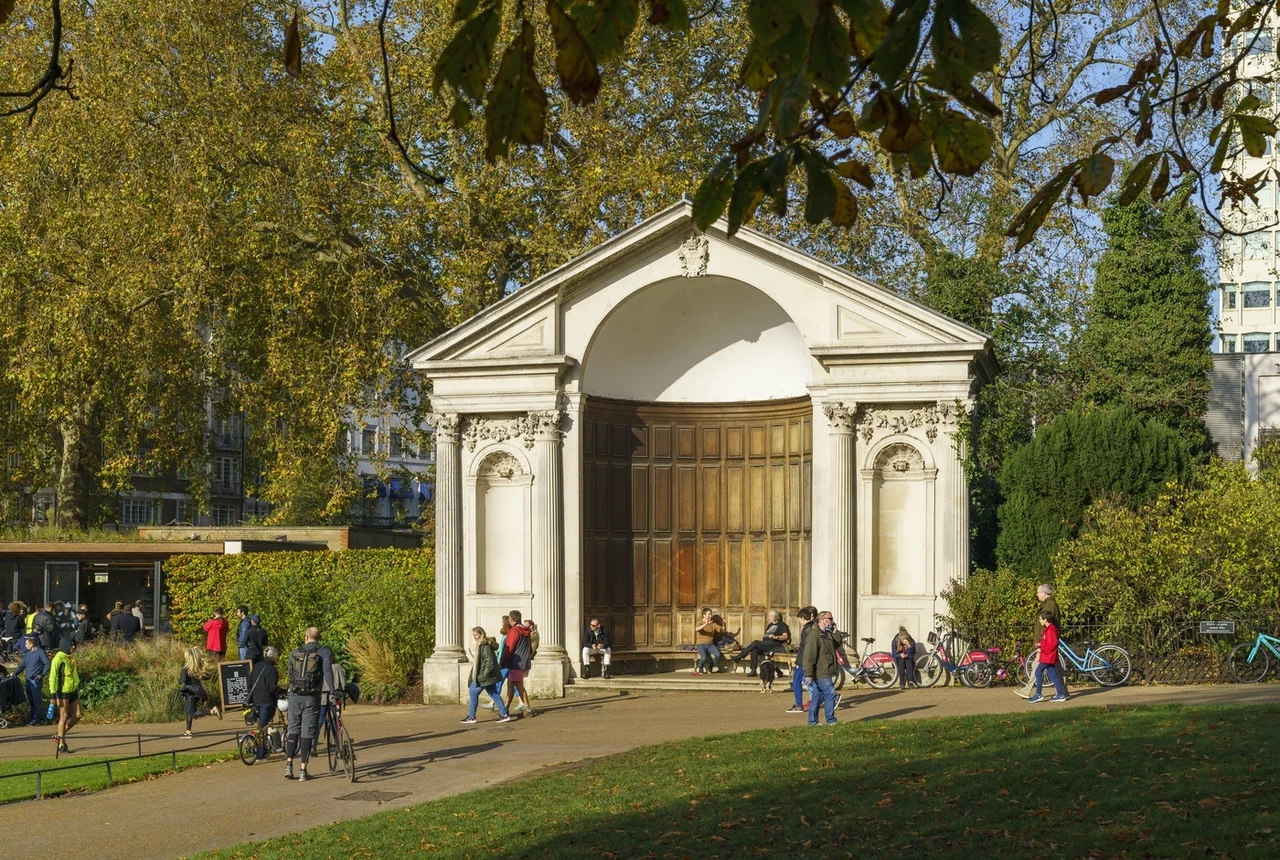 Queen Caroline's Temple
Queen Caroline's Temple is a classical style summer house overlooking the Long Water, east of Lancaster Walk.
It was designed for Queen Caroline, for whom the Long Water was created, in 1734-5 and is attributed to William Kent.
Some of the graffiti inside the temple dates back to 1821 when the park was first open every day to visitors.
It was converted into a park keeper's home, but restored in 1976.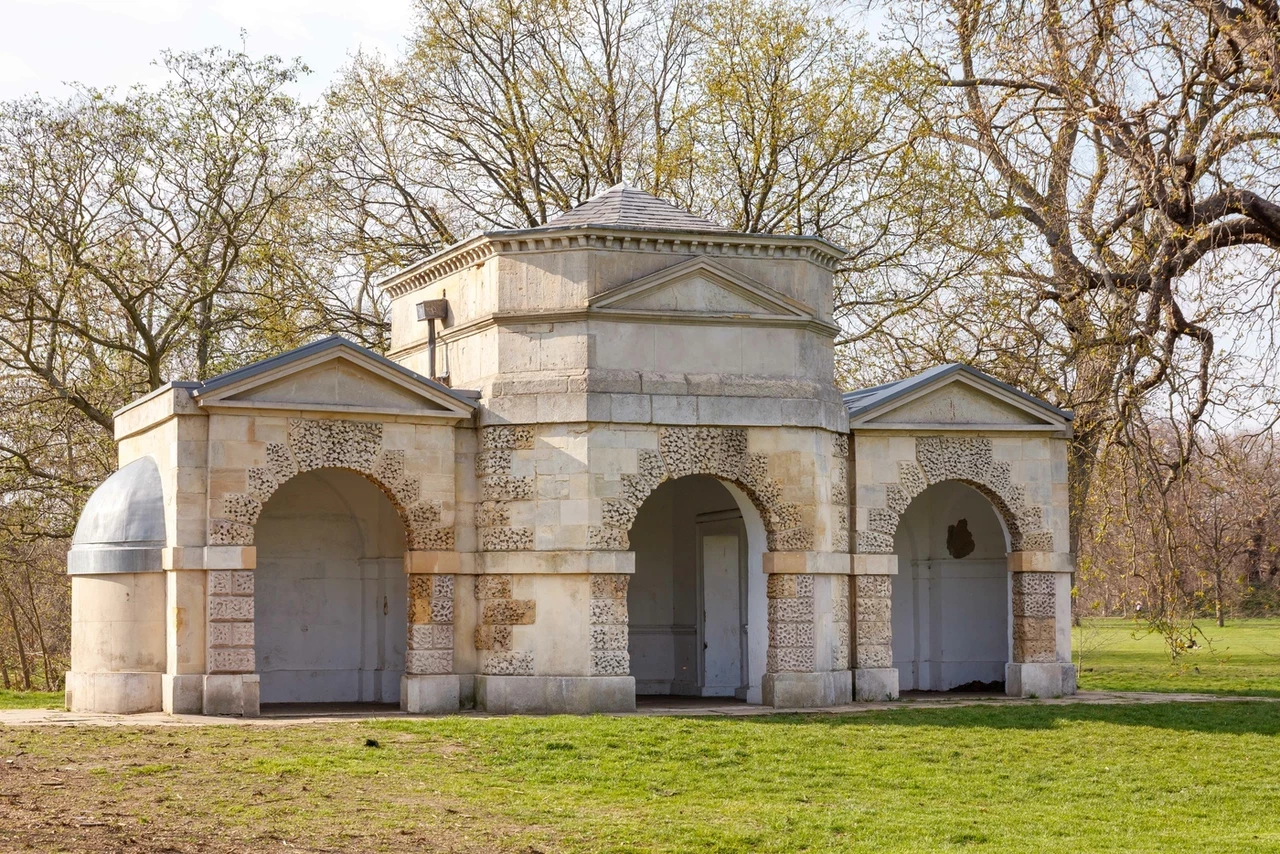 Queen Victoria statue
Designed by Princess Louise (Duchess of Argyll) in 1893, this marble statue shows her mother, Queen Victoria, in her coronation robes in 1837 at the age of 18.
Queen Victoria was born at Kensington Palace and grew up there, under the strict supervision of Sir John Conroy, until summoned from her bed in 1837 to become queen.
The statue was presented by the Kensington Golden Jubilee Memorial Executive Committee.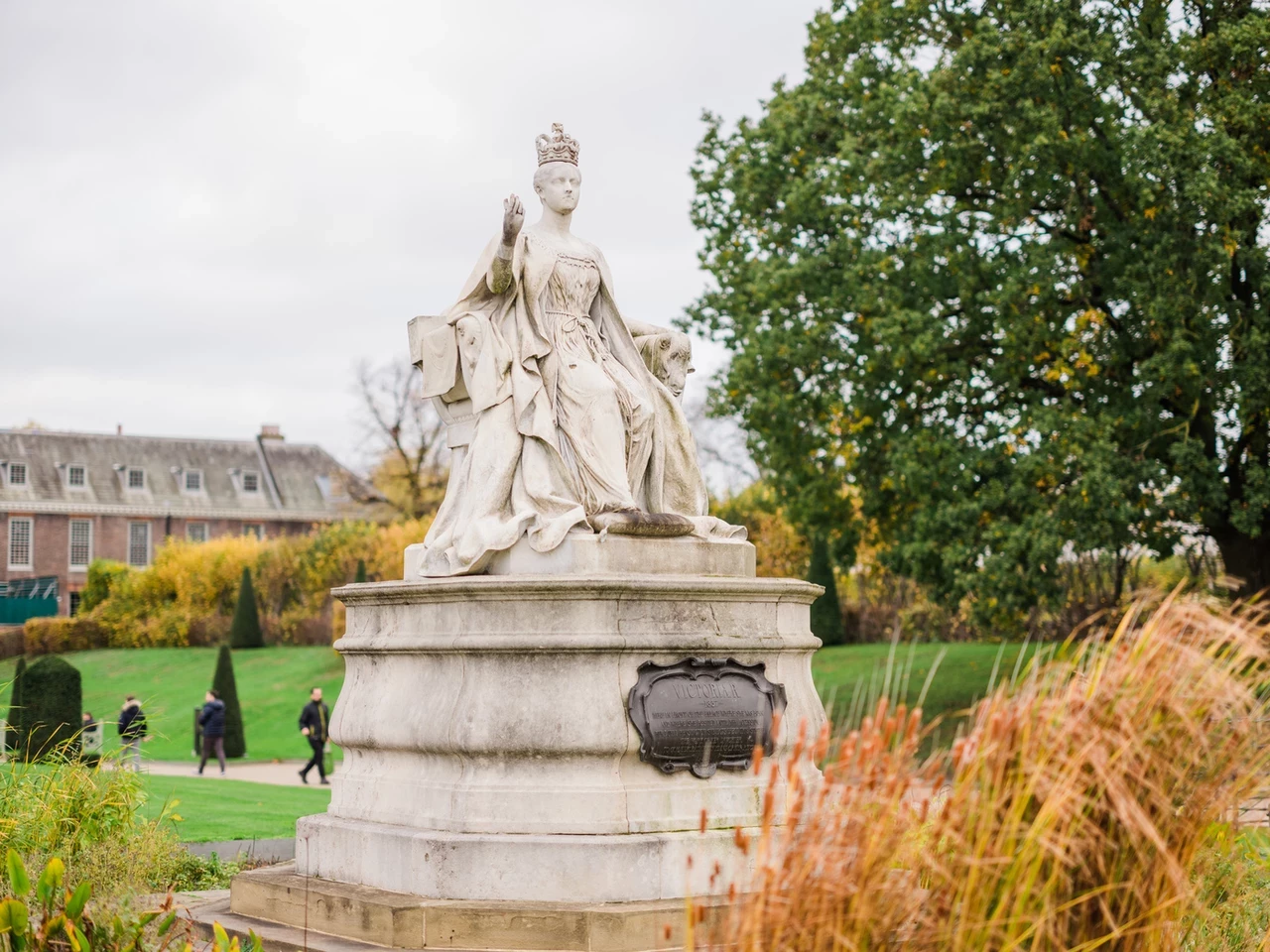 Speke Monument
The Speke Monument is a red granite statue dedicated to John Hanning Speke - the first European to discover Lake Victoria and lead expeditions to locate the source of the Nile.
It is located near the junction of Lancaster Walk and Budges Walk in Kensington Gardens.
The Speke Monument was designed by Philip Hardwick, designer of the original Euston Railway Station, and installed in 1866. It was paid for by public subscription and sponsored by the President of the Royal Geographical Society, which had paid for two of Speke's expeditions.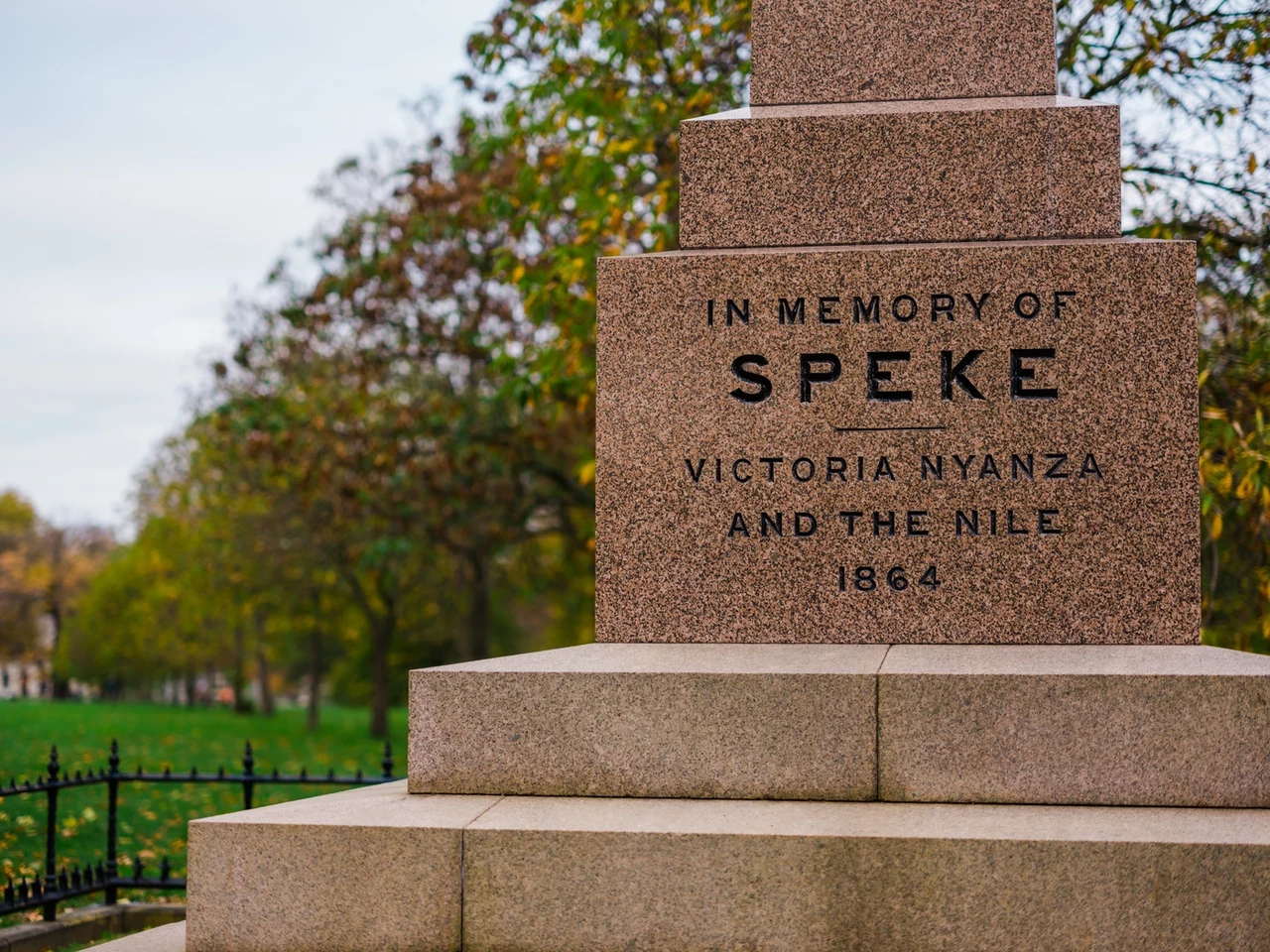 Two Bears fountain
The Two Bears fountain was designed by Kenneth Keeble-Smith and the sculpture depicts two small bear-shaped bronze figures mounted on a pedestal, with four stone basins serviced by push button taps.
The fountain was presented by the Metropolitan Drinking Fountain Association in 1939.
In 1967 the original sculpture was stolen by thieves, so a copy was created and replaced in 1970.
In 2003 the nearby water drains were improved, as the surrounding area was often covered with a large puddle. As part of the works, the drinking fountain was dismantled and rebuilt - replacing its original lead pipes with new plastic ones. The fountain was also repositioned away from the tree canopy to help prevent the statue from being covered by leaves and bird droppings.
The Two Bears fountain was loved so much by one individual that in 2019 they decided to try and take it. Fortunately, they didn't get far, and it was soon reinstated for all to enjoy once more.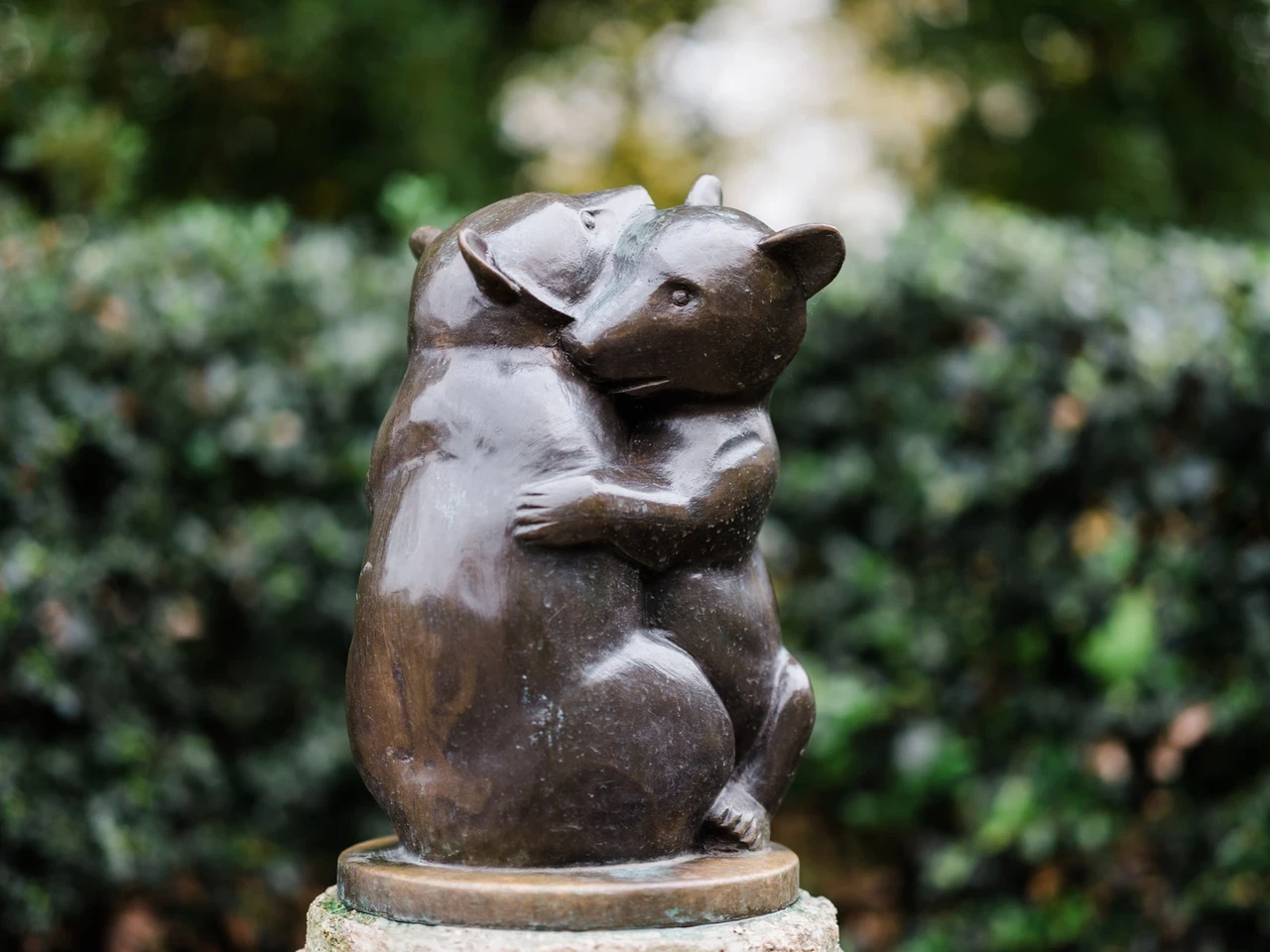 Created for regal enjoyment, but now for public pleasure
Marvel at the scale of the royal landscape laid out by successive monarchs and their notable landscape gardeners, where the English Landscape Garden transitioned from the European renaissance movement.
At the centre of Kensington Gardens is the Round Pond, with a 'goose foot' of avenues spreading out from it, bisected by other avenues of trees. The areas between are filled with meadow, scrub and informal open woodland, providing a wide range of habitats for wildlife.  

Take in the awesome spectacle of the tree avenues, where veteran trees ground the visitor in times past, and cherry blossom and magnolia glades give energy to new life and renewal each spring.
Enjoy the intimacy of the Victorian Flower Walks and high horticulture at the Italian Gardens. Visit Peter Pan's enchanted fairy garden and learn to 'grow your own' at the Allotment.
Kensington Gardens has something to inspire at every turn
For Victorian horticultural splendour, stroll through the 400m long South Flower Walk with its mixture of specimen trees and shrubs typical of the era. In shade and shelter the walk is punctuated with colour and scent throughout the year. Magnolias in spring, a wealth of flowers and seasonal bedding in summer, flowering trees, shrubs and fiery red stems that light up a grey winter's day. You'll find plenty of inspiration and ideas for your own garden. Or just sit awhile on the numerous benches and enjoy the birdsong.
The shorter North Flower Walk provides a more informal rhythm and balance of trees, shrubs and perennials set within gently undulating landform. Scattered timber sculptures lend a playful feel to this garden.  Bulbs and flowering lawns provide periodic display and food sources for pollinators. Admire the cherry blossom and seek out the bright yellow flowers of the Forsythias shrub, named after William Forsyth - a former Superintendent of Kensington Gardens from 1784 – 1804.
Stop at the Italian Gardens for Mediterranean inspired planting around the modern café, complete with olive grove, gravel garden and climate resilient plants. This contrasts with the richly planted high horticulture of the formal seasonal beds and lead urns around the Victorian pump house at the head of the fountains.  

For the child at heart, seek out the Peter Pan statue at the edge of the Long Water nestled amongst an ethereal woodland of dreamy naturalistic plants. A perfect haven for the fairies that come out to play after park closing time.
Perhaps 'grow your own' is more your thing? At the allotment a series of raised beds highlight the wide range of fruit, vegetables and herbs one can grow whether you have a veg patch or a sunny windowsill. The allotment is a wonderful, welcoming place to exchange tips with like-minded growers. Be sure to visit on harvest open day and meet the volunteers who run it. 
Can I bring my dog?
Dogs are welcome in Kensington Gardens, except in the Diana Memorial Playground, and they need to be on a lead round the Round Pond, Long Water, the Italian Fountains and the two Flower Walks.
The Italian Gardens are a beautiful ornamental water garden on the north side of Kensington Gardens, featuring an elaborate mix of four main basins.

You can wander in anytime to enjoy and relax at the allotment, as well as pick up some useful tips for growing your own fruit and vegetables.
The history and architecture of Kensington Gardens
From fountains to fairy tales, royal palaces to Peter Pan. London's Kensington Gardens, situated between Bayswater and Kensington, is place of history and fairytale.
In the beginning…Kensington Gardens in the 1500s
Kensington Gardens began life as one of King Henry VIII's many hunting parks. The land was actually part of Hyde Park until, in 1689 King William III and his wife Queen Mary decided to build a new home – Kensington Palace – next to the park. To create a private garden for their new Palace, they carved off part of Hyde Park to create Kensington Gardens. 
Queen Mary had a discerning eye for garden design and commissioned a palace garden of formal flower beds and box hedges in the Dutch style.
Kensington Gardens and the Georgians
It was another queen –Caroline, wife of George II – who in 1728 took the landscape of Kensington Gardens one stage further. The landscape of Kensington Gardens that we enjoy today is largely down to her, and her innovative garden designer, Charles Bridgeman. Together, they created the winding Serpentine – one of the first artificial lakes in the country designed to appear natural, rather than formal.
Queen Caroline and Charles Bridgeman also blazed a trail by opting for a ditch, rather than a fence, to separate Kensington Gardens from Hyde Park. This clever solution which created a boundary without interrupting the view, became known as a ha-ha. This name was said to reflect the surprise of ramblers who suddenly came across it! This started a trend, and copycat ha-has began to appear at grand houses across the country.
For most of the 1700s, Kensington Gardens was closed to the general public. In 1841, it opened to the public on Saturdays only, and only if you were 'respectably dressed.' Its formal gardens and walks were designed for stately promenading and discreet people-watching.
Kensington Gardens and the Victorians
We have a third queen to thank for two of the most celebrated and enduring historic features in Kensington Gardens. In a long series of improvements, Queen Victoria commissioned the Italian Gardens and the Albert Memorial. Prince Albert gifted the Grade II listed Italian Gardens to the Queen, to remind her of the delightful Italian gardens on the Isle of Wight, where the family holidayed.
In 1861 Queen Victoria suffered the great tragedy of her life - the premature death of her beloved husband, Prince Albert. To honour his memory, she later commissioned a magnificent tribute. This was the towering Albert Memorial, a grand, gothic extravaganza designed by architect George Gilbert Scott.  
The memorial shows Prince Albert holding the catalogue of the 1851 Great Exhibition, which he had helped to organise – one of his greatest personal achievements.
The magical history of Kensington Gardens
Kensington Gardens is one of London's loveliest parks for children. In the early 1900s, local resident J. M. Barrie was inspired to write Peter Pan after many happy visits to the park. In 1912, he paid for a bronze statue of his famous hero to be placed in the park. Since then, generations of children have visited Kensington Gardens to meet the beloved 'boy who couldn't grow up'. Not far from here is the curious Elfin Oak – an ancient, gnarled tree stump that has been carved with the figures of fairies and small animals. The Elfin Oak was designed by Ivor Innes in 1930.
Discover Kensington Gardens at your leisure
Kensington Gardens was originally part of Hyde Park but was annexed by King William III and his wife to create a beautiful garden for their new London home, Kensington Palace. Whether you love art or history, wildlife or formal gardens, Kensington Gardens has something for everyone to enjoy. Despite its many impressive monuments, memorials and mansions, Kensington is, at its heart, a peaceful, green oasis. A place to keep fit and active, reconnect with nature, and restore your sense of wellbeing. 
Walking, running and cycling in Kensington Gardens
Discover the secret histories of the park with a self-guided walk, or join one of our guided walking tours. Many local runners and cyclists commute through the park – it's a great way to unwind after work and stay fit. If you are cycling through, please do respect other park users – and the wildlife – who share the paths and trails. If you are ready for a longer adventure on foot, try the Diana Princess of Wales Memorial Walk. 
If you enjoy team sports and organised activities, head over to Hyde Park, where you can book a game of tennis, padel, cricket or rugby. Park Sports Hyde Park has excellent sports facilities, courts and pitches on the south side of the park. 
Diana Princess of Wales Memorial Walk
The Diana Princess of Wales Memorial Walk covers seven miles, and takes in four Royal Parks, three palaces and two mansions, all of which were special to Princess Diana at different times in her life. Follow the 90 bronze plaques embedded along the route. 
The Princess and the Palace
Princess Diana lived at Kensington Palace, one of the most intimate royal palaces, for much of her married life, and you can tour the State Apartments, and stroll through the formal gardens, designed in the Dutch style by Queen Mary, wife of King William III. 
Book your tickets to visit Kensington Palace here.
Art in the park
Serpentine Gallery North and South are two of London's most high profile contemporary art spaces. The galleries, in the heart of Kensington Gardens, showcase world class talent in art, design and architecture. If you're visiting us during the summer, don't miss the annual Pavilion, commissioned from a different prominent architect each year and an important event in the capital's arts calendar. 
 
Located next to her Kensington Palace home, the Diana Memorial Playground opened in 2000 in memory of the late Princess Diana.

Find out more about the seven-mile-long Diana Princess of Wales Memorial Walk and download the map to plan your route through the central parks.

Serpentine North and Serpentine South are two art galleries in Kensington Gardens offering an expanded programme of contemporary art and architecture.

Deck chairs are available for hire within the Royal Parks from March through to October. Find out about prices and book online.
Nature and wildlife of Kensington Gardens
Sit in the shade of the lime avenues. Spot the coot that's flown to Russia (and back). Listen to the grasshoppers and crickets in a wildflower meadow. All in the heart of a capital city.
A Grade I listed landscape and a wildlife haven
Kensington Gardens is known as the home of Kensington Palace and The Albert Memorial. But its 265 acres are also a rich mix of wildlife habitats, from historic grassland to lakeside woodland, to thriving meadowland environments such as Buckhill Meadow. Even in the ornamental Italian Gardens you'll see glorious yellow iris and purple loosestrife, and dragonflies hunting and hovering over the pools.
Wildlife habitats in Kensington Gardens
Large areas of Kensington Gardens are acid grassland, increasingly rare in Britain. These can seem wilder, more arid landscapes and although the soil is less fertile, specialist native wild plants, including fine grasses, sheep's sorrel and common cat's ear live here.
The Long Water and the Round Pond are man-made lakes and are key habitats for many water birds including herons, coots, ducks and geese. The Long Water in particular has a rich diversity of invertebrates, fish and amphibians - as well as the birds who eat them.
In spring and early summer, Buckhill Meadow is alive with grasshoppers, crickets and flower beetles. See if you can spot a wasp spider, vivid black and yellow markings as it spins a web across the long grass with its trademark 'Z' shapes.
The trees of Kensington Gardens
As you walk – look up! The plane trees of Kensington Gardens form a lofty, cathedral-like 'roof' above the formal avenues. London's plane trees improve the air quality in the city, and the deeply grooved bark of some older trees creates perfect micro-habitats for roosting bats, fungi and many species of beetle. In total there are over 3,000 trees in the park, including 200-year-old sweet chestnuts, classic English hornbeams, oaks and rowans.
Wildlife at the waterside woodland
Even though thousands of visitors pass through Kensington Gardens every year, we're lucky to have an extraordinary diversity of birds – including little owls and tawny owls. Treecreepers, blackcaps and chaffinches also inhabit the trees and scrub.
The water and woodlands are happy hunting grounds for bats too, flitting through the air at sunset. You might get lucky and spot a flash of orange and blue out of the corner of your eye – a rare glimpse of a kingfisher. What you probably won't spot below the surface of The Long Water is the rare Spangled water beetle – found only here and one other location in Britain.
Wildlife and parklife – a delicate balancing act
The Royal Parks are unique urban parklands, where large numbers of people and London's wonderful wildlife can come together. Our responsibility is to conserve both equally – balancing the needs so that we can all continue to enjoy these unique landscapes and habitats.