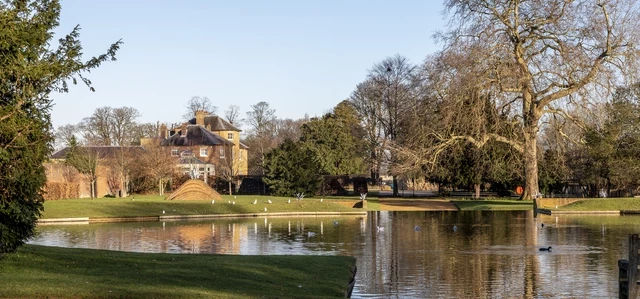 Upper Lodge Water Gardens
This Baroque-style collection of pools, cascades, basins and a canal disappeared beneath undergrowth and silt through the twentieth century.
The gardens were largely forgotten until a major restoration programme brought them back to their former glory.
Opening Hours
The Water Gardens are open Tuesday to Sunday from 9am to dusk.
A brief history of the Upper Lodge Water Gardens
One of Bushy's hidden treasures, the Water Gardens were built for private use by Charles Montague, the 1st Earl of Halifax, in 1710. Montague was a poet, statesman and friend of Isaac Newton, and had been the park ranger since 1687.
An interesting feature of the Gardens is a two-storey redbrick building, which was installed as part of Montague's original landscaping project.  This Grade II listed structure was a brewhouse, providing beer to the household in nearby Upper Lodge – alcohol was safer to drink than water at the time.  It is thought that cereal grain for the brewing process was grown in fields to the south of the Gardens.
The Water Gardens went on to play a unique role in twentieth-century events. During the First World War wooden buildings were erected to form an encampment for Canadian troops, while the Upper Lodge was used as a hospital for them. Later, swimming pools were provided here as part of an open-air school for impoverished East End Boys with respiratory diseases.
During the Second World War, the site was used as a US barracks. It was then taken over by the Ministry of Defence and played a significant role in the development of Cold War defence technology.
The area fell into disrepair and remained closed to the public until a major restoration programme returned them to their former glory.  The Water Gardens reopened in 2010, and visitors can now enjoy this tranquil spot just as much as the 1st Earl Halifax did over 300 years ago.
Restoring the Upper Lodge Water Gardens
Restoration plans began in the 1990s, with research by the Friends of Bushy and Home Parks, and the discovery by Sir Roy Strong of an eighteenth-century painting of the gardens.
The gardens later became the centrepiece of a Bushy Park improvement project, with additional funding from the Heritage Lottery Fund, the Crown Estate and other supporters.
The restoration included:
Desilting and returning the ponds to their original shape and depth
A new water engineering system to restore the direct connection to the Longford River.
Rebuilding the badly-damaged southern flank cascade wall, and reincorporating original stonework and bricks into the new structure
Restoring the cascade and northern flank wall
Reconstructing the original stoop basins and alcoves
New landscaping and footpaths completed the transformation of the gardens.