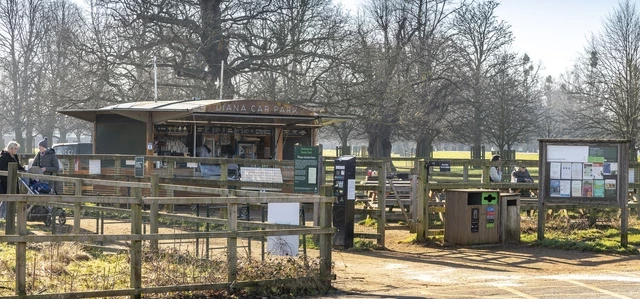 Diana car park kiosk
There is a refreshment point located at the Diana Car Park.
Opening hours
It opens from 9am - 4.30pm in the summer and 9am - 3.00pm in the winter. Opening times can vary depending on weather conditions.
This unit offers a deli style catering service with a wide range of refreshments available daily, including traditional bacon rolls, a variety of sandwiches, hot dogs, freshly brewed continental coffees, homemade cakes, ice creams and a range of hot and cold snacks and beverages.
The Diana Kiosk is operated by Colicci. You can contact them by:
Christmas day - Closed
Contact
Telephone: 0208 640 1700
Email: bushy@colicci.co.uk
Follow Colicci on Facebook, Twitter or Instagram.
 
The Royal Parks is proud to partner with a number of catering concessionaires and purchases made at our outlets contribute to the care, upkeep and protection of the vital green spaces in which they operate. 

The Royal Parks