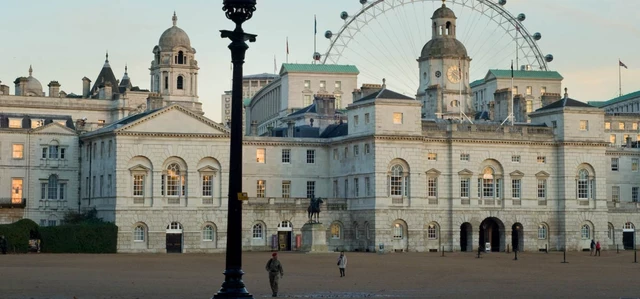 Horse Guards Parade
Horse Guards Parade is the ceremonial parade ground in St James's Park and is the scene of Trooping the Colour on the King's official birthday in June.
Horse Guards is the building with a clock tower over an archway, and remains the official entrance to St James's and Buckingham Palace.  Horse Guards dates from the eighteenth century and was designed by William Kent, the then Chief Architect to George II.
The building is guarded by two mounted cavalry troopers of The King's Life Guard who are posted outside from 10am to 4pm daily. The Life Guard change takes place here at 11:00am daily and 10:00am on Sundays.
During the Trooping the Colour, the central windows are opened so members of the Royal Family can watch the King reviewing his troops below.
In addition to Trooping the Colour, Horse Guards Parade plays host to the floodlit musical spectacular of Beating Retreat by the massed bands of the Household Division over two successive evenings in June.
Next to Horse Guards is:
Dover House
the Cabinet and Privy Council Offices
No. 10 Downing Street, the official residence of the Prime Minister.
Also nearby are buildings including:
the Chancellor of the Exchequer
the Foreign Office
Cabinet War Rooms
Palace of Westminster.
There are a number of memorials located at Horse Guards Parade:
Royal Naval Division Memorial
Viscount Wolseley Statue
Earl Roberts Statue
Lord Kitchener Statue
Lord Mountbatten Statue