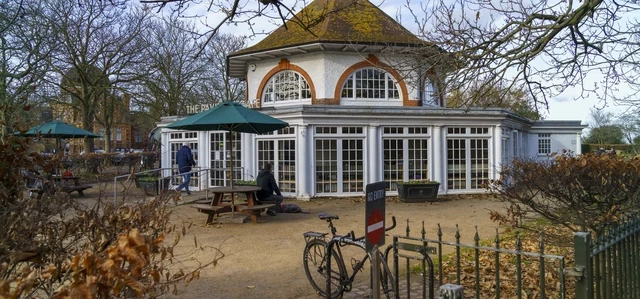 The Pavilion Café
You'll find the recently refurbished Pavilion Café at the top of the hill by the Royal Observatory. 
Built in 1906 this octagonal building is topped by a dove-cot with a weather vane showing Nelson looking through his telescope. In fine weather make the most of the large garden at the front and rear. In the winter, the Pavilion Café is a cosy, welcoming place to visit.
Open daily for traditional breakfast including freshly baked pastries and breakfast muffins.
Our lunch menu includes freshly made stone-baked pizzas, soup, sandwiches and hearty hot dishes. There's a tantalising choice of cakes or traditional English cream tea for an afternoon treat.
We serve alcohol and a range of soft drinks. In the warmer weather try our ice-cream kiosk at the Pavilion Café where you can choose from eight flavours of Marshfield Farm Ice Cream.
The Pavilion Café is a perfect place to feed the kids. With smaller portions of hot dishes, a kids lunch box selection and fun activity sheet, high chairs, child-friendly cutlery and baby changing facilities, we offer a warm welcome to families.
By dining at one of our catering outlets, your purchase contributes to the care, upkeep and protection of the vital green spaces in which they operate.
Dogs are welcome on the paved area on a short leash.
Opening hours
The Pavilion Cafe is open daily from 8.30am - 4.00pm. Please note opening times change seasonally throughout the year in line with park opening hours and can vary depending on weather conditions.
Hot food is available until 3:00pm.
 
Closed on Christmas Day.
Contact
For more information, please contact 0208 305 2896 or email greenwichpark@benugo.com