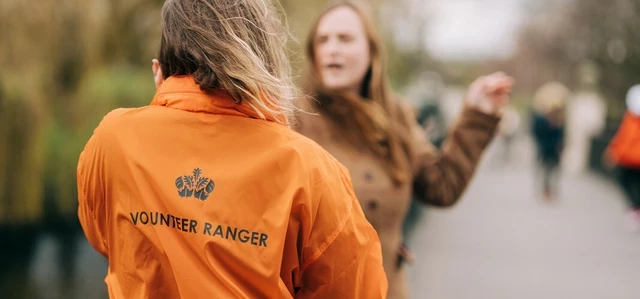 Volunteer Rangers in the Royal Parks
London's eight Royal Parks offer 5,000 acres of historic, nature-rich parkland across the capital, and attract millions of people every single year. Visitors may also spot some friendly figures in orange – our Volunteer Rangers! 
First launched in 2019, the Volunteer Ranger service has now expanded to Richmond Park, Bushy Park, Greenwich Park and The Regent's Park. Our 250 Volunteer Rangers roam around the parks, working in pairs to welcome visitors and help them get the most out of their experience by sharing facts about the history and nature of the parks, tips on the best walking or cycling routes, and information about what the public can see and do in these unique green spaces. 
Richmond & Bushy Parks Volunteer Rangers – recruiting now!
We're keen to expand our incredibly successful Volunteer Ranger service and are excited to open recruitment for the next cohort of volunteers to join Richmond & Bushy Parks. If you're friendly, approachable, enthusiastic, and want to help us tell the fascinating stories of these iconic parks, this role could be for you!
Do take a look at the Richmond & Bushy Parks Volunteer Ranger role description and apply using the online application form below.
Applications close on Sunday 31st December at 5pm. Inductions for Bushy Park will commence first in January, followed by Richmond Park.
If you have any questions regarding the Volunteer Ranger opportunity, please do get in touch with Jo at jmeays@royalparks.org.uk.