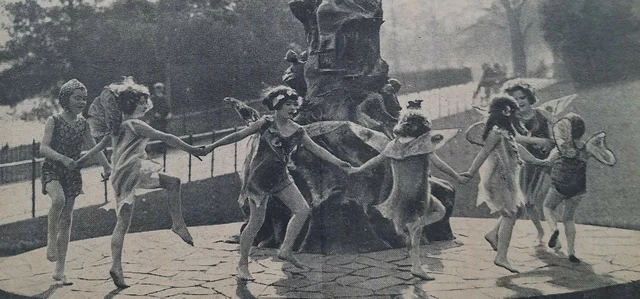 Shrine of Youth: The Peter Pan Statue, Kensington Gardens
The Royal Parks are bursting with literary history. Over the centuries, scores of authors have been inspired by the city's special green spaces and the parks feature in works by many of our most celebrated literary icons – from Charles Dickens and George Eliot to Virginia Woolf and H. G. Wells.
Perhaps the most famous fictional resident of the parks, though, is Peter Pan – the boy who wouldn't grow up. J. M. Barrie's beloved hero first appeared in a novel called The Little White Bird published in 1902. In this story, Peter is a 'betwixt-and-between' boy-bird who finds himself stranded in Kensington Gardens and raised by the magical creatures who live there.
J M Barrie by George Charles Beresford, 1902

Cover of J. M. Barrie's The Little White Bird, or Adventures in Kensington Gardens

Pet Cemetery, Hyde Park
J M Barrie by George Charles Beresford, 1902

Cover of J. M. Barrie's The Little White Bird, or Adventures in Kensington Gardens

Pet Cemetery, Hyde Park
Pixie Dust
Barrie lived just across the road from Kensington Gardens at 100 Bayswater Road, and took inspiration for his story from a family of five young boys he met by chance at the park. He also drew upon many real-life locations within the parks, sprinkling them with 'pixie dust' so that they become something magical.
The hidden pet cemetery on the edge of Hyde Park, with its tiny gravestones, was reimagined as the final resting place of children who were left behind in the park after closing time. The South Flower Walk near the Albert Memorial, meanwhile, became the Baby Walk:
"Returning up the Broad Walk we have on our right the Baby Walk, which is so full of perambulators that you could cross from side to side stepping on babies, but the nurses won't let you do it."

J. M. Barrie, Peter Pan in Kensington Gardens
Legacy
In 1904, Barrie adapted Peter Pan for the stage. His play was an immediate sensation, capturing the imaginations of children and adults alike. Ever since, Peter's adventures in Neverland have been rediscovered and adored by successive generations. Film adaptations have had an important part to play in this legacy, including the Disney animation of 1953 and the Robin Williams film Hook of 1991.
Maude Adams as Peter Pan, on the cover of The Theatre Magazine, 1906

Poster for the 1924 film of Peter Pan

Poster for Stephen Spielberg's Hook, 1991
Maude Adams as Peter Pan, on the cover of The Theatre Magazine, 1906

Poster for the 1924 film of Peter Pan

Poster for Stephen Spielberg's Hook, 1991
In Kensington Gardens, meanwhile, a different sort of legacy took shape. In 1912, a statue of Peter Pan was erected next to the Long Water. This is the spot where Peter lands his bird-nest boat in The Little White Bird. This statue was a gift from J. M. Barrie, who generously funded it himself.
The Story of the Statue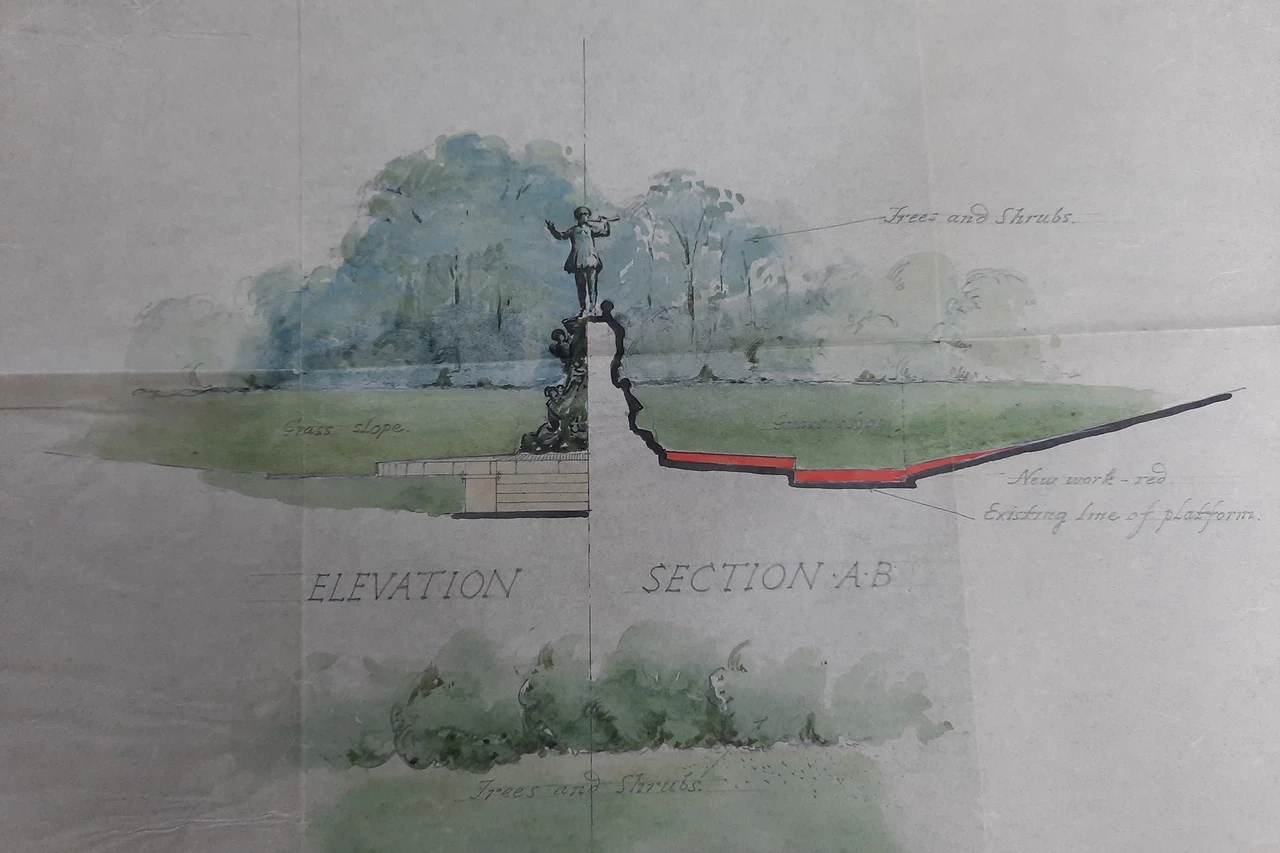 Park authorities were initially concerned that children would climb all over a statue of Peter Pan, suggesting that the addition of a fountain might act as a deterrent!
"If there is any access to the statue, I cannot imagine any child who did not take advantage of the very attractive opportunities provided for climbing about on the base of this statue – but of course this would spoil it. The water would prevent this."

A memo written by park authorities in 1911 (National Archives: WORK 20/120)
Frampton and Barrie resisted, arguing that the statue could be turned into a fountain later on, if this was preferred. But even after this matter had been settled, further issues arose.
Objections
In 1912, disapproval of the statue was voiced in Parliament. Some felt that a character from a children's book was an unworthy candidate for a permanent tribute in a prestigious Royal Park. An MP representing the Commissioner of Works was asked if he was:
"… prepared to accept offers from other authors, actor-managers, or from business firms for the erection of statues to commemorate and to increase the fame of persons or wares in which they and the public are deeply interested."

A snippet of a Parliamentary record dating from 1912 (National Archives: WORK 20/120)
Despite these snooty objections, plans to erect the statue pushed ahead and it was finally unveiled on 30th April 1912.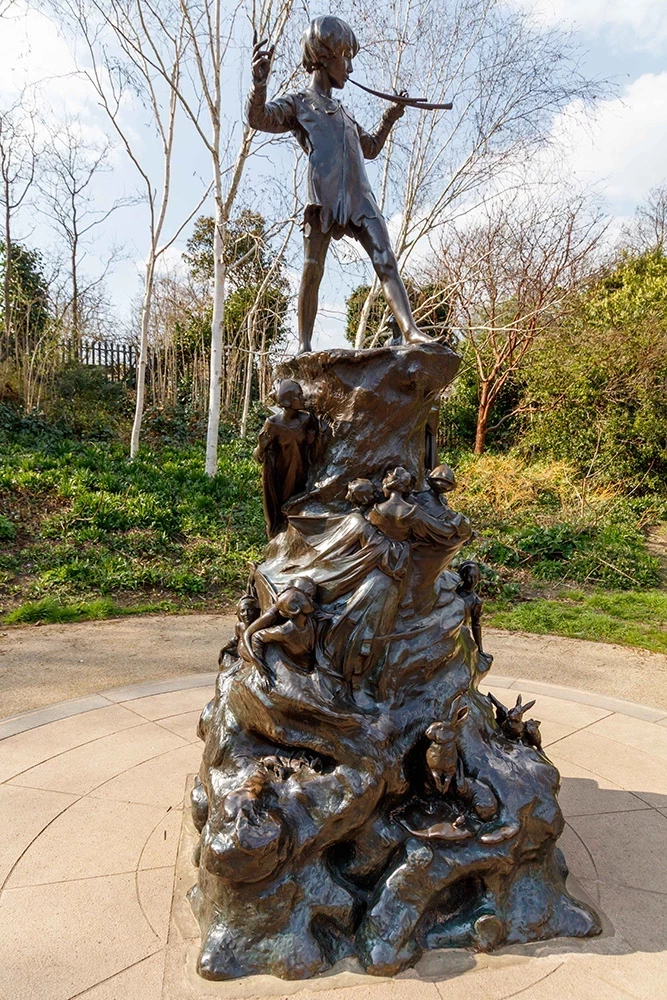 Child-Friendly Figures
The statue is 14 metres high. It consists of a figure of Peter Pan standing on top of a tree stump, blowing a trumpet. Dancing all around the tree trunk are small animals and fairies, placed at a perfect height for children to play with – and that's exactly what happened!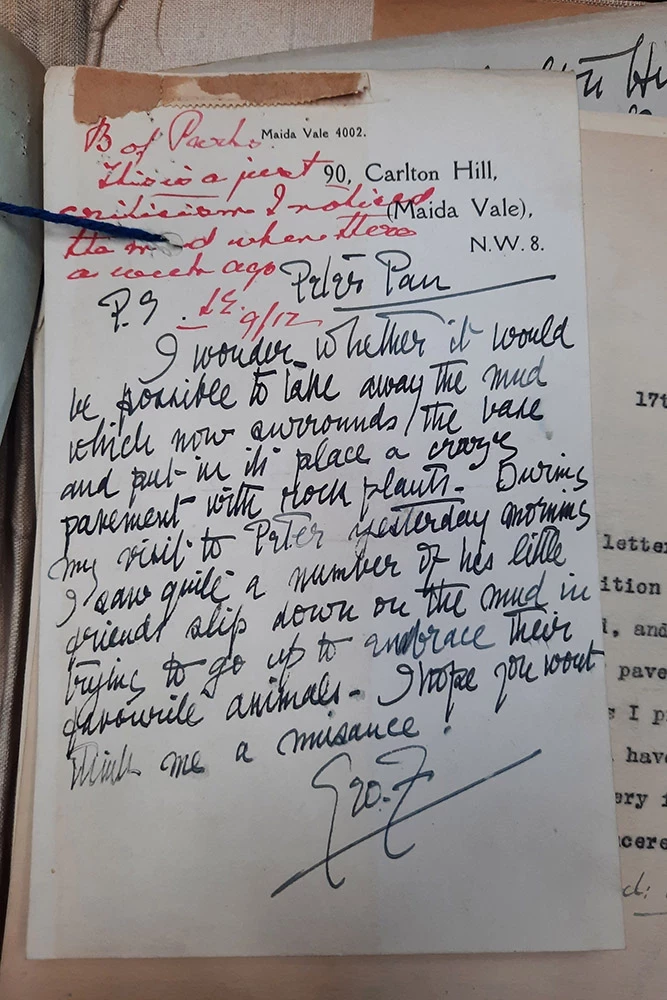 In 1912, Frampton took a walk through the park and noticed that children playing with the animals were slipping on the mud surrounding the base. He wrote to park authorities:
"I wonder whether it would be possible to take away the mud which now surrounds the base and put in its place a crazy pavement with rock plants. During my visit to Peter yesterday morning I saw quite a number of his little friends slip down on the mud in trying to go up to embrace their favourite animals […] I hope you will not think me a nuisance."

Undated letter from George Frampton (National Archives: WORK 20/120)
Thanks to Frampton's intervention, the surrounding area was paved.
The most-loved animal in London

This tactile relationship that children enjoyed with the statue was later discussed in an undated press clipping that survives at The National Archives. Describing the statue's rabbit as the 'most-loved animal in London' a park representative describes how 'thousands' of children have visited it: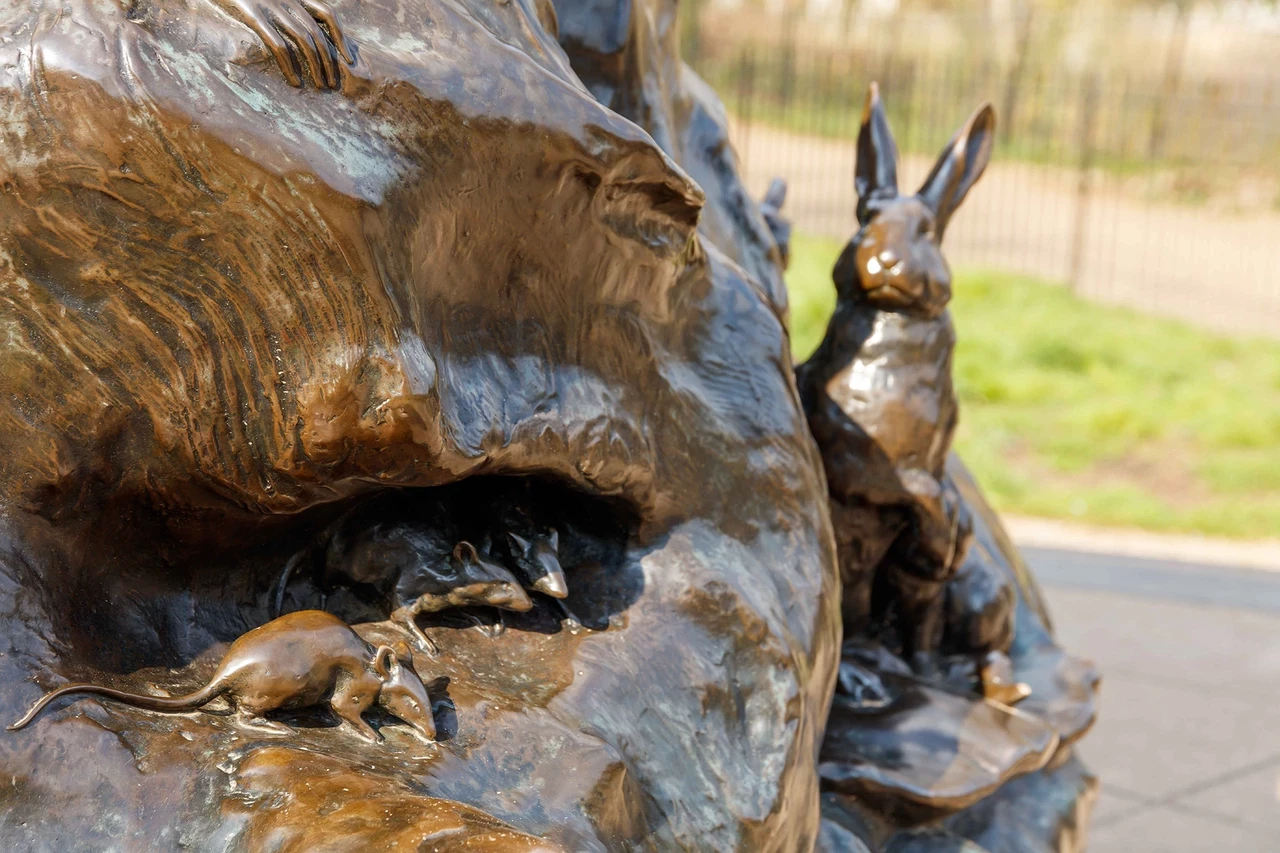 "The first thing they do is go up to the base of the statue and put their arms round the rabbit, and then they walk solemnly round to visit their other pets. I think they love the mice the next best. Oddly enough, they do not take so much notice of the fairies, but the squirrel on other side is a great favourite and they even have a word for the snail.

On a fine day last summer […] so many grown-ups and children made a pilgrimage to the shrine of youth that queues had to be formed up on the main path, so that the statue could be viewed in an orderly manner. Not only British children, but the youngsters of many nations are brought by fond parents to see the animals, and the rabbit must have been addressed in at least a dozen tongues."

Undated press clipping, The National Archives (National Archives: WORK 20/120)
Peter Pan Around the World
Surviving correspondence shows that the park was contacted by individuals who wished to manufacture and sell small replicas of the statue – a request that Frampton turned down. He himself cast several reproductions, though, and a number these are now display in other cities around the world – from St. John's in Newfoundland to Queen's Gardens in Perth, Australia!
Ballet Dancers Break the Rules
In 1921, a furore erupted when a corps of Swedish ballet dancers were photographed hanging from the memorial. This infraction of park rules was taken very seriously and legal action was seriously discussed. Luckily for the ballet dancers, this was not pursued – partly because their names and addresses had not been recorded!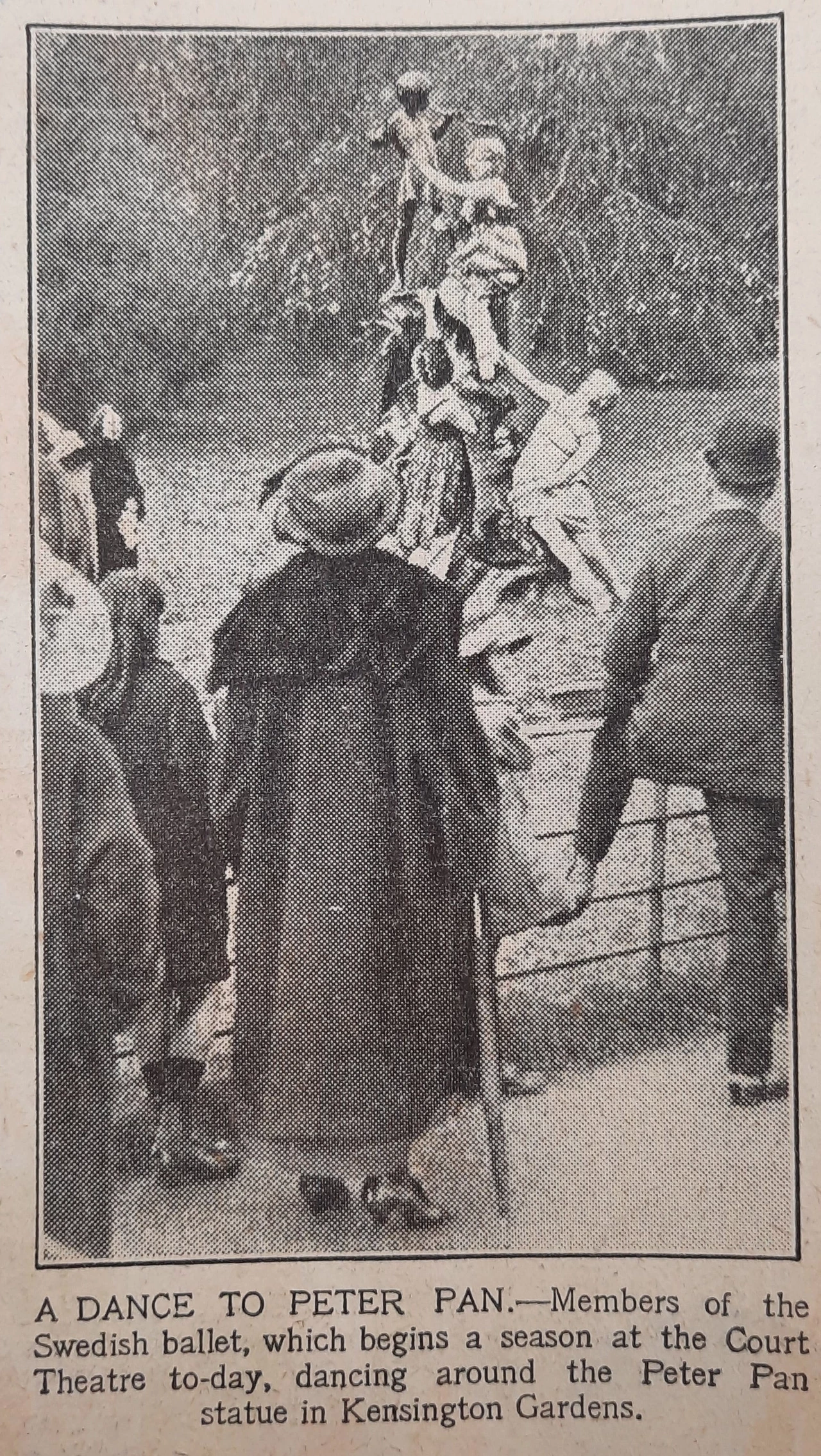 Peter Pan Joins the War Effort
A surviving photograph from 1943 shows a group of children gathered around the statue in Kensington Gardens. Some gaze up and Peter, while others explore the famous animals. For this group of children, the statue and the park were welcome distractions from the war that raged in Europe.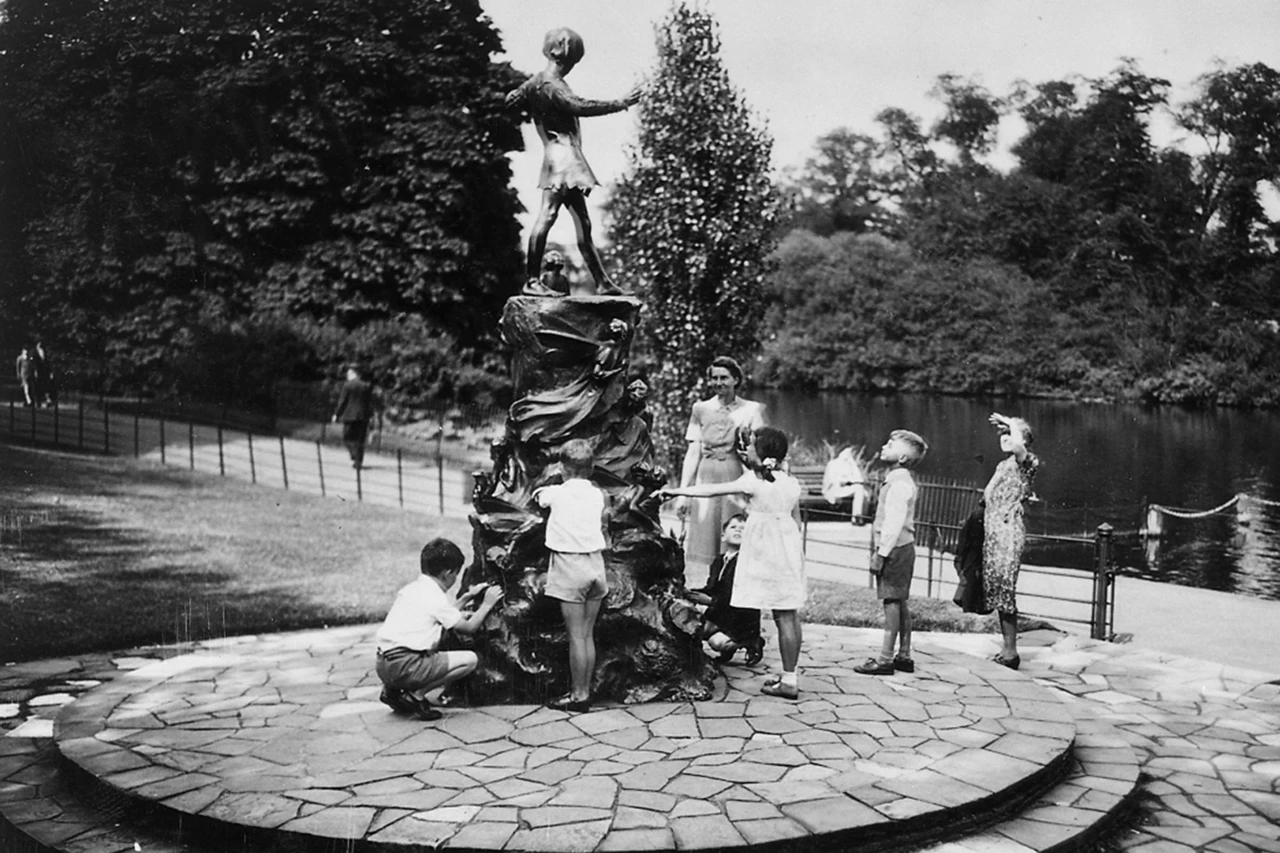 This photograph was used to promote the 'Holidays at Home' campaign, which encouraged citizens to holiday in their local area in order to save railway capacity for the war effort. In this small way, Peter played his part too!
The Peter Pan Statue Today
Today, 110 years after the statue was unveiled, it continues to attract crowds of visitors – and there's no chance of this slowing down. Peter Pan continues to be reinvented for each new generation, with feminist reimagining The Lost Girls hitting screens later this year. Peter will remain the most popular boy in Kensington Gardens for a very long time.