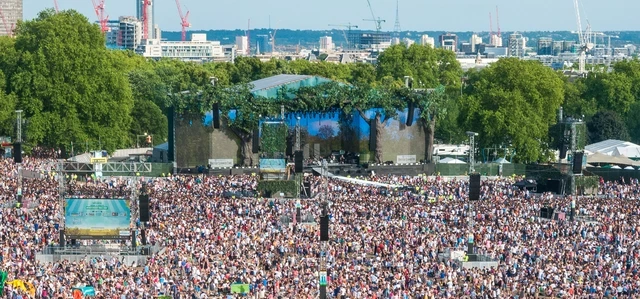 Hold a major event
A Royal Park makes a unique setting for a major live event. We host around 30 major events and hundreds of smaller events every year.
Our major event heritage 
The Royal Parks have a long, historic tradition of hosting events dating back to the Great Exhibition, held in Hyde Park in 1851.  Since then, the Parade Ground has hosted a number of high profile and important national and international events such as Pavarotti in the Park, Live 8 and Nelson Mandela's 90th birthday celebrations. 
We're proud of our event heritage and we have decades of experience in hosting successful, iconic and world-famous events.  They attract millions of people to the parks each year and provide vital funds which go back into the improvement, conservation and maintenance of these unique landscapes.
Applying to hold a major event in a Royal Park
The Royal Parks are a major attraction for event organisers. Unfortunately, all the Royal Parks are at capacity for major events in 2023, so we are not accepting any further applications. If you are interested in holding a major event in the parks from 2024 onwards, please contact the Events team here for more information.
Fees will be calculated in line with your event proposal. 
Download the Major Events Rate Card 
You may find this guide useful: Hosting Major Events in the Royal Parks. It outlines why we host events, the guiding principles by which we prioritise events, and our approach to hosting events.
How your major event will help the Royal Parks
The Royal Parks charity manages and fundraises for the upkeep of over 5,000 acres of Royal Parks across London. Every year 77 million people visit the parks for their unparalleled opportunities for enjoyment, exploration and healthy living in the heart of the city. 
Money raised from events held in the Royal Parks goes back into enhancing and keeping them as beautiful as they are. 
We currently host a number of major events throughout the year.